How are IoMT Devices Revolutionizing Health Care?
Monday, January 30, 2023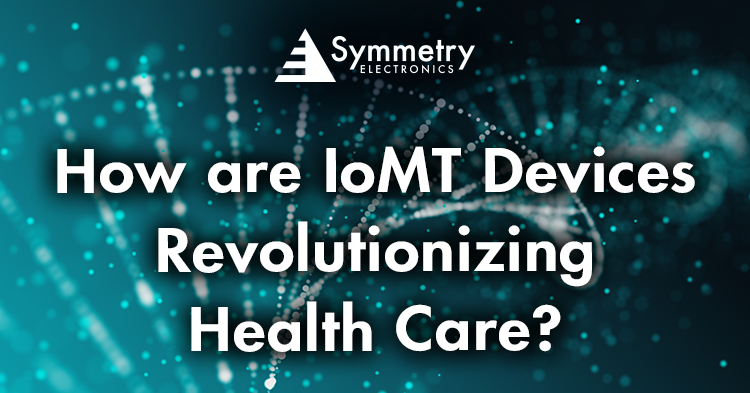 What is IoMT?
The term IoMT refers to the integration of internet of things (IoT) technology in medical environments. According to Fortune Business Insights, the global IoMT market was valued at $41.17 billion in 2020, but the demand for connected medical solutions in the wake of a worldwide pandemic now predicts the market to be valued at $187.60 billion in 2028.
The idea of connected devices in healthcare settings isn't new. In fact, there were 4.5 billion IoT devices integrated in medical settings in 2015, but the separation between IoT and IoMT lies in specificity. IoT solutions point to broad-scale connected technologies, whereas IoMT is focused solely on healthcare and medical applications.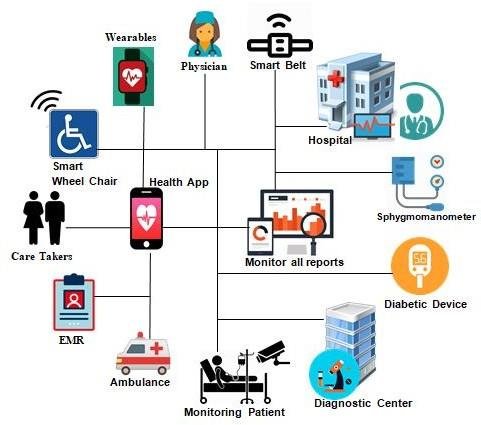 Figure 1: IoMT device and application examples
IoMT Applications and Use Cases
IoMT solutions consist of wireless devices, systems, and ecosystems of connected devices that collect, process, and analyze big data to provide increased actionable insights. Examples of IoMT applications (Figure 1):
Diagnostic point-of-care devices
Medical alert systems
Wearables
In-hospital devices like MRIs, X-Rays, and other important medical equipment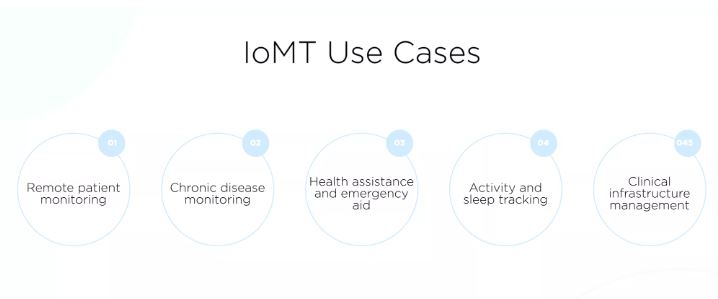 Figure 2: Examples of IoMT use cases.
There is a wide range of use cases for IoMT solutions (Figure 2) like:
Clinical infrastructure management
Emergency assistance
Chronic disease monitoring
Remote patient monitoring
Activity and sleep tracking
Benefits of IoMT
It's no secret that IoMT is revolutionizing the healthcare industry. Frost & Sullivan found that Almost 60% of healthcare organizations have already adopted IoMT solutions. IoMT is uniquely positioned to offer healthcare systems increased savings, increased ease of care, increased customer experiences, and more.
Enhanced Care
When patients seek medical care, they're ultimately searching for a solution to whatever is ailing them. IoMT can help healthcare practices and patients with improved treatment outcomes through enhanced data sources, intervention techniques, more accurate diagnoses, and increased treatment plan engagement. Wearable IoMT devices can inform practitioners with real-time patient insights and alerts of symptom changes. Wearables can additionally help patients adhere to their treatment plan by reminding them to take medications, tracking their treatment plan engagement, and motivating them to stay consistent. Data accrued from IoMT medical equipment can assist doctors in providing their patients with fast, accurate diagnoses and available treatment options.
Reduced Per-Patient Cost
The Centers for Medicare and Medicaid Services found that the U.S. healthcare system spent an average of $12,914 per patient in 2021. IoMT solutions can help further reduce per-patient costs by providing increased accessibility and preventive care options. Hospitals and clinics will experience a decrease in patient numbers as non-emergent patients are provided with flexible eHealth solutions for routine checkups and preventative care.
Increased Patient Satisfaction
IoMT devices stand to improve customer satisfaction in healthcare settings as they begin to receive the combined benefits of the technology's implementation. Increased preventative care options, more accurate diagnoses, reduced clinic visits, and enhanced treatment plans all indicate increased overall patient satisfaction.
The Future of IoMT Integration
The fourth industrial revolution is upon us. Industry 4.0 is affecting markets, business models, and verticals across the globe. Industry 4.0 focuses on the integration big data analysis, digital technology, automated solutions, and distributed ledger technology (DLT) in society. In healthcare systems, full IoMT integration will elevate the market into industry 4.0 standards.
There is a consistent demand for change in healthcare to back the revolution too. The National Library of Medicine defined the main drivers of IoMT integration:
Sedentary lifestyle and oversaturated work schedules related disorders
Continued technical advancements in healthcare monitoring devices aiming to provide high-quality patient care at a fast pace
Patients everywhere are looking for technological innovations in healthcare, even in dentistry. For example, MouthWatch's Teledent service is a platform that allows patients to click images and submit them to remotely based dentists for a virtual consultation. IoMT integration is the solution to building the smart healthcare systems that consumers are looking for. Are you ready to develop one?
Interested in developing an IoMT device or smart healthcare solution? As experts in wireless and IoT solutions, our knowledgeable team of Applications Engineers are available to help navigate you through the process. Consultation is free and available throughout your design cycle. Contact Symmetry Electronics today!