Home Monitoring Company Notion Featured on Silicon Labs Interview | Symmetry Blog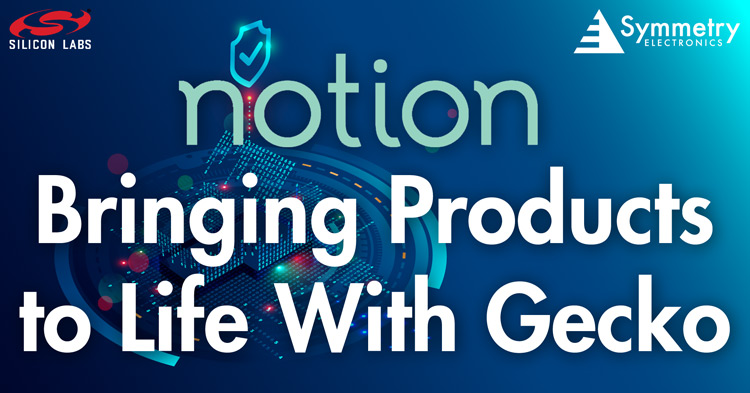 Recently, Notion, a maker of home monitoring sensors, was featured in an interview with Silicon Labs. Symmetry is proud to have worked with Notion to bring their products to life.
Notion is the complete home monitoring solution, powered by an all-in-one smart home sensor, that sends alerts to a homeowner's mobile device for the things they care about most — water leaks, smoke alarms, temperature changes and doors, garages and windows opening and closing. Notion is more than home security. Notion delivers real-time peace of mind.
Silicon Labs spoke with Ryan Margoles, CTO and co-founder of Notion, about the release of their new Gen 3 sensors and the impact IoT is making among homeowners.
Tell us about the history of Notion. What was the impetus for starting the company and what were the immediate challenges?
The idea for Notion was literally sparked by a sounding alarm in the middle of the night. My wife and I had just adopted a puppy and our carbon monoxide alarm went off at 2am; it was a pretty jarring experience. We jumped out of bed and opened all the windows and exited the house. Fortunately, it was only the furnace fizzling out. The next day, I called my business partner and childhood friend, Brett, with the idea to make a Wi-Fi connected smoke/carbon monoxide alarm. We set out to learn more about the value proposition of a smart smoke alarm, and how we could make it valuable for customers. We learned quickly that people loved the use case, but were not used to buying smoke or CO2 alarms; they are usually already installed in the apartment or in the home you buy. The product evolved and coalesced into a concept of a single sensor that could do multiple things: listen for smoke/CO2 alarms, detect movement, doors and windows opening/closing, freezing temperature, and leak detection. The competition offered several single-function sensors: a door sensor, a temperature sensor or a leak sensor. In our opinion, this was a barrier to entry for people who aren't as tech savvy. We knew we had found the right idea to pursue.
When you set out to do this, size and battery power were obvious considerations. What were some other known design challenges?
There were three challenges on the onset: 1.) Battery usage: Battery power and replacing batteries every three months is tough for a customer to get used to; it's a hassle. Our Gen 1 kit had a coin-cell battery that was difficult to swap out. We learned over time that just two AAA alkaline batteries were important since they are readily available and easy to change out. 2.) Ingress protection: Devices that are placed outside, in really cold environments or used for water leaks need to limit the amount of water that gets into the devices. 3.) Simple user experience: it was a challenge to design a simple user setup. One of the areas of opportunity was the pairing process. With most smart devices, you have to go through a pairing process. We identified that as a pain point for users so we developed our own protocol for pairing devices. Our goal is ease-of use. Every device is the same. It detects all five "senses" and device tasks are 100% configurable in the Notion smartphone app.