Hirschmann Solutions Announces Iridium 9602 Update and CE Certification for the Iridium Transceiver Antenna System
Wednesday, May 27, 2015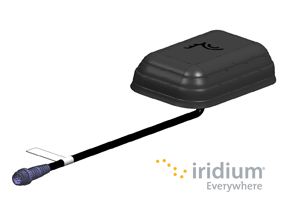 Hirschmann Solutions has announced a new Iridium 9602 (N) modem option, replacing the current 9602 and expanding the Iridium Transceiver Antenna System (ITAS) product family. The new Hirschmann ITAS plug-and-play Iridium smart antenna contains a high-performance antenna, the new Iridium 9602 (N) transceiver, power regulation, and a serial communication interface to integrate global Short Burst Data (SBD) communication for maximum performance. The 9602 (N) modem features a more sophisticated and integrated radio frequency and digital architecture and the Iridium 2nd generation NEXT constellation. Additionally, the entire product family is now CE Certified, as required for communication products sold into the European Economic Area and covered by the Radio and Telecommunications Terminal Equipment (R&TTE) Directive for use in 31 European countries.
Many of our M2M and IoT customers who require a true global connection choose to use satellite communication alongside or in place of a cellular LTE or Wi-Fi connection. Hirschmann's ITAS products featuring the Iridium 9602 are fully integrated satellite transceiver and antenna systems that provide reliable data transmission for asset management and safety-related applications, including heavy machinery tracking and telemetry, on- and off-highway vehicles traveling to remote locations or any asset requiring monitoring outside of the cellular infrastructure. This makes them an excellent option for fleet and asset tracking applications.
Call Symmetry Electronics at (310) 536-6190 or contact us online to order Hirschmann Solutions products or to receive more information regarding Hirschmann Solutions.
Subscribe
Stay up to date with industry and supplier news!
Browse