GigaDevice GD32™ MCU Offers Shortest Industry Lead Time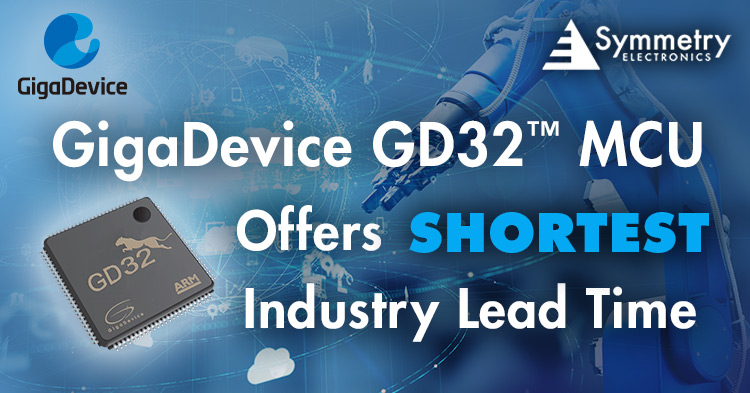 As a company, GigaDevice is at the forefront of modern technology. GigaDevice is a fabless semiconductor supplier that produces a variety of Flash memory, microcontrollers (MCUs), and sensor solutions. Their products support a wide range of industries from automotive and networking to communications. Ranking third in their market segment, GigaDevice was among the companies that pioneered SPI NOR Flash memory. Since its inception in 2005, GigaDevice has shipped nearly 16 billion units.
GigaDevice's GD32 MCU Family
GigaDevice's GD32 (Figure 1) is a family of high-performance MCUs. The GD32 features energy-efficient, cost-effective, universal microcontrollers powered by ARM® Cortex®-M cores. This MCU family delivers extended functionality and design adaptability through the incorporation of GigaDevice's patented gFlash memory technology. GigaDevice's GD32 family is package and pin-compatible with other popular microcontrollers, but requires changes to firmware. Developers must consider firmware modifications depending on their unique use case. GigaDevice has skilled support available to assist designers and customers with firmware modifications.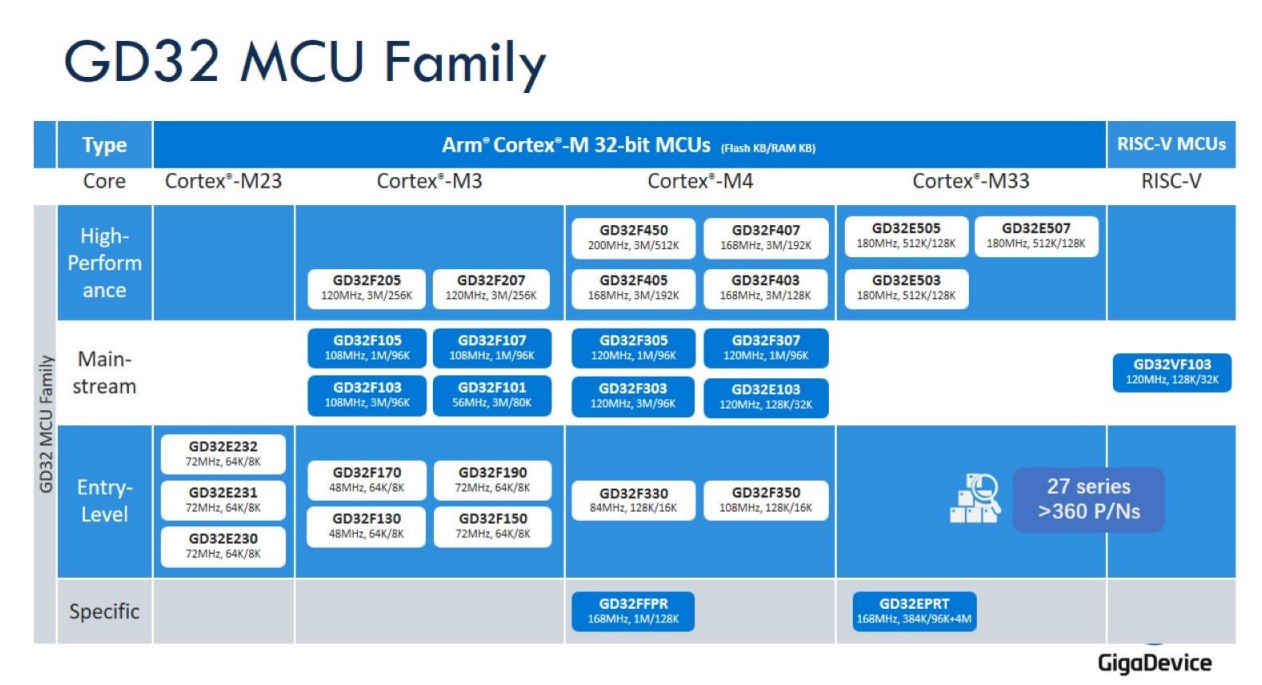 Figure 1: GigaDevice's GD32 MCU family.
Source: GigaDevice's Product Selection Guide 2021
GD32 MCU Key Benefits & Specifications
Availability:
GigaDevice offers 20-week lead time for products in the GD32 line, whereas competitors quote 52+ week lead times.
The GD32 family is a cost-effective option. Comparable MCUs like STMicroelectronics' STM32 are 2-3x the cost of the GD32, in some cases.
Breadth of Offering:
GigaDevice offers a large selection of over 300 Cortex-M3 or Cortex-M4 part numbers.
MCUs in the GD32 family present a diverse range of flash densities (16KB-3MB)
GD32 MCUs are furnished with a Colt area for Flash. The Colt area integrates 'zero-wait-state' technology and offers superior performance to built-in flash technology.
Supported by Industry-Leading Tool Vendors:
GD32 products are software compatible with:

Keil Tools by ARM
IAR Systems
CrossWorks
And more
Similar Pinouts and Programming Environments to Competitors:
Customers can transition from competing MCUs to an MCU in the GD32 family without having to make changes to the printed circuit board (PCB).
Firmware is not compatible when migrating from competing MCUs. GigaDevice has support available that will help customers update code to match operational requirements.
GigaDevice GD32 Development Kits
Currently, GigaDevice offers two development board series to support the GD32 MCU; the GD32 MCU full function Evaluation Board (EVB) and GD32 MCU Learning Starter Kit. The GD32 full function EVB is equipped with periphery components. This kit includes interfaces, an external memory bus, LCD, Ethernet, and other connections. An extension header is available for I/O's for quick connection to a prototyping board. This kit also features easy probing with an onboard GD-link.
The GD32 MCU Learning Starter Kit is an entry-level development kit that comes equipped with an essential development board and ports for connections. The Learning Starter Kit is designed for quick connection and prototyping. Similar to the full function EVB, the Learning Starter Kit supports easy probing with an onboard GD-link or other compatible simulators. Select models of the Learning Kit support Arduino compatible interfaces.
GD32 Common Applications
The GD32 family of MCUs support a wide variety of applications, including:
Industrial Control (Industrial Control Programmable Logic Controllers (PLCs), Intelligent Electronic Devices, Human Machine Interfaces (HMI), etc.)
User Interfaces (Remote control, virtual reality, ATMs, speedometers, etc.)
Motor Drives
Power Monitors (Measures power consumption to support energy-saving activities)
Alarm Systems
Consumer & Handheld Devices (Tablets, e-readers, smartphones, MP3 players, etc.)
Solar Photovoltaic Controls (Solar powered systems)
Touch Panels
PC Peripherals (Mouse, keyboard, trackball, touchpad, joystick, etc.)