Getting Your M2M Cellular Design Connected
Thursday, April 3, 2014
M2M Communications
Machine to machine (M2M) technologies are being implemented across countless industries to track assets, automate intelligent buildings, and monitor utilities and smart meters for an assortment of conditions, among other uses. A major architecture migration is under way in which commercial and industrial devices are replacing Wi-Fi connectivity with cellular modules which connect directly to the Internet or VPN, or other IT Service infrastructure.
There are six major considerations for OEM cellular design:
Determining the wireless carrier
Testing and certifications
Antenna requirements
Additional functionalities
Budget
Future roadmap
Most cellular designs will use a module or a solution rather than a chip due to the significant effort and cost required to certify devices on a cellular network. The economics of a discrete cellular design do not occur until volumes reach close to a million units. Cellular modules are typically certified on networks, though the designs they are built into may require further carrier certifications. There are also fully enclosed modem solutions certified as end devices. These solutions allow customers to use a modem without any additional certification.
Whether your cellular design requires a module or a solution, Symmetry can get you connected.
Modules
When selecting parts for a cellular design, it is important to choose a cellular module partner rather than opting for a module based solely on price and a datasheet. A good module partner will have various network approved modules to support the different cellular technologies and be able to help with design reviews. A module partner who has developed a common software command set for their modules can save significant time with future designs. The module providers who have well documented hardware and software user manuals are much more capable of supporting different applications. A stable development kit that supports multiple modules will help accelerate the design cycle. Telit, a global leader in M2M communication modules, has proven to be a good choice for customers needing an experienced module partner.
Telit offers the most flexible and smallest size modules in the market. Their modules are fully PTCRB and FCC certified and include a Jamming Detection report feature for increased security. Telit has a unified form factor and extensive AT command set across the different cellular standards, simplifying cross-network designs, and Telit designed and owns its own GSM protocol stack, reducing customer risk and enabling Telit to offer new services faster than the competition. Telit also offers a future upgrade path with Firmware Over The Air (FOTA), extending the lifecycle of designs.
In addition to offering a variety of modules and features for cellular networks, Telit's experience can help guide the component selection process, advising on considerations such as data speed, service and connectivity charge, physical dimensions, power consumption, environmental operating conditions, embedded GNSS, special certifications, manufacturing constraints, and other factors. Telit can also assist developers through the device certification process, reducing the time and cost of wireless product development.
Solutions
Should your design require a solution instead of a module, Symmetry offers a range of solutions incorporating Telit modules.
Nimbelink offers the smallest embedded cellular modem available, allowing for the addition of robust, certified cellular connectivity to M2M devices. Their self-contained devices require no training to install and can be used for simple remote monitoring.
Janus Remote Communications provides state-of-the-art wireless products and services as well as custom design solutions for the global M2M marketplace. Additionally, Janus offers numerous technologies enabling designers to build their own M2M communication solutions, including off the shelf products for an immediate, ready-to-perform answer.
For customers wanting a full-featured, standalone end product, Multi-Tech has a broad product offering for all levels of M2M integration with an extensive range of embedded modules, complete box modems, and full solutions. Multi-Tech products provide a shortened time to market, network interoperability, and reliability in ready to use, plug and play formats.
Other M2M Needs
Symmetry also has the components and peripherals necessary to finalize M2M designs, including antennas, host controllers, power management, and evaluation and development kits, along with RF products, Bluetooth products, sensors, MCUs, GPUs, SOCs, SOMs, SBCs, and more.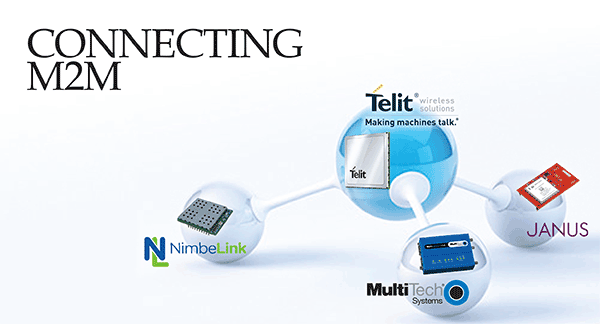 Symmetry Electronics: NOT just another M2M distributor.