GainSpan GS2000 Based IoT Solutions for the Commercial Connected World
Whether the structure is an office, retail center, hotel, hospital, research center, or server farm, the biggest culprits of energy inefficiencies within these buildings are lighting, heating and air conditioning. GainSpan wireless solutions help counteract these effects by monitoring and controlling lighting, temperature, and air quality within commercial buildings, and potentially extending to making automatic intelligent decisions about resource usage within them.
Connected buildings not only reduce energy consumption and related costs, but also deliver simultaneous improvements in tenant comfort and safety and give advance notice of potential hazards and failures, preventing costly downtime.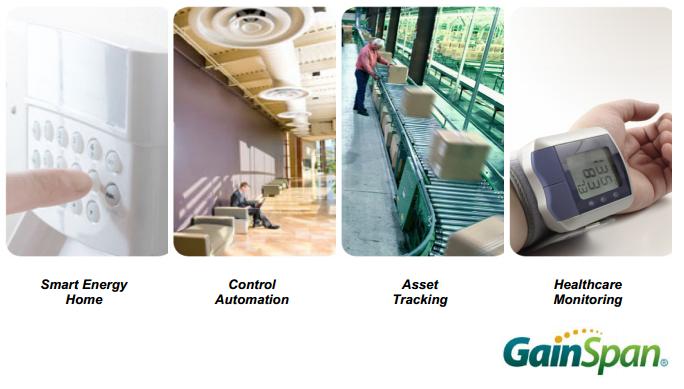 Our low power Wi-Fi solutions offer the convenience, simplicity and low installation cost of wireless while leveraging the expanding Wi-Fi infrastructure already available in many commercial buildings--a true energy- and cost-efficient solution.
Our Wi-Fi solutions solve various critical business issues such as the tracking of assets. Retailers and manufacturers lose millions every year due to their limited ability to locate, re-locate and secure their valuable assets. Real time locating systems (RTLS) using wireless tags and software are being deployed to help minimize these losses.
Retail companies around the world now rely on Wi-Fi barcode scanners, POS terminals, and portable printers, many of which are battery-operated and therefore dependent on wireless products that have low power consumption, such as GainSpan's GS2000-based modules.
For additional GainSpan product information or technical support, contact Symmetry Electronics, an authorized distributor of industry leading wireless, audio/video and embedded chips, modules and dev/eval tools. www.symmetryelectronics.com/contact or call (877) 466-9722.