From Trinamic: "Smart Stepper Motor Drivers Enable Rapid Application Development"
Stepper motors are always ideal when a lot of torque and precise, reliable positioning is needed at low speeds. Intelligent solutions such as Trinamic's modules and PANdrive motors with integrated control systems form a simple interface between the digital and the physical world.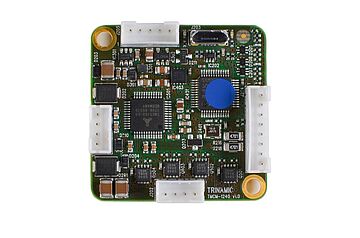 Hamburg, 14 May 2018 - TRINAMIC Motion Control GmbH & Co. KG, a leading supplier of semiconductors, electronics and mechatronic solutions in the fields of motor and motion control, is proud to announce the extension of the successful motor mountable modules by the TMCM-1240.
The module incorporates Trinamic´s latest stepper motor drive technologies including the popular silent control mode StealthChop in its second generation and the sensorless load-dependent current scaling CoolStep. The magnetic SensOstep encoder provides safe step-loss detection even in stand still.
"15 years ago, we pioneered the market of smart motors with our product line and kept pushing the envelope of integration over the years.", explains Michael Randt, founder and CEO of Trinamic. "With the latest product releases, we updated smart stepper motor drives to the latest and leading-edge technologies of current control and sensorless diagnostics."
Trinamic's TMCM-1240 embeds advanced motor control functions, motion control and PLC features like all other TMCM modules. Host communication is possible via the RS485 or CAN interface using TMCL or the optional CANopen protocol. Together with the free and easy to use TMCL-IDE, the module allows for easy implementation of a standalone program flow and remote-controlled operation.
Designed for an operating voltage of +12V to +24V DC nominal at up to 2A RMS phase current resulting in 0.22Nm to 0,7Nm pullout-torque, the new module offers leading-edge current control technologies based on Trinamic's latest stepper motor driver generation. With Trinamic's StealthChop™ current control for silent positioning at low speed and SpreadCycle™ for highest performance at high speed, the module provides superior performance wherever small stepper motors are used.
An integrated SixPoint™ ramp generator per axis allows for precise and rapid positioning – even in environments where parameters and target positions must be changed during motion. The module has L+R reference switch inputs for every axis and comes with StallGuard2™ for sensorless homing.
Source: https://www.trinamic.com/company/news/news-detail/smart-stepper-motor-drivers-enable-rapid-application-development/
Subscribe
Stay up to date with industry and supplier news!
Browse