From Trinamic: How does perfect control feel?
The loss of a limb obviously deals a great blow to the quality of one's life. Sadly, today's prosthetics still have a long way to go in their ability to replicate natural limb motor function. Icelandic manufacturer Össur – a market leader in active prosthetics technology – is currently developing the first prosthetic leg for serial production that features both motorized knee and ankle joints, with the help of integrated drive control components from German manufacturer Trinamic Motion Control. The movement and control of a prosthetic leg is getting closer and closer to that of a natural one. The greatest advantage is that a knee-down amputee no longer needs to re-learn how to walk.
Össur's Power-Knee has already set a new standard as the first world's first prosthetic knee joint on the market which mimics natural muscle activity via active motors, and readily provides power necessary for e.g. upward movement such as on stairs or inclines.
From Captain Hook to Iron Man.
Folding the laundry, getting up from the couch or setting the table for dinner – for healthy people, it's no trouble at all. The Swiss Federal Institute of Technology (ETH) in Zurich, however, wants to show the world just how difficult these everyday tasks can be for people with physical disabilities.
Even though current prosthetics are far from the proverbial wooden 'peg-leg', those that use them still have to either relearn or make major adjustments to almost every aspect of their everyday life. Therefore, the Cybathlon focuses mainly on the challenges created by otherwise normal day-to-day activities.
Team Össur, together with Trinamic, is addressing these challenges head-on in the world's first Cybathlon, using their fully motorized prosthetic leg that provides power to both the knee and ankle joints. Meeting the deadline for the Cybathlon, however, meant that the team had less than half a year to develop a cutting-edge, compact and reliable drive control system.
Motion Controllers as Body Parts
Even if motorized prosthetics aren't considered life-critical systems like pacemakers, for example, using an actuator as a part of the body demands a high level of device durability and reliability. At the same time, the actuators and their control systems must fit within the dimensions of natural limbs. The space available for an ankle-actuator in particular is therefore very limited.
To make the replacement of various joints with various levels of assistance possible over the long-term, the control system must be modular. Variations of basic designs will be available for different battery voltages and power classes; to do this, the functional components i.e. the motor control, sensors and the central processor (which runs the physiological movement AI) are designed as individual components to be mounted together in a very small space.
We are driven by improving people's mobility. This has taken us to being the world's only company building motorized prosthetics for above-knee amputees. Having Trinamic as a partner for the motor and motion control allows us to go even further and make motorized limbs more accessible.
David Langlois (Technical Product Lead – Knees, Össur)
Faster Development with Dedicated Ramp Controllers
With these requirements in mind, and with the goal of developing a working prototype in time for the Cybathlon, Trinamic developed a customized motor control system in less than 5 months. This was made possible in such a short time through the use of a TMC4670 dedicated controller component, which relieves the microprocessor by overtaking all field-oriented control. The risks associated with the development of controller firmware as well as the time normally needed for its validation and testing were thereby eliminated. The control parameters simply had to be adapted to the motor and to the unique requirements of the device's application.
Development could therefore concentrate on overcoming the size restriction challenges. Not surpassing the basic the geometry of a foot required fitting a motor controller with a peak output of 500W into an area of no more than 65 x 45 mm. Managing power dissipation in such a small space requires a good thermal connection to the aluminum structure, so several designs including active-multilayer topologies were developed in parallel, and compared with functional models. These experiments resulted in the selection of a design with surface-mounted circuit breakers with optimal thermal connection to the housing.
We were all very excited about the Cybathlon! The fusion of drive systems with the human body is both the ultimate challenge and motivator for the Trinamic team as we continue to develop our technology. Össur, being the leading innovator in the prosthetics industry, was a perfect match. Such technology is also suitable for many other applications, for example in the robotics, medical technology and even the consumer product sectors.

Michael Randt (CEO, TRINAMIC)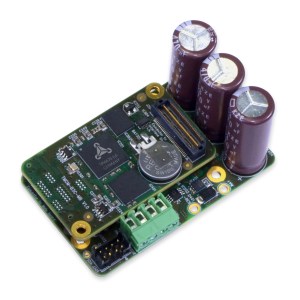 Trinamic's early prototypes underwent rigorous testing at expected operational load cycles in order to validate both the devices' control system design and its specially developed mechanical components in parallel. The load cycles, modeled after experience gained from the currently manufactured PowerKnee II, could be simulated in the testing lab using a pair of devices consisting of two motors intended for use in the final product.
Source: http://blog.trinamic.com/2016/12/19/how-does-perfect-control-feel/
Why partner with Symmetry Electronics? Symmetry's technical staff is specially trained by our suppliers to provide a comprehensive level of technical support. Our in-house Applications Engineers provide free design services to help customers early in the design cycle, providing solutions to save them time, money and frustration. Contact Symmetry for more information.