From Silvertel: "PoE Power for Raspberry Pi 3 model B+"
The new Raspberry Pi 3 model B+ design has made it even easier to add PoE hat, without the need for extra cables. The GPIO connector will provide all the connection required for PoE. Silvertel, a UK manufacturer of POE, telecom and power modules, have released a circuit and PCB layout for a 5V PoE adapter board ideal for the new Raspberry Pi 3 model B+ design. This PoE hat design uses the Raspberry Pi 3 B board's GPIO connector to access the Ethernet transformer and power lines to provide a simple neat PoE solution. The information provided is available for free download and use by any manufacturer of accessories or general hobbyists. The information pack provided includes: a full bill of materials (parts readily available from on-line electronic component suppliers), a circuit schematic and the PCB layout. The Ag9905M is the smallest 12W PoE solution available at this time but Silvertel is constantly surprising the market.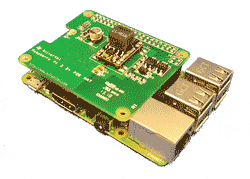 The latest Release downloads including PHY protection can be found below. Released April 2018.
Download Circuit diagrams for PoE Adapter Board
Download PCB silkscreen (Top) for PoE Adapter Board
Download PCB silkscreen (Bottom) for PoE Adapter Board
Source: https://www.silvertel.com/latest-news/428-poe-power-for-raspberry-pi-3-model-b.html