From Silicon Labs: "Setting the Example for Bluetooth Mesh Solutions"
In 2017, the Bluetooth SIG added mesh networking capability to Bluetooth. An established, trusted technology, Bluetooth mesh demonstrates global interoperability and is well-suited for consumer lighting and home automation applications—think large-scale systems in which tens to hundreds of devices need to reliably and securely communicate. In addition to industrial applications, mesh shows strong signs of growth in many markets, including smart building, and smart home.
Bluetooth Mesh by the Numbers: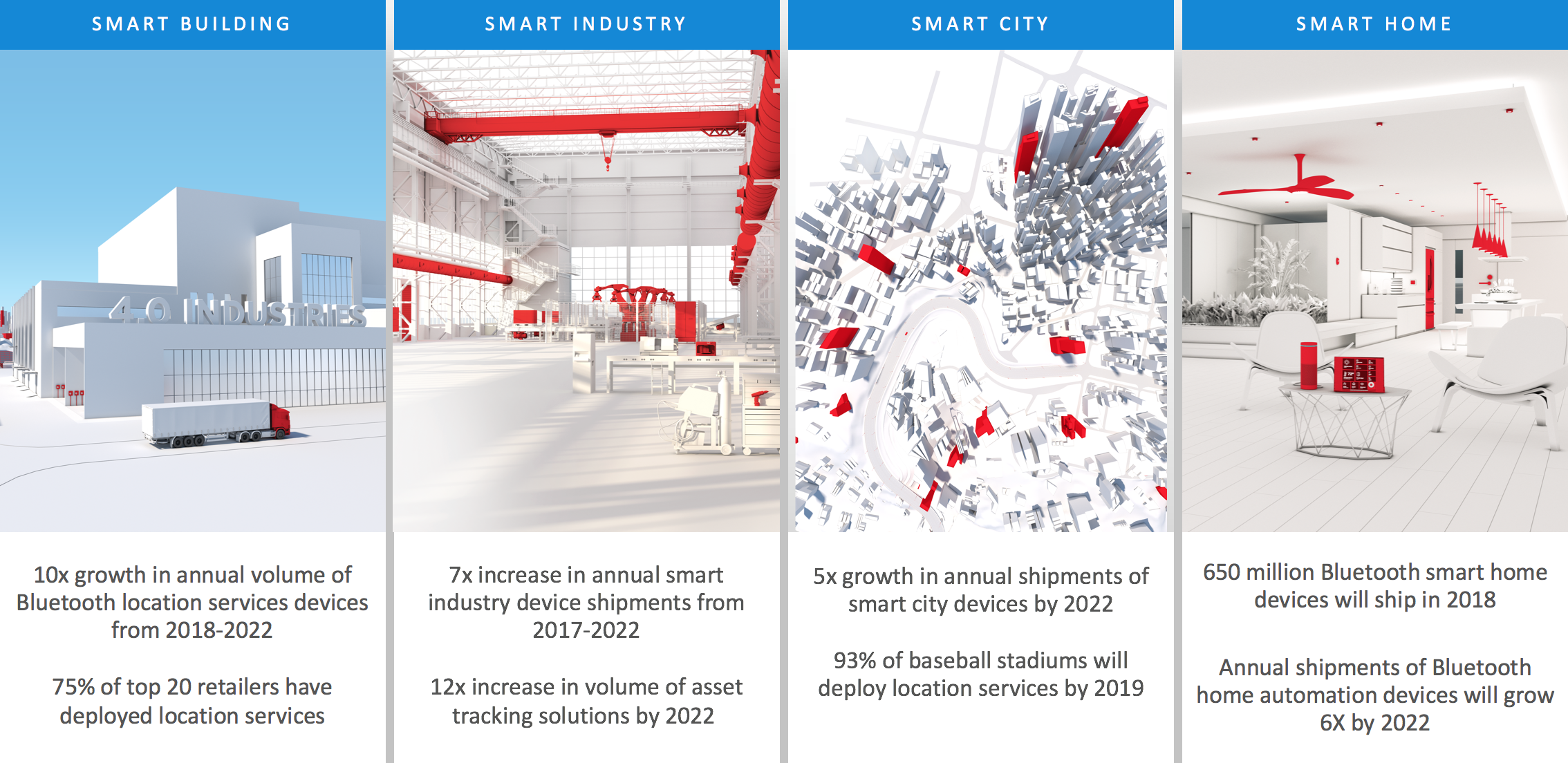 Source: Bluetooth Market Update 2018
Meeting the Bluetooth SIG's Mesh Specifications
The Bluetooth SIG released their mesh networking specifications in 2017 in order to set the fundamental requirements of an interoperable many to many (m:m) mesh networking solution for Bluetooth Low Energy (LE) wireless technology. Any mesh networking solution, model, or device must meet these specifications in order to be fully compliant with the SIG's standards.
Not only are Silicon Labs' Bluetooth mesh solutions fully certified by the Bluetooth SIG, we are the only company that has performed Bluetooth mesh performance testing and published the results. When we compared the performance of mesh networking standards between Thread, Zigbee, and Bluetooth mesh, we found that Bluetooth mesh works best when short messages (<=11B) are used, especially for multicast messages.
Silicon Labs Bluetooth Mesh Solutions: Setting the Example, Right out of the Gate
Though any Bluetooth low-energy hardware can be used for a Bluetooth mesh implementation, Silicon Labs' EFR32BG13 Blue Gecko SoCs, as well as BG13MP and BGM13S Blue Gecko Bluetooth® Module feature several advantages:
High transmit power, which means good RF performance
A temperature range of over 125 Celcius, a key consideration for LED bulb design
At 64 k ram and 512 flash, an ideal memory profile for Bluetooth mesh applications
Silicon Labs is also the leading producer of Bluetooth mesh hardware and software with low power nodes (LPN). Low power is a critical feature for battery-powered energy harvesting devices such as sensors and switches.
Because Silicon Labs was the first to market with Bluetooth mesh, we have most mature software with the most features for developers. Those dev tools include:
The Simplicity Studio™ Network Analyzer. No other company makes a network debugger tool like this one. Customers tell us it provides the easiest way that they've found to see and squash bugs. Learn more in this quick this video tutorial.
With the Blue Gecko Bluetooth Low Energy Wireless SoC Starter Kit, you can quickly build test networks and visualize energy usage and optimization.
Support for Android and iOS in the form of an app dev kit (ADK), with an example app and source code included.
One of our Bluetooth experts, Mikko Savolainen, explains the benefits and features of Bluetooth mesh in this video:
For more information, visit the Bluetooth Mesh Learning Center.
Source: https://www.silabs.com/community/blog.entry.html/2018/11/06/setting_the_example-C9gN
Subscribe
Stay up to date with industry and supplier news!
Browse