From Nordic Semiconductor: Friday Lock, a HomeKit-compatible Bluetooth low energy smart lock, replaces keys by enabling user to unlock doors using a smartphone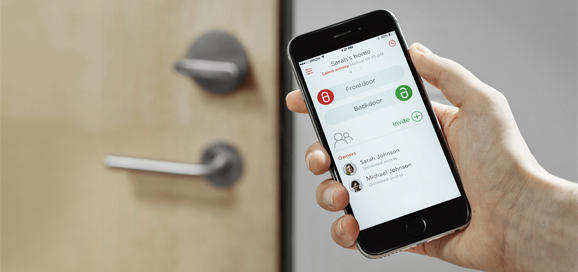 Nordic Semiconductor today announces that London, U.K.-based home automation company, Friday Labs, has selected Nordic's nRF52832 Bluetooth® low energy System-on-Chip (SoC) for its new Friday Lock, said to be the only Apple HomeKit™-compatible wirelessly operated lock to offer both Bluetooth low energy and Wi-Fi connectivity in one device.
The Friday Lock offers compact 7.9 by 4.8-cm dimensions, and thanks to its Universal Baseplate™ can be fitted to most existing and new doors, allowing the user to open or lock the door using an electronic 'key' via the Friday app on their Bluetooth 4.0 (and later) iOS or Android smartphone or tablet. When the user approaches, the Friday Lock automatically unlocks the door via the Friday Assist™ technology.
From the Friday app, the owner can manage any number of locks across multiple locations. They can also issue 'keys' to anyone with the app who needs access to a building fitted with a Friday Lock. The electronic keys can also be cancelled at any time.
The smart lock employs a 3.7V 3000mAh Li-ion battery, providing up to six months of standby time between replacement, thanks in part to the ultra low power operating characteristics of the Nordic nRF52832 SoC.
Nordic's nRF52832 Bluetooth low energy SoC, a member of Nordic's sixth generation of ultra low power (ULP) wireless connectivity solutions, combines a 64MHz, 32-bit ARM® Cortex® M4F processor with a 2.4GHz multiprotocol radio (supporting Bluetooth 5, ANT™ and proprietary 2.4GHz RF software) featuring -96dB RX sensitivity, with 512kB Flash memory and 64kB RAM. When launched, the SoC was the world's highest performance single-chip Bluetooth low energy solution, delivering up to 60 percent more generic processing power, offering 10 times the Floating Point performance and twice the DSP performance compared to competing solutions.
"We needed a high performance Bluetooth solution with low energy consumption, and a SoC solution with a high-quality Apple HomeKit-compatible Software Development Kit [SDK], and for that reason Nordic's nRF52832 was a good choice," says Marcus Tempte, Co-founder and CEO of Friday Labs.
Source: https://www.nordicsemi.com/eng/News/News-releases/Product-Related-News/Friday-Lock-a-HomeKit-compatible-Bluetooth-low-energy-smart-lock-replaces-keys-by-enabling-user-to-unlock-doors-using-a-smartphone
Contact Symmetry Electronics at 866-506-8829, email us or start a live chat and we'll be glad to help you with your projects!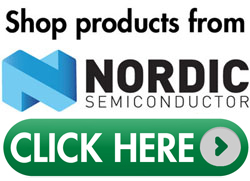 Why partner with Symmetry Electronics? Symmetry's technical staff is specially trained by our suppliers to provide a comprehensive level of technical support. Our in-house Applications Engineers provide free design services to help customers early in the design cycle, providing solutions to save them time, money and frustration. Contact Symmetry for more information.