From Lantronix: "Lantronix Collaborates with Microsoft to Accelerate Internet of Things Solutions"
Irvine, CA – August 1, 2018 – Lantronix, Inc. (the "Company") (NASDAQ: LTRX), a global provider of secure data access and management solutions for the industrial Internet of Things (IoT), today announced it has joined the Microsoft Azure Certified for Internet of Things (IoT) program, ensuring customers get IoT solutions up and running quickly with hardware and software that has been pre-tested and verified to work with Microsoft Azure IoT services. Microsoft Azure Certified for IoT allows businesses to reach customers where they are, working with an ecosystem of devices and platforms, allowing for faster time to production.
Lantronix has been delivering robust connectivity solutions for the machine to machine (M2M) connectivity and IoT industry for more than 25 years. Lantronix's IoT solutions include the SGX 5150, dual-band Wi-Fi IoT device gateway supporting 802.11ac standard with enterprise security, which is being used in a variety of applications in manufacturing, retail, medical and transportation verticals. For Lantronix customers, Microsoft Azure provides a scalable infrastructure for data, virtual machines, server and front-end applications. By certifying company's popular IoT device gateway, the SGX 5150, to work with Microsoft Azure IoT services, Lantronix is accelerating and simplifying the integration of rugged edge IoT connectivity solutions into today's industrial IoT applications. Lantronix has been working with technology innovators such as Microsoft for many years to engineer rugged connectivity and management solutions that boast the right feature sets, integration capabilities, and certifications for customers' current and future business needs. With Lantronix's ruggedized SGX 5150 IoT device gateway, now Microsoft Azure Certified for IoT, it will be easy and quick for manufacturers, utilities, healthcare providers, government agencies and other customers to deploy completely integrated edge to cloud connectivity and management solution to digitally transform their businesses through real-time access to machine data.
"Through this collaboration with Microsoft, we are working to deliver a more integrated edge to cloud solution," said Shahram Mehraban, vice president of marketing at Lantronix. "Decreasing the usual customization and work required for compatibility helps our customers get started quickly on their industrial IoT solution."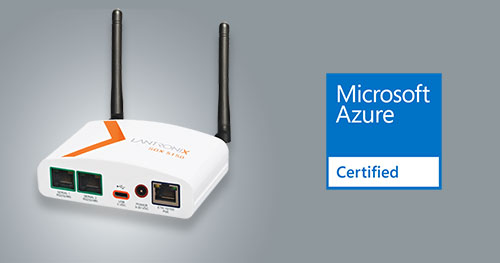 "Microsoft Azure Certified for IoT extends our promise to bring IoT to business scale, starting with interoperable solutions from leading technology companies around the world," said Jerry Lee, Director of Marketing for Azure Internet of Things, Microsoft Corp. "With trusted offerings and verified partners, Microsoft Azure Certified for IoT accelerates the deployment of IoT even further."
Auring Technologies, a Lantronix systems integrator partner, has been using the SGX 5150 IoT device gateway with Microsoft Azure in a number of factory installations, helping their manufacturing customers get real-time insight into their equipment and reducing machine downtime using innovative predictive maintenance solutions.
"Our mission is to help our manufacturing customers drive shop floor efficiency from their existing factory tools" said Palash Sharma, co-founder of Auring Technologies. "The combination of Lantronix's SGX 5150 IoT device gateway with Microsoft Azure IoT allowed us to get our customers shop floor tools connected to the Microsoft Azure in matter of hours and allowed us to quickly deploy an effective predictive maintenance solution."
IoT projects are complex and take a long time to implement. Customers find that choosing and connecting the right set of devices, assets or sensors to the cloud can be time-consuming. To jumpstart their IoT projects with confidence, customers are looking for certified devices and platforms that are tested for readiness, compatibility and usability with the Microsoft Azure IoT Suite. By choosing a partner from the Microsoft Azure Certified for IoT program, customers can save time and effort on project specs and RFP processes by knowing in advance what devices and offerings will work with the Azure IoT Suite.
Learn more about this collaboration at Azure Certified for IoT and explore the Azure IoT Suite today.
About Auring Technologies
Auring Technologies LLP helps manufacturers in increasing their shop floor efficiency by reducing the machine maintenance cost through an effective predictive maintenance solution and providing a real-time machine monitoring solution to keep a check on your machines remotely. https://www.auring.in/
About Lantronix
Lantronix, Inc. is a global provider of secure data access and management solutions for Internet of Things (IoT) assets. Our mission is to be the leading supplier of IoT solutions that enable companies to dramatically simplify the creation, deployment, and management of IoT projects while providing secure access to data for applications and people.
With more than two decades of experience in creating robust machine to machine (M2M) technologies, Lantronix is an innovator in enabling our customers to build new business models and realize the possibilities of the Internet of Things. Our connectivity solutions are deployed inside millions of machines serving a wide range of industries, including industrial, medical, security, transportation, retail, financial, environmental and government.
Source: https://www.lantronix.com/newsroom/press-releases/lantronix-collaborates-microsoft-accelerate-internet-things-solutions/
Subscribe
Stay up to date with industry and supplier news!
Browse