From Embedded Antenna Design: "Four LTE MIMO antennas to get you connected"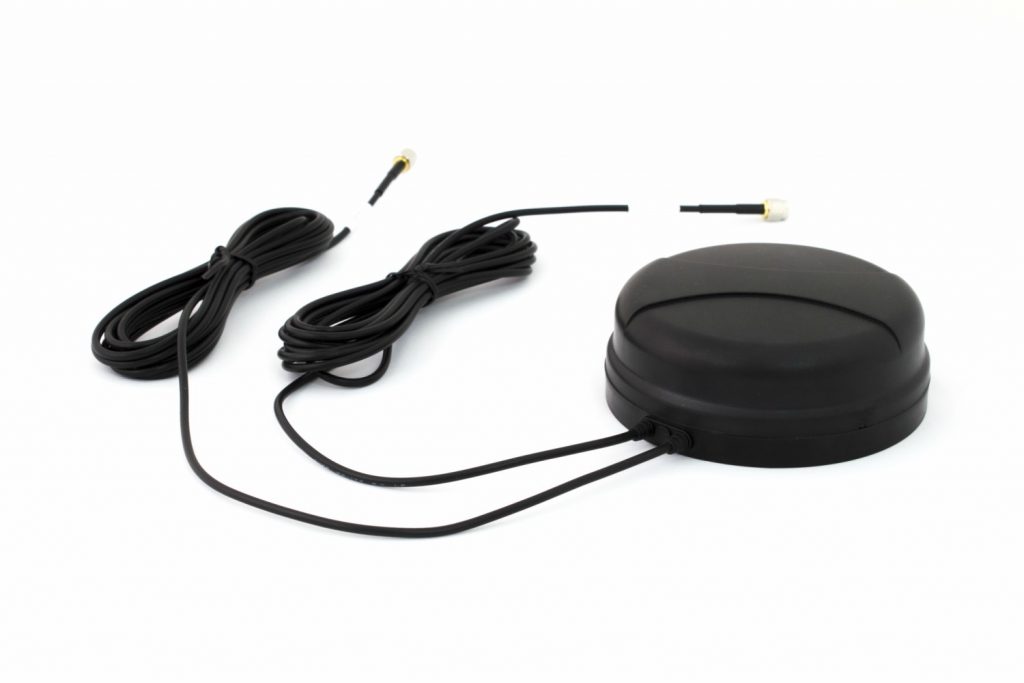 So you have sourced your LTE router and are looking for an antenna, here are four LTE MIMO antennas that you might want to consider depending on your application.
The antenna choice you make will very much depend on your application and on how/where you want your installation. The four antennas we look at here will cover an outdoor pole or wall mount omni antenna, a permanent mount puck antenna, a magnetic mount puck antenna and internal/external blade antenna. All four of the these antennas offer LTE connectivity in the frequency range 690-960/1710-2690 MHz (basically North American and European LTE bands excluding the 450 MHz LTE band) and all four LTE MIMO antennas are MIMO solutions i.e. they incorporate two LTE antenna elements that operate simultaneously.
Outdoor Wall/Pole Mount MIMO Omni Antenna – LMO7270
Housed in an aesthetically pleasing ASA radome, the LMO7270 is designed for both fixed and mobile applications included fixed broadband access, leisure marine, wireless CCTV and security system deployments. Combined with a robust white L-bracket, the LMO antenna is supplied with clamps and mounting for both wall and pole mounting (an option marine mount adapter is also available to connector to 1″ marine mounts).
Offering dual polarisation with one vertically-polarised LTE and one horizontally polarised LTE antenna element, the LMO is an ideal product to combine with 2 antenna port LTE routers and is widely installed across commercial, industrial and leisure marine applications. Available with a combination of low loss jumper cables such as BWL195 or RF400, the LMO7270 is a flexible solution for outdoor antenna installations.
The LMO7270 can be purchased online via the Connex webshop.
Low Profile MIMO Puck Antenna – CMO
A durable low profile, permanent mount puck antenna solution is required in a number of applications where the antenna should ideally be covert, discreet and mitigate the risk of damage. The CMO antenna ticks these boxes. Mounted by way of a threaded stud from underneath through a 20mm mounting hole, this antenna offers two LTE elements in a reduced height, reduced diameter package without compromising on performance. Once correctly installed the CMO is waterproof and is IP67 rated.
For small quantity requirements for Europe, the CMO can be purchased via the Connex webshop.
Low Profile MIMO Magnetic Puck Antenna – MP-2L
When a magnetic mount antenna is required instead of a permanent mount puck antenna, a very good solution is the MP-2L. Offering two LTE antenna elements housed inside a robust radome, the MP-2L has high-pull strength magnet in its base and it is fed by 2 cables which exit at the side so as not to interfere with installation. This antenna is ideal should drilling a hole in a vehicle skin or enclosure wall is not desirable or should the application demand that the antenna be moved frequently.
LTE MIMO Blade Antenna – MIMO-Blade
For an antenna that may not be permanently mounted, one option is to use a blade style antenna to mount onto a window or non-metal surface. The MIMO-Blade is one such antenna that is IP67 rated and so can be mounted inside or outside. Offering two LTE elements, this antenna is fully sealed and waterproof and is supplied with two suction cups as standard, but could also be mounted with adhesive tape, velcro or an adhesive bond such as mastick. The MIMO-Blade can be installed as a covert solution so outwardly there appears to be no antenna installed at all.
These four LTE MIMO antennas all offer innovative solutions for your LTE installation and combine high quality build along with robust electrical performance. For more information, visit the product pages or the webshop.
Source: https://www.ead-ltd.com/news/four-lte-mimo-antennas-to-get-you-connected
Subscribe
Stay up to date with industry and supplier news!
Browse