From Digi: "Understanding the ZigBee 3.0 Protocol"
ZigBee is a wireless technology developed as an open global standard to address the unique needs of low-cost, low-power wireless IoT networks. The ZigBee standard operates on the IEEE 802.15.4 physical radio specification and operates in unlicensed bands including 2.4 GHz, 900 MHz and 868 MHz.
The 802.15.4 specification upon which the ZigBee stack operates gained ratification by the Institute of Electrical and Electronics Engineers (IEEE) in 2003. The specification is a packet-based radio protocol intended for low-cost, battery-operated devices. The protocol allows devices to communicate in a variety of network topologies and can have battery life lasting several years.


THE ZIGBEE 3.0 PROTOCOL
The ZigBee 3.0 protocol has been created and ratified by member companies of the ZigBee Alliance. Over 300 leading semiconductor manufacturers, technology firms, OEMs and service companies comprise the ZigBee Alliance membership. The ZigBee protocol was designed to provide an easy-to-use wireless data solution characterized by secure, reliable wireless network architectures.


THE ZIGBEE ADVANTAGE
The ZigBee 3.0 protocol is designed to communicate data through noisy RF environments that are common in commercial and industrial applications. Version 3.0 builds on the existing ZigBee standard but unifies the market-specific application profiles to allow all devices to be wirelessly connected in the same network, irrespective of their market designation and function. Furthermore, a ZigBee 3.0 certification scheme ensures the interoperability of products from different manufacturers. Connecting ZigBee 3.0 networks to the IP domain opens up monitoring and control from devices such as smartphones and tablets on a LAN or WAN, including the Internet, and brings the true Internet of Things to fruition.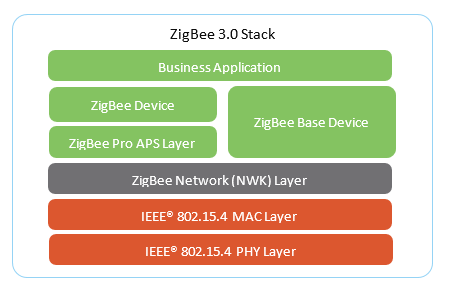 ZigBee protocol features include:
Support for multiple network topologies such as point-to-point,
point-to-multipoint and mesh networks
Low duty cycle – provides long battery life
Low latency
Direct Sequence Spread Spectrum (DSSS)Up to 65,000 nodes per network
128-bit AES encryption for secure data connections
Collision avoidance, retries and acknowledgements
>>CHECK OUT THE NEWEST DIGI XBEE3 ZIGBEE VIDEO TO LEARN MORE.
Source: https://www.digi.com/blog/post/understanding-the-zigbee-3-0-protocol
Why partner with Symmetry Electronics? Symmetry's technical staff is specially trained by our suppliers to provide a comprehensive level of technical support. Our in-house Applications Engineers provide free design services to help customers early in the design cycle, providing solutions to save them time, money and frustration. Contact Symmetry for more information.