From Digi: "IoT Solutions for Transportation"
Among industry sectors that are rapidly adopting IoT technology, public transportation is one that can benefit the most from gains in operational efficiencies, cost savings, safety and security. The automotive industry also has unique needs, and some excellent innovations are emerging to support that market as well.
In this post we will look at some specific IoT solution examples for transportation from the Digi collection of customer success stories, such as Positive Train Control (PTC), vehicle analytics, ticketing systems, transit system security and high-speed passenger Wi-Fi.
IoT-Enabled Solutions for Transportation
Technology advances are supporting the development and deployment of IoT solutions across the transit sector. For example, the networks themselves have advanced with the rapid growth of 4G networks and the advent of 5G.
Meanwhile, 2G and 3G networks are shutting down, contributing to the growth of new and enhanced products and systems optimized for more advanced networks. In metropolitan areas today, the reliability of cellular networks now rivals, and even exceeds, traditional wired networks.
Moreover, new mobile access router technology provides the critical connectivity to support these applications. For example, Digi transportation routers provide secure cellular connectivity and multi-purpose data routing for demanding
transit and industrial environments affected by factors such as
temperature fluctuations, moisture, movement and vibration.
Transit sector solutions must meet a range of objectives, depending on the use case:
Public transit systems: Improve on-board rider experiences, including safety, with high-speed Internet connectivity
Railways: Improve train safety and responsiveness to emergency situations, while meeting PTC regulatory requirements
Trucking/supply chain: Track vehicle analytics, reduce the need for truck rolls, and expand automated processes to save operational costs
CASE STUDY EXAMPLES: IOT SOLUTIONS FOR TRANSIT AND AUTOMOTIVE
Digi customers develop a wide range of IoT applications and solutions using Digi products. Here are a few examples of solutions that serve the transportation sector today.


SEPTA: POSITIVE TRAIN CONTROL (PTC)
The Southern Pennsylvania Transportation Authority (_) provides light rail, subway and bus service to more than one million riders daily in and around Philadelphia. SEPTA was one of the early transit systems to mobilize their Positive Train Control (PTC) installation, a sophisticated train-signaling system designed to prevent crashes, derailments and track worker injuries resulting from speed and signal violations.
SEPTA worked with Digi to deploy the right connectivity solution for PTC:
The Digi® WR44-RR mobile access router.
PTC message routing and wireless communications via a Mobile Communications Package (MCP)
An integrated, drop-in MCP assembly that houses Digi WR44 RR, a 220 MHz TDMA radio, power supply and RF filters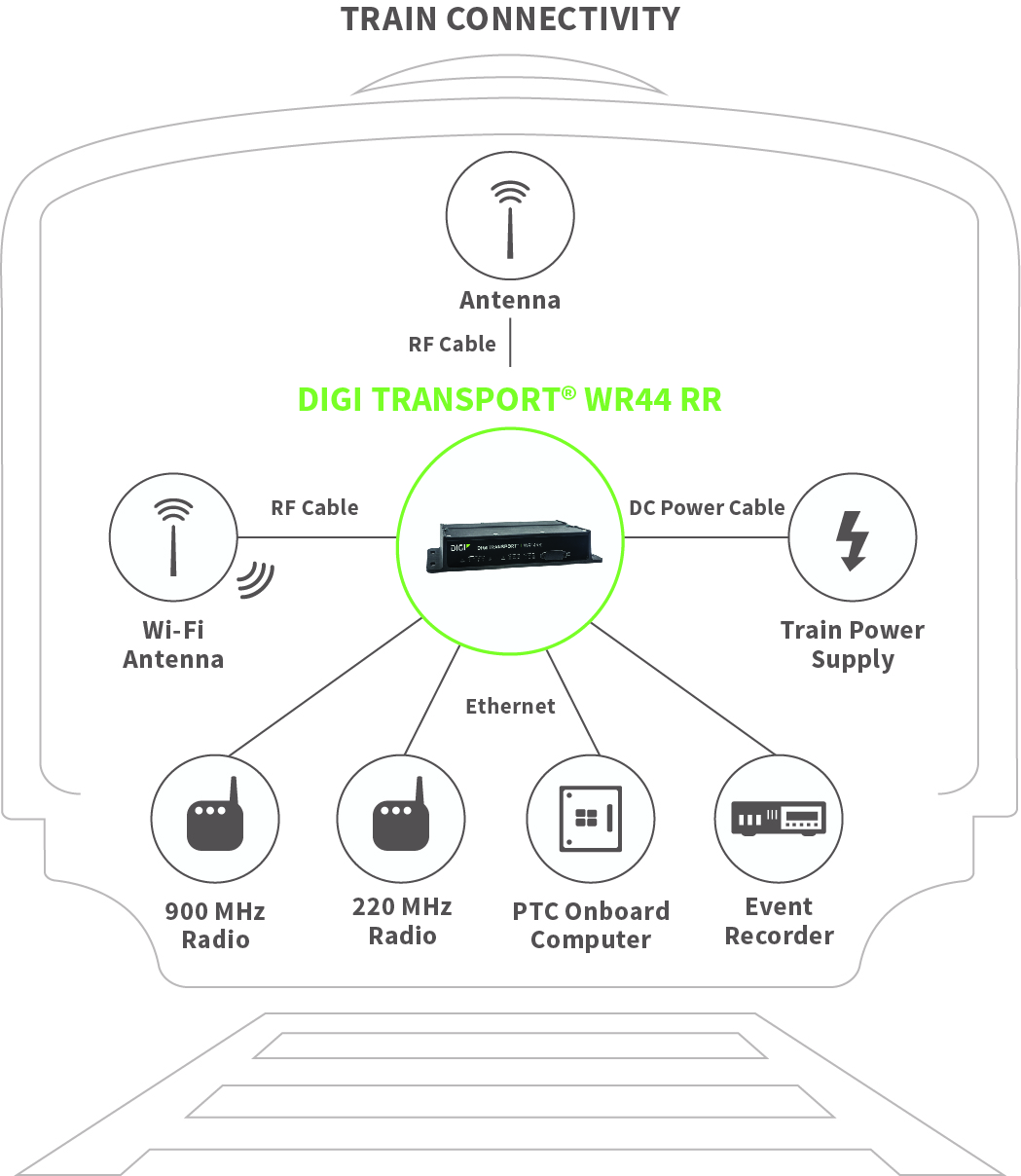 RESULTS
The Digi WR44 RR is the integral communications hub in all locomotives and vehicles, relaying PTC data messages to and from waysides via 220 MHz radio and enabling remote system maintenance, configuration and network management over a cellular link. Increased network reliability and rail system visibility extends performance beyond PTC toward Communications-Based Train Control (CBTC), resulting in more efficient scheduling, greater capacity and increased fuel savings.
TRANSDATA: PASSENGER TICKETING AND INFORMATION SYSTEM
Systems integrators in the IoT space have enormous opportunity today to support the needs of organizations across the transport sector, from city bus and light rail agencies to trucking companies in the supply chain, and long distance passenger trains. The needs are growing as these agencies work to meet compliance requirements and compete in their marketplaces by providing enhanced services and improved security.
TransData is an IoT systems integrator that develops applications for public transit, such as payment and identifications systems, for the Slovak market. TransData's flagship product is a multi-faceted solution that supports a broad range of public transport capabilities:
Secure fare transactions
Easy-to-use electronic card system simplifies passenger experiences
GPS-tracked route guidance minimizes delays
Display local shops, restaurants and points of interest
More reliable Internet access and high-speed passenger Wi-Fi
Monitor traffic activity with on-vehicle security cameras
Route communications through a central depot or dispatch


RESULTS
The applications above are enabled by Digi ConnectCore® 6 ultra-compact system-on-module (SOM), which supports TransData connectivity requirements at an affordable price point. TransData ticketing and information systems require superior video performance, Wi-Fi and Bluetooth, and connectivity to the vehicle data system and cellular modem. The applications also require a stable package and small form factor that can withstand rugged conditions such as extreme heat, humidity and vibration while maintaining network connectivity to perform these complex tasks.
SMART: PUBLIC TRANSIT SYSTEM COMPUTER-AIDED DISPATCH
The Suburban Mobility Authority for Rapid Transit (SMART) metro bus fleet of 330 biodiesel and hybrid-electric buses covers more than 1,100 miles and supports 32,000 riders daily. With this extensive fleet, it is critical to monitor the vehicles in order to ensure the highest levels of passenger safety and on-time performance.
The business problem to solve involved the upgrade of an aging CAD/AVL (Computer-Aided Dispatch / Automatic Vehicle Location) system built on a legacy analog radio network connected via three leased towers. SMART first evaluated migrating from analog to digital signals and increasing the number of towers, but that was cost-prohibitive. Ultimately SMART switched to VOIP on cellular for CAD, taking advantage of the packet priority services built into the Digi WR44 R mobile cellular router.


RESULTS
With its switch to a cellular-based AVL, SMART can collect and analyze a much wider range of data and metrics — including vehicle location and speed — in real-time. Maintenance data is also captured to help prevent breakdowns and accelerate repair cycles, in order to minimize vehicle downtime. Data is transmitted to the operations center through a highly secure VPN tunnel, while operators can communicate with Central Dispatch using VoIP handsets.
Due to these upgrades and enhancements, the SMART leadership estimates they are saving over $70,000 each year.
MACCHINA: AUTO CONTROL CENTER
Macchina worked with Digi to develop an affordable 4G LTE solution with a small footprint. The team chose the Digi XBee®Cellular embedded modem based on its design – an open source interface for car hobbyists and professionals to program a device or service into the automotive aftermarket.
"Our vision is to offer a 'one-to-many' interface," explained Josh Sharpe, Macchina chief technical officer. "In the database world, you might call this middleware. The device maker will be able to create one device with one interface to our board – and we handle integration to hundreds of vehicles."
The product therefore enables developers to "Another way to think of Macchina is that it's like a key to unlock the control center of the car. Once you are in, you can use Macchina to make changes and tweaks to the car. You can do anything from simple projects, like stopping that annoying ding, to more complex upgrades such as unlocking more horsepower or improving fuel economy."


RESULTS
Macchina essentially provides a project template that enables development and encourages innovation. Developers appreciate the open source platform to write code, as well as a community of car hobbyists, enthusiasts and professionals to consult with as they explore various approaches to their own product development.
SUMMARY
The transportation sector is seeing a substantial adoption of IoT solutions to improve safety, public transit monitoring and routing and ridership experiences. A complete set of Digi solutions satisfy a range of transport needs, from Positive Train Control, high-speed Wi-Fi and surveillance cameras, to secure IDs, easy-to-use ticketing systems and more efficient route management.
Additionally, the Digi professional services teams can provide guidance at any point, from wireless design services to proof of concept, PCB layout and certification assistance.
Subscribe
Stay up to date with industry and supplier news!
Browse