From Digi International: Sensor Solutions for Industrial IoT at #Sensors17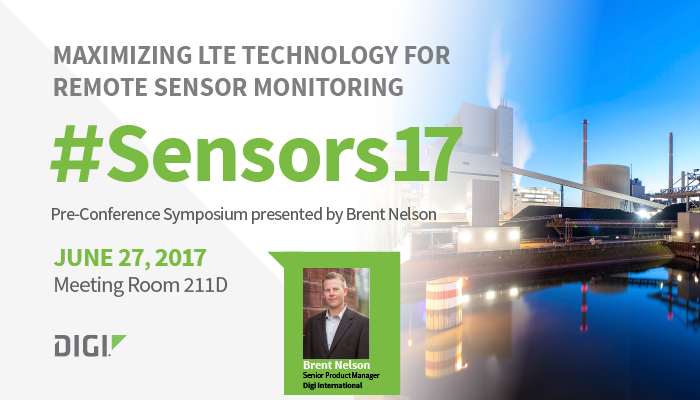 In one week the Digi team will be among thousands of engineering professionals at Sensors Expo & Conference 2017 (Booth #1231) in San Jose, CA, to discuss innovative sensing technologies and to present connectivity solutions for a variety of industrial applications.


MAXIMIZING LTE TECHNOLOGY FOR REMOTE SENSOR MONITORING
Before the official event even begins, Brent Nelson, Senior Product Manager, will discuss designing for the Industrial Internet-of-Things (IoT) with embedded technology at the new Pre-Conference Symposia. Join Brent on Tuesday, June 27, from 10 – 10:30 a.m. PT, in Meeting Room 211D, to discuss new technologies specific to sensor OEMs and solution providers in industrial sensor markets. His presentation, "Maximizing LTE Technology for Remote Sensor Monitoring," will cover critical developments in cellular LTE and will provide details on how to win a FREE Digi XBee Cellular Development Kit.


THE TRANSFORMATIVE POWER OF CELLULAR IOT FOR EMBEDDED SENSOR APPLICATIONS
On Wednesday, the first day of the show, Senior Business Development Manager, Quinn Jones, joins Ranch Systems President and CEO, Jacob Christfort, on the Embedded Theatre Session stage, from 2 – 2:30 p.m. PT to share "The Transformative Power of Cellular IoT for Embedded Sensor Applications". Jacob will discuss how Ranch Systems successfully integrates wireless and cloud technology to agriculture and environmental monitoring with patented telemetry equipment, cloud software, and a third-party ecosystem to integrate with other sensors and software systems.
"We've been using Digi XBee modules for years and we're pleased to join Digi on stage at Sensors Expo to talk about how Ranch Systems is connecting sensors today and how we're evaluating emerging cellular standards for tomorrow." – Jacob Christfort, CEO, Ranch Systems
DIGI BRING YOUR OWN SENSOR BYOS CHALLENGE
After hearing about these monitoring and control solutions for growers, join us at Booth #1231 to challenge your sensor and see how easy it is to incorporate your own sensor into an IoT solution with our "Bring-Your-Own-Sensor Challenge." Come prepared with your sensor, and our team of engineers will connect it to a live Digi Connect Sensor+ demo and within minutes you will see all of your sensor data, such as level, flow, temperature, live on a mobile device.
Join the conversation on social media using the hashtag #DigiBYOSChallenge.
Contact Symmetry Electronics at 866-506-8829, email us or start a live chat and we'll be glad to help you with your projects!