From Digi International: Digi XBee RF Modules Enable Loadstar Sensors to Create StockVUE Wireless Inventory Management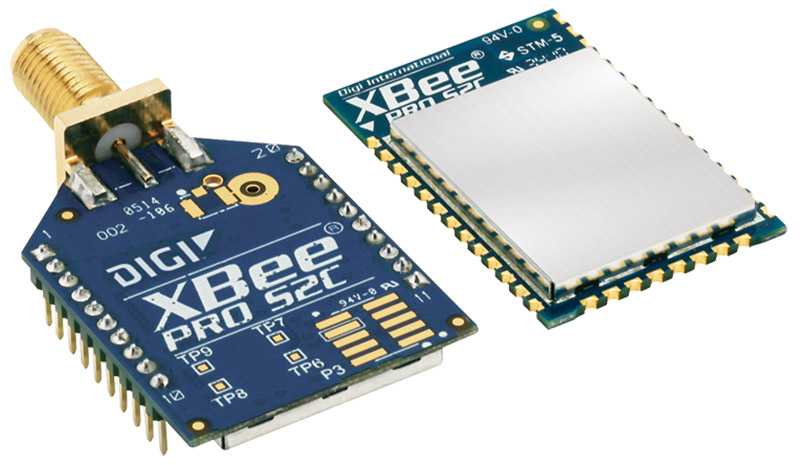 Founded in 2003, Loadstar Sensors offers capacitive and resistive load cells, torque sensors, displacement sensors, pressure sensors, level sensors and other types of sensors for automotive, aerospace, medical device, industrial, and consumer applications. These sensors use USB, Wi-Fi, ZigBee, Bluetooth, or wireless protocols to send data to applications on PCs, tablets, or smartphones where users can display, log, and plot data. Along the way, Loadstar engineers have earned more than 15 U.S. patents and created an impressive range of "firsts" in sensing technology.
BUSINESS CHALLENGE
A major supermarket chain is offering a special holiday discount on a popular cola, and each of its stores is displaying dozens of 12-packs of cans on end-caps in high-traffic areas of the stores. But when consumers respond enthusiastically – a supply-chain challenge emerges: the store runs out of stock on that particular cola. The manufacturer and distributor don't get notified quickly enough to perform a timely replenishment. Instead, an empty pallet sits on the store floor, and consumers become frustrated by the stock outage. The customers, distributors as well as the manufacturers – all lose in this scenario.
In the dynamic world of retailing, manufacturers and distributors are often the last to know what's happening – today – in stores around the country. That's because most point-of-sale inventory information is delayed by days or weeks. Often, the task of determining inventory levels falls to someone who must travel from store to store to identify items that need replenishment. This manual and inefficient process inevitably results in delays, stock-outs, lost revenue, and increased carrying costs.
According to Div Harish, founder and CEO of Loadstar Sensors, the challenge is visibility. "If you're a major manufacturer, distributor, or retailer, every stock-out situation is costing you money – both in immediate sales and in longer-term customer dissatisfaction," he said. "But there's also a cost to carrying too much inventory, so all of the supply-chain participants are motivated to optimize the inventory they're holding and adjust quickly as demand changes. However, manually monitoring inventory is expensive and difficult to manage."
SOLUTION
This market inefficiency led Loadstar to create StockVue, an end-to-end hardware/software system for tracking inventory. StockVue uses a network of Loadstar's digital weight sensors to calculate real-time inventory and share that data securely through the cloud. In essence, the manufacturer, distributor, or retailer installs a small, battery-powered, wireless sensor – a digital scale – on each pallet or shelf. As customers remove product from the display, the total weight decreases, and StockVue recalculates the remaining inventory based on individual item weights.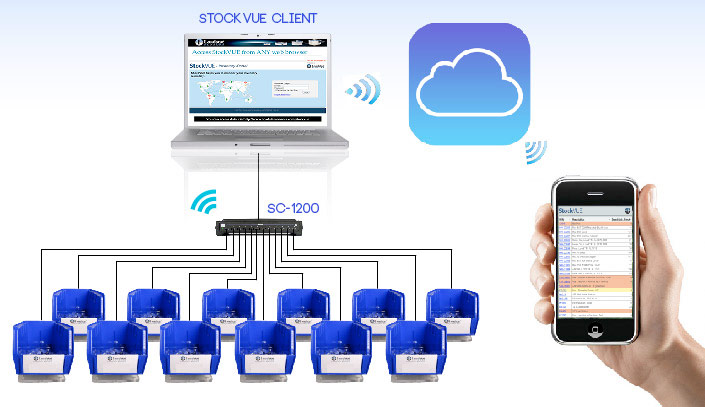 That data gets transmitted to a StockVue server in the cloud. Using a phone, tablet, or computer, users can remotely access that accurate, real-time inventory data that's coming from all retail or distributor locations worldwide. As a result, supply-chain participants can instantly identify items that need replenishment at each location, restock them before they run out, and keep sales humming.
Since all field data must be routed through a communications device, one of the keys to the StockVue solution is the ability to connect quickly and easily to the cloud. The Digi XBee 802.15.4 RF module was Loadstar's choice for low-cost, easy-to-deploy RF modules that provide strong, reliable end-point connectivity that StockVue applications require. Digi XBee is ideal for applications like StockVue that require low latency and robust connectivity in retail or industrial settings while eliminating development headaches.
"We've tried Bluetooth and Wi-Fi," said Harish. "But Bluetooth didn't have the range we needed and Wi-Fi was simply too unreliable and difficult to manage within corporate IT environments. With Digi XBee providing the connectivity, our customers have strong, secure connections, and we can offer our customers a reliable and cost effective solution."
RESULTS
This networked, weight-based inventory management system helps suppliers and retailers in several important ways:
Improve remote visibility
Eliminate stock-outs
Reduce carrying costs
Reduce labor and transportation costs
Integrate data into ERP/WMS systems
"With Digi XBee sending data back to our server, StockVue customers can securely access historical and current inventory data through our portal," Harish said. "That's helping them improve inventory management, strengthen supplier relationships, increase revenue, and cut costs. Choosing Digi for this crucial piece of our solution was one of the smartest things we did."
Source: https://www.digi.com/customersuccesses/digi-xbee-rf-modules-enable-loadstar-sensors
Contact Symmetry Electronics at 866-506-8829, email us or start a live chat and we'll be glad to help you with your projects!