From Decawave: "Volkswagen Slovakia Drives the Future of Production with Ultra-Wide Band"
"Our previous experience with other indoor positioning technologies and their deployment within the automotive industry has shown us that harsh metallic environments are the common attribute of all projects and the main reason why other technologies fail. UWB-based technology is not just a right-first-time option for industry projects, but often the only reliable solution on the market."
-Peter Mačuš, CTO of Ceit Group a.s
Overview
VW Slovakia is a large production facility, the only one in the world producing five different car brands within a single factory, with total production of more than 360,000 cars in 2017. To achieve manufacturing at that scale and complexity requires impressive logistics, but VW isn't resting on its laurels.
At the heart of its future plans is the use of digitization as the driver for innovation. Key to this is the computer modeling of a virtual digital model of the physical factory. However, collection of the data needed for such sophisticated modeling relies on ultra-accurate and reliable location data for machinery in the facility. This is something that had previously been a significant challenge, with RFID, Wi-Fi and other technologies unable to deliver either the precision or reliability needed.
Setting the Challenge
To build the digital model of the factory, the project had to digitize all movement within the hall, tracking all vehicles, including AGVs and forklifts. To do this, VW needed a Real Time Location System (RTLS) that could meet a broad range of requirements including:
Get real-time visibility into current processes
See key fleet data to optimize fleet utilization – overall operation time, ratios of run/stop time, distance traveled and loaded/unloaded trips
Reveal traffic density and bottlenecks to optimize fleet movement
Deliver the ability to uncover vehicles movements in restricted zones and get the context of the situation that preceded the incident to prevent it in the future
Provide navigation to drivers so they know where to go and what is the closest path without obstacles
Further challenges were created by aspects of the factory environment:
Ensuring the solution's reliability within harsh metallic environment of the factory – a particular challenge for other solutions.
Coping with a truly variable warehouse – 30% of the tracked area could turn from a completely empty area to being fully blocked within a timeframe of just a few hours.
Handling the number of moving objects and high traffic density, with its peaks and occurrences of multiple objects within close proximity of each other.
Meeting the Challenge
The key decision for the solution was finding the right location technology. Unlike other RTLS technologies, UWB has proven to be both very accurate and extremely reliable even when used within metallic industrial environments.
In addition, Decawave's UWB technology can cover large areas with far fewer access points/anchors than competing technologies. At VW, only 66 anchors were needed to cover the hall and its warehouse – total area of 10,000 m2 (100,000 ft²) – with 50-cm (20-inch) accuracy and 99.98% reliability.
Unlike other technologies, the UWB system allows for a fast refresh rate of 333 milliseconds, enabling continuous track & trace. Even with such a short refresh, the low power draw of the UWB system delivers guaranteed long battery life of more than a year, decreasing total cost of ownership
Delivering the Goods
CEIT delivered their Ella platform on top of Sewio's Decawave UWB-based RTLS for VW Slovakia in only six months. Within a matter of weeks after the system's launch, the new platform was already delivering the data needed to build the detailed digital model of the factory to enable increased utilization across the facility.
A fundamental part of the solution is a newly obtained real-time overview of all the movement within the hall, including crucial data around operations, down and idle time, distance traveled and the efficiency of each machine in the fleet. Modeling changes based on this data swiftly enabled improvements across several metrics:
Optimizing layouts has allowed the warehouse area to be "expanded" by 20% without any construction.
Revised navigation of forklifts has helped to decrease the distance travelled among the fleet by 10%.
Increased visibility has enabled management to minimize stop times, increase the ratio of loaded/unloaded trips and optimize the flow of traffic, resulting into minimization of differences of OEE between each forklift to a 20% difference.
Crucially, any process updates can be modeled first to avoid any negative side effects or fails.
Looking to the Future
Based on the results already delivered, next steps might include not only the expansion of the system to other halls but also adding new use cases. Those include the prevention of collisions by giving warning signals to the drivers, slowing down forklifts automatically at cross roads, tracking site visitors and employees for safety reasons, knowing exactly where every single person is in case of an emergency, etc.
Beyond important safety features, the system also allows for expanded use for asset tracking. Traceability of parts can play an important role in quality control, while detailed knowledge of the exact location of parts can enable true "Just-in-time/Just-in-place" production, increasing factory floor utilization through reduced inventory at each work station.
Crucially, the flexibility and scalability of UWB-based systems means that future use cases can be added without additional infrastructure and with minimal additional optimization.
Heat Map: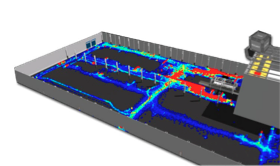 VW Touareg, A Vehicle Produced at the Factory: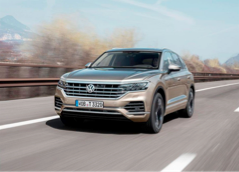 Source: https://www.decawave.com/volkswagen-slovakia-drives-the-future-of-production-with-ultra-wide-band/