From Averlogic: Building the Future Smart Home Security Solution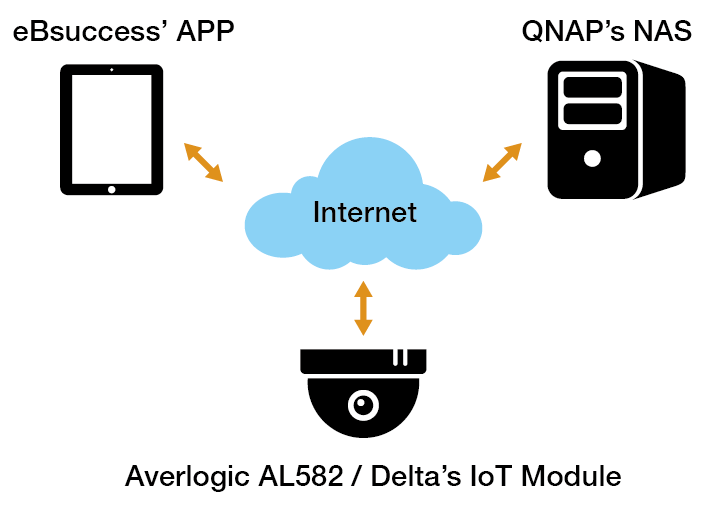 Build the Future Smart Home Security Solution. Control your Home wherever you are through eBsuccess app. Turn any Home into a Smart Home with our integrated solution with Delta's IoT module, AverLogic's video processor, QNAP's NAS and eBsuccess' APP. A multi-functional video streaming SOC. It includes video compression codec, SD card controller, embedded DDR memory, embedded MCU, video processing engine, RGB DAC and TV encoder.
Averlogic's Smart Home Solution supports a wide range of devices: Baby monitor, home camera, door phone, AV sender, Walkie-talkies, toy applications, pet cam, elder care robots and robot vacuum cleaners.
An Internet based solution that connects the camera surveillance, the app and the server. Smart Home solution connects the IoT sensors with Averlogic AL582 Video Processor and Delta DNNN50 Wi-Fi/BLE Module letting user know and control everything at home. 24x7 hours real-time video protection Remote Control and Monitor Open and close any entrance eBsuccess' APP.
Delta DFCM-NNN50 BLE BLE/Wi-Fi combo module daughter board

- NORDIC Semi nRF51822 with ARM® Cortex®-M0 processor

- 32MHz embedded crystal, 32.768KHz external RTC

- 256KB flash memory, 32KB SRAM
QNAP- NAS Server and Networking

The TS-251+ performs as an easy-to-use yet powerful NAS for data backup, file synchronization and sharing, remote access and multimedia applications. The ideal solution for users to create a secure private cloud to access their data easily.

• Run multiple Windows®/Linux®/UNIX®/Android™ based virtual machines with the Virtualization Station

• Play 1080p videos with the bundled remote control and 7.1 channel audio pass-through via HDMI eBsuccess- Android/iOS APP and SDK

- AverView is an App for live streaming view by connecting with AL582.

- App development including remote control, freeze, drawing, image comparison, image/video sharing, set image quality and switch camera resolutions
Source: http://www.averlogic.com/pdf/AL582-Brochure-Smart_Home_Solution-20170516.pdf
Contact Symmetry Electronics at 866-506-8829, email us or start a live chat and we'll be glad to help you with your projects!