From Digi International: Four Critical Requirements for Intelligent Water Management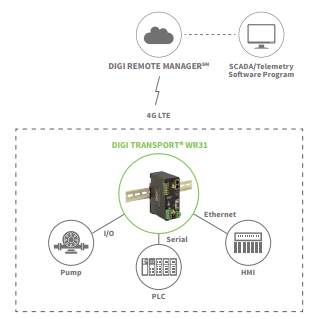 When managing complex drainage districts, distributed lift stations or a municipal water treatment facility, networking and SCADA engineers are tasked with creating and operating safe, efficient water and wastewater management systems for their local and regional communities. In the challenging world of water management, application operating environments are commonly remote and harsh, which makes using 4G LTE wireless networks ideal for connecting remote assets. Below are four critical requirements to consider when upgrading to new technology and network management tools.
Equipment Reliability – How long is the warranty of your communication gear? Pumps, PLCs and RTUs are expected to last for years.
Flexible Networking Options – It is typical for municipalities to designate a primary and secondary, backup cellular carrier for SCADA telemetry equipment installed across a wide geographic area. The ideal 4G LTE device will support software-selectable carrier switching.
System Security – 4G LTE devices and management tools must support guidelines and requirements for water management systems as defined by the Critical Infrastructure Protection (CIP) Act in the U.S. and similar legislation in other countries. It should also enable enterprise security features like access-controlled ports, encrypted data storage, authentic boot and firewalls, as well as connections to security equipment such as IP cameras.
Remote Management – Once devices are installed and systems are operational, the challenge of operating a network of distributed telemetry equipment begins. Remote configuration, monitoring and troubleshooting tools are essential.
>>CHECK OUT OUR 4G LTE SOLUTION FOR WATER/WASTEWATER TELEMETRY AND SCADA APPLICATIONS.