Five of our Favorite "Things" at the 2015 Sensors Expo
Friday, June 12, 2015

1. Freescale's Internet of Tomorrow – The Internet of Things (IoT) was one of the main conversations at Sensors Expo 2015. Sensors have become so prevalent in so many aspects of our lives that it's not hard to picture a very near future in which virtually everything is connected. Nothing communicated this more clearly than Freescale Semiconductor's impressive Internet of Tomorrow mobile semi-truck trailer. Showcasing over 120 IoT products and technology demonstrations, the trailer brought to life a world of connected potential in categories like smart cities, smart hospitality, smart home and buildings, healthcare, automotive, smart networks, and more.
2. Monnit's Remote Monitoring Solution – Monnit's all-in-one wireless sensing systems provide simple, reliable, affordable sensors and monitoring to a variety of applications. Monnit offers the full range of the system, from over 40 types of sensors with up to 300ft non-line-of-sight range, and up to 5+ years of battery life; to wireless gateways in CDMA, GSM, Ethernet, USB, and Serial MODBUS versions; to monitoring software with storage and mobile notifications. These solutions are ideal for getting a sensing system up and running quickly and effectively.
3. Fybr's Smart Cities – Fybr has expanded from vehicle parking sensors into a company delivering sensing solutions to enable the creation and improvement of smart cities and communities. Fybr's sensor network can monitor traffic patterns, the safety and security of buildings and objects, utility usage and maintenance, and environmental factors. Their robust system includes a wireless network, secure scalable storage and data processing, data visualization tools, and a machine learning infrastructure that can intelligently adapt to growing and changing communities.
4. Arrow's SAM (Semi-Autonomous Motorcar) – High tech and high hopes were on display with Arrow's SAM (Semi-Autonomous Motorcar) on the show floor at Sensors Expo. Indy Racing League driver Sam Schmidt crashed during a practice lap in January of 2000 and was subsequently diagnosed as a quadriplegic. In 2013, Sam and Arrow, along with partners in aerospace, automotive, medical, and military sectors, began work on a car that could be safely driven at speed by a quadriplegic using the driver's head as a joystick. Infrared cameras and sensors translate head movement into steering, and a mouth device controls acceleration and braking. Sam was able to drive the SAM in May of 2014, achieving his dream of getting back in the driver's seat.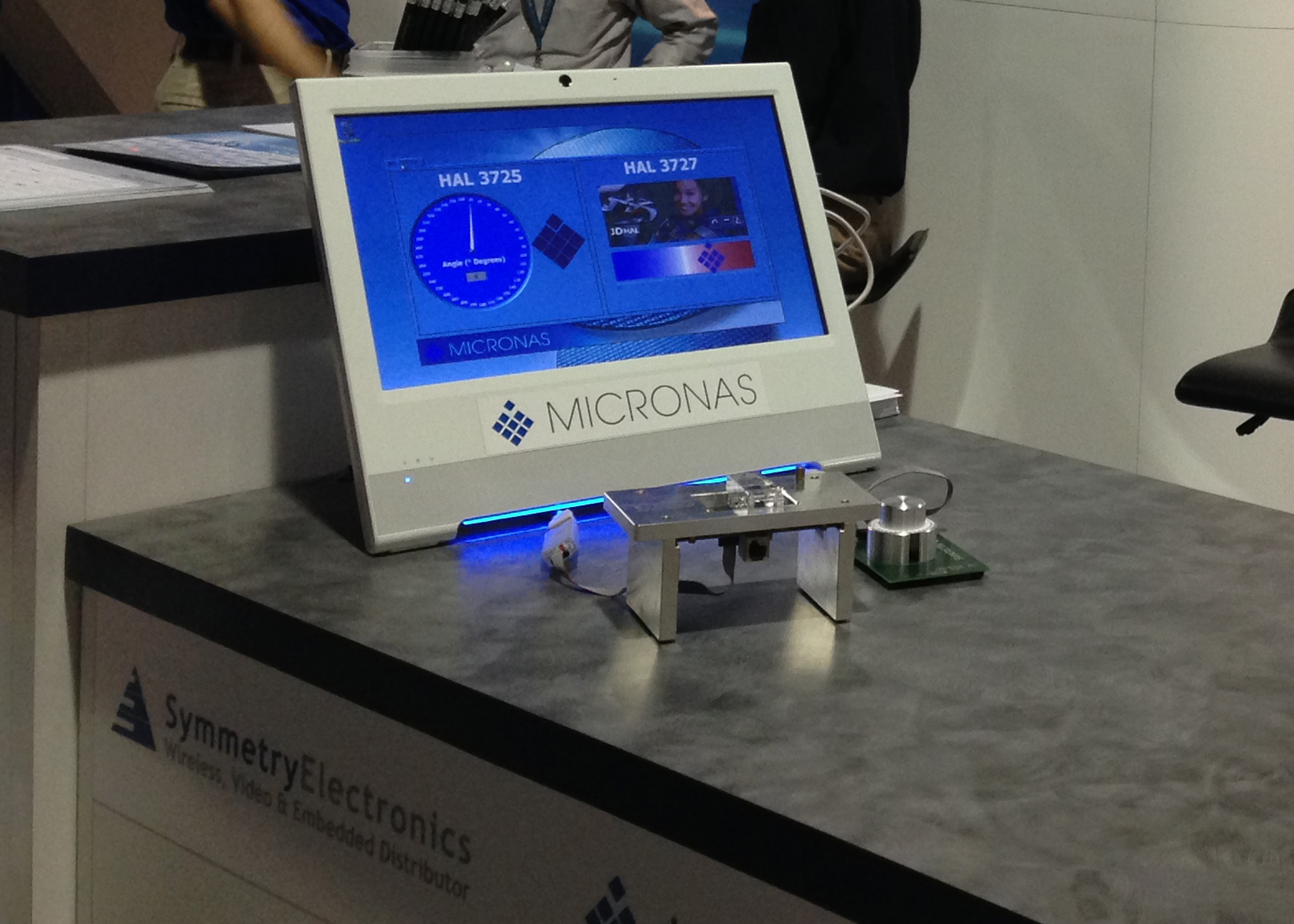 5. Micronas's HAL 37xy – Micronas highlighted their groundbreaking 3D HAL 37xy family sensor technology by demoing the HAL 3725 and the HAL 3727 and showing off their capabilities in linear and angular measurements. The sensors can measure three magnetic field components, enabling angle measurements between 0° and 360° for applications such as wide distance, end-of-shaft, or through-shaft angular measurements as well as for robust linear movement or position detection. 3D HAL sensors open up exciting possibilities across a number of industries.
Subscribe
Stay up to date with industry and supplier news!
Browse