Ethertronics Launches First Complete LoRa Module with Active Steering™ Antenna for Ultra-Long Range Performance, Reliability for IoT Applications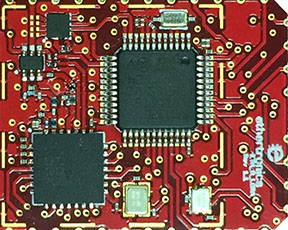 Ethertronics, the leader in ultra-high performance smart antenna system solutions, announced the industry first complete plug and play LoRa module for Low-Power Wide Area Network (LPWAN) connectivity. It delivers very long range and unmatched reliable antenna performance using Active Steering™ for the LoRa ecosystem of Internet of Things (IoT) and Machine-to-Machine (M2M) applications. Ethertronics is the first to provide a complete LoRa ecosystem solution, including module, active antennas, active measurement capability, software integration support and pre-certification to expedite time to market.
Ethertronics Active Steering antenna technology and module for the LoRa ecosystem provides significant improvement in reliability of the wireless link and range by using dynamic radiation patterns, enabling customers to place their IoT or M2M sensor or device virtually anywhere. The improved range in low data rate applications will result in longer range tracking performance and pinpoint indoor location accuracy, while making the process of installing and positioning an IoT or M2M Lora module much simpler and cheaper.
"Ethertronics' complete LoRa module features our Active Steering antenna system and Active impedance matching, and delivers unprecedented ultra-long range performance, reliability and low power that makes suitable the billions of LoRa based IoT devices, said Vahid Manian, Chief Operating Officer with Ethertronics. "Our expertise in design, testing, and pre-certification allows us to be a one-stop-shop for anyone looking to build the highest performing LoRa solution and get to market as quickly as possible."
Ethertronics Active Steering technology and Active impedance matching technology solves many of the problems associated with using a passive antenna in small IoT devices. When you install LoRa products today you often cannot place it in a hidden environment, location or behind walls – and it requires you to place more sensors or devices closer together, which increases cost. Quite often the IoT device with passive antenna simply does not work, due to its weak antenna signal. The active impedance matching capability of the Ethertronics LoRa module helps to handle the detuning of the antenna by its surrounding environment, while the multiple radiation patterns available from the Ethertronics Active Steering™ antenna along with the strong dual polarization properties, provides a more reliable signal that can be received across a large number of channels within a communication link.
Active Steering optimizes the antenna characteristics to the environment, resulting in better signal reception. The Active Steering algorithm continually samples and switches between radiation patterns in the millisecond time-frame to optimize a reliable communication link and provide ultra-long range performance for a host of IoT devices for Smart Cities, Home and Building, Environment, Metering, Agriculture, Industry 4.0 and smart Retail and Logistics applications. Ethertronics new LoRA complete module solution leverages on the family of active Steering antennas, switches and algorithm that delivers the very long range performance, reliability and low power required for emerging IOT and smart cities applications.
Ethertronics is a member of the LoRa Alliance, which along with its LoRa ecosystem, is the fastest growing alliance in the IoT sector, and the addition of Ethertronics will help standardize LoRa and LoRaWAN for IoT low-power wide-area networks (LPWAN) worldwide.
Ethertronics LoRa Performance Metrics
Long range: >15 km / 9 mi range
Low power: 2-10 year expected battery lifetime (depending the application)
Low cost: from end-node sensor cost to upfront infrastructure investment
Key LoRa Module Features with Active Steering for IoT and M2M Applications
Impedance tuning and active Steering for LoRa applications
Battery and autonomy optimization to meet low-power requirements
Certified LoRa module solution that includes design, testing, certification with a single company
Deliver best antenna performance using Ethertronics Active Steering™ technology
Unmatched communication link reliability
Active Steering™ antenna technology uses multiple radiation patterns to provide industry leading reliability and long range performance
Ethertronics LoRa Module Details
The Ethertronics module ETH-M-LORA-AX is a fully LoRa and Low-Power Wide Area Network (LPWAN) compatible SMT module with unique features:
The module has an embedded antenna impedance tuner and Ethertronics MCD algorithm to support Ethertronics Active Steering technology
The module operates a real time, multitask Operating System (RTX OS) and offers an easy to use AT command interface, over SPI, UART or I2C interface to provide maximum flexibility and fast integration
The module usesa SEMTECH SX1272 chipset for the radio modem and Ethertronics EC686 chipset as impedance tuner chipset for the antenna
Contact Symmetry Electronics at 866-506-8829, email us or start a live chat and we'll be glad to help you with your projects!