Enable Your World with Taiyo Yuden BT 5.0 Modules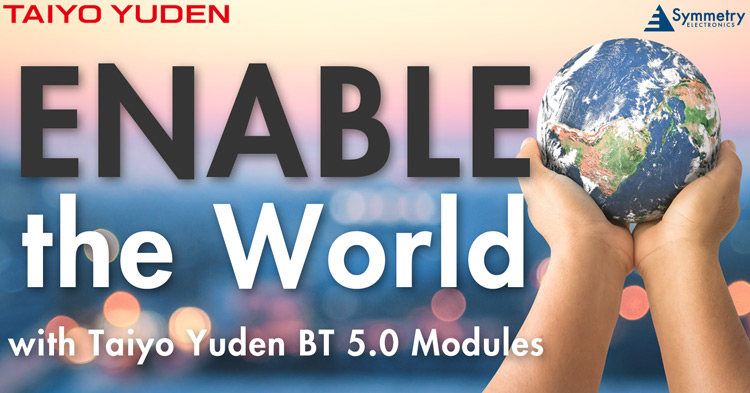 Taiyo Yuden has an assortment of Bluetooth Low Energy (BLE) modules for any given application. Like the EYSHCNZWZ with ANT capability, a proprietary protocol developed by Canadian company Dynastream Innovations Inc., a subsidiary of Garmin. This proprietary protocol was designed for ultra-low-power, short-range wireless applications. They've also got the high-powered EYSKBNZWB which houses the Nordic Semiconductor nRF5284 SoC. This module has full Bluetooth 5 capability, meaning it has 8x increased broadcast capability, 2x higher data rate and 4x longer range than previous BLE versions. If you're searching for an absolutely tiny, low cost BLE module, then you've found your perfect fit with the EYSLSNZWW. This module features the new nRF52810 and even with its integrated high performance antenna and system clock, it's slightly larger than a grain of rice. The EYSHSNZWZ is just as small and like most of Taiyo Yuden's Bluetooth modules, it is Bluetooth, FCC, IC, CE and Japan-type approvals. This module like many others from Taiyo Yuden, has a unique capability that allows you to bypass the on-board PCB pattern antenna and instead use your own board-mounted antenna connector so that a larger certified antenna may be used.
There are evaluation kits and evaluation boards for every module available that break out each module pin and include an on-board USB bridge and programming header. These evaluation boards are crucial to development since prototyping with the module alone is nearly impossible due to their small formfactor. The external J-Link programmer means you can purchase a single programmer and multiple evaluation boards in order to save cost. These Bluetooth modules from Taiyo Yuden are designed to help non-expert RF developers reduce time-to-market. Pair this with the expert support from Symmetry engineers throughout your design lifecycle, and it's a no-brainer; get to market fast and seamlessly with Taiyo Yuden Bluetooth modules from Symmetry.
APPLICATIONS
Smart wristband
Smart glasses
Remote control ring
Smart pen
Heart rate monitor
Pressure monitor
Blood glucose meter
Thermometer
Mobile accessories
Smart lighting
Smart outlets
Security access and alarm sensing
Mobile printers
HVAC and temperature sensing