From Digi: "Embedded World 2019: Innovation, Give-Aways and Refreshments in the Digi International Booth"
Embedded World 2019 is here! We are looking forward to meeting and greeting visitors from all over the world who are excited about what's next in the Internet of Things. Join us at the show in Nuremburg, February 26 to 28, 2019.
Throughout the show, you can find Digi at #ew19 in Hall 3, Booth 629.
We have some great things in store. Read this blog post for a preview of our featured educational session, the demos you can see in action in our booth, as well as our co-exhibitor displays and kit give-aways. Also, we are proud to share that we are a candidate for the Embedded Computing Design Best in Show Awards, in the Wired, Wireless Networking & IoT category. Be sure to watch for the winner announcements at the show.
Educational Session: Where the Cloud Meets the Edge
If you are attending Embedded World 2019, be sure to take in our edge computing session, delivered by Andreas Burghart, Digi Solutions Sales Engineer and Richard Elberger, AWS Global IoT Partner Solutions Architect. With two decades of experience each in their areas of expertise, Andreas and Richard have a wealth of knowledge to share on how cloud computing and edge computing have evolved. Attend this talk to learn about the six design principles for an efficient edge.
When: Wednesday, February 27 from 11:30 a.m. to 12:00 p.m.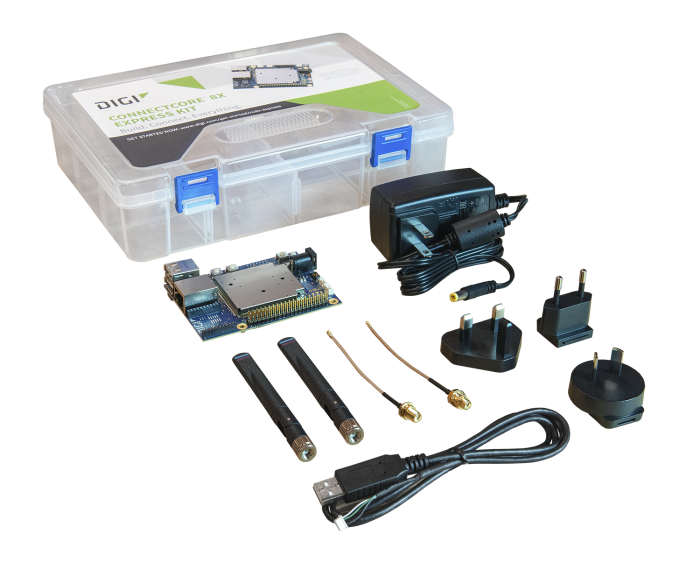 Kit Give-Aways
Be sure to take advantage of our first-come-first-served kit give-aways:
In the Digi International booth (3-629) we will be giving away a small supply of Digi ConnectCore® 8X SBC PRO Developer Kits to support early development with the upcoming Digi ConnectCore 8X release.
The Embedded Computing Design group will also be raffling 10 Digi XBee3 Cellular LTE-M/NB-IoT kits. Be sure to stop by their booth, 3A-528, for a chance to win
Demos in the Digi International Booth
We will have multiple displays and demonstrations for our visitors to experience in our Embedded World 2019 booth. Here is a quick overview of what you'll find when you visit.
Digi ConnectCore 8X Demo: Machine Learning at the Edge
Learn about our upcoming product, the Digi ConnectCore® 8X, built on NXP's new i.MX 8X application processor. You will get a sneak peek at the powerful capabilities of the board in the demo, which demonstrates machine learning at the edge.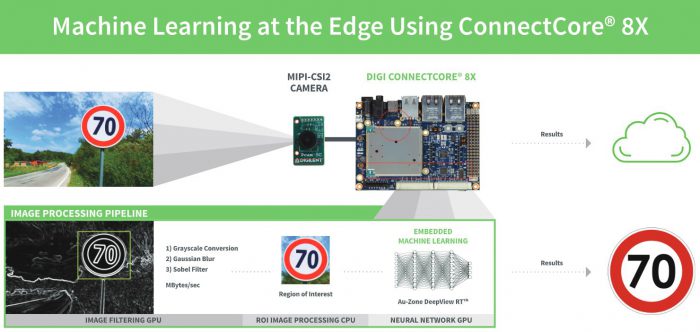 Edge computing is increasingly critical in high throughput applications where time is critical. An autonomous vehicle, for example, must very rapidly identify street signs and other information at high speed. There is no time to send data to the cloud for processing, so edge devices must be fully equipped to handle large amounts of data quickly.
The demonstration, developed in collaboration with Au-Zone Technologies Inc., shows how an extremely fast processor – the Digi ConnectCore 8X – can perform rapid image recognition so the vehicle can "make decisions" lightning fast:
We use a MIPI camera to view incoming image data.
The system GPU (Graphics Processing Unit) then isolates a region of interest using image filtering. In this case the region of interest is a road sign.
Next, the system performs rapid image processing on the CPU to identify the type of road sign it "sees" and delivers this data back the neural network in the GPU and we see the output results.
Because the camera is constantly gathering information, there are many Megabytes of data coming through, and we need to quickly isolate and identify what the camera sees in order for the system to deliver an actionable result. In real life, for example, an autonomous vehicle would just have a second or two in order to distinguish important roadside markers such as Stop and Yield signs.
The demo system, which can evaluate up to five signs at the time, shows how all the high bandwidth data management is happening at the edge, and that it can distill out exactly the right information in just a few Kilobytes of data output. Be sure to see the demo in action in our booth.
Digi XBee3 Cellular Smart Modem
This demo highlights the features of our newest addition to the Digi XBee® family: the Digi XBee Cellular LTE-M/NB-IoT module. In this global module, we offer one multi-band product that supports both LTE-M and NB-IoT low-power applications.
The demo includes a four-panel display that illustrates remote connectivity, sensing, monitoring and communication via a four-panel display:
One panel is a map showing the location of our two modules, located in two different regions.
Another panel shows a temperature and humidity sensor connected to a development board in one location. A small display is connected to the board, with a camera positioned to show the setup on our monitor at the conference.
A third panel shows a data chart that tracks changes in values of temperature and humidity. The data gathered from the sensor is fed through cloud-based Digi Remote Manager and displayed in this chart.
The fourth panel shows options for changing the remote display via SMS message.
We can enter a value into a text message on a cell phone. This generates an SMS message, which is sent to the remote device via a small MicroPython program, and this changes the readout on the visual display.
Digi XBee3 Cellular Demo: BLE on a Zigbee Network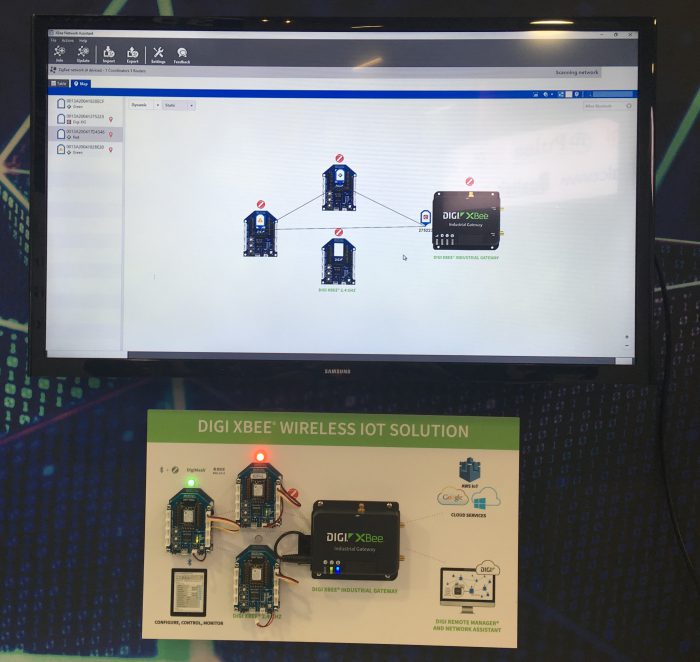 In this demonstration, we show a Zigbee network with three Bluetooth-enabled Digi XBee3® Cellular modules. The modules run MicroPython code that drives LEDs connected to the devices. These light up when the devices connect to the network. A Digi XBee Industrial Gateway manages the traffic on the network.
The demo shows how we can manage the devices with the XBee Mobile App — a mobile version of Digi XCTU software that provides all the same functionality for device configuration and firmware management. Using an iPad, we demonstrate how the XBee Mobile App enables you to configure and manage your XBee devices, when in range. This functionality can be extremely useful when out in the field.
Because Bluetooth is not inherently a secure communication protocol, we have followed our Digi TrustFence® security framework and implemented the Secure Remote Password protocol developed at Stanford University. With this security process in place, the application encrypts the password and then writes it to the module. In the event of a security breach, a hacker cannot access the device password.
Additionally, we show how to use the Digi Network Assistant tool.
SteadyServ Demo: How IoT Supports Bar Managers and the Beer Industry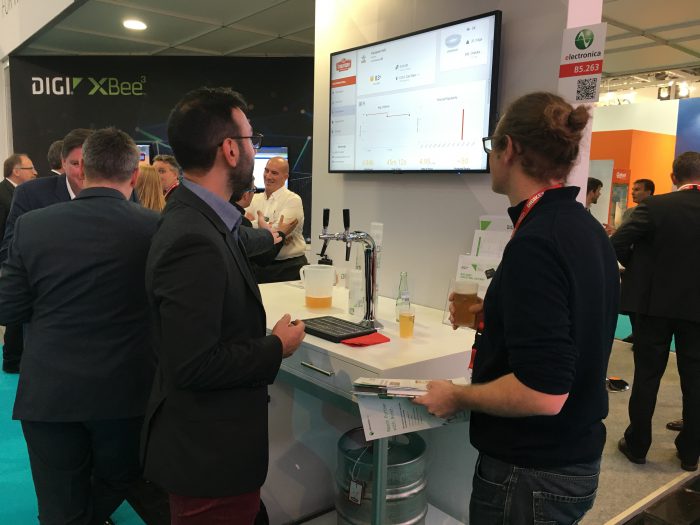 The notion that IoT is everywhere is certainly true. Today we are seeing a wide range of applications that support better information gathering, better management of processes, improved efficiency and above all, cost savings.
SteadyServ is an organization that develops applications to support the beer industry. With multiple craft breweries coming onto the scene monthly, the SteadyServ team realized there was a huge need for bar managers and bar tenders to have visibility and insight into supply and demand. Inventory management is a huge challenge when the only way to get a sense of a keg's volume is to lift it up and gauge the volume by the weight.
The SteadyServ iKeg app takes gathers weight information and delivers it in a chart so it is clear which beers are most popular, and how quickly the bar will need to replenish certain brews. Kegs are outfitted with RFID tags that designate which brand is on which tap line. The keg is placed o a smart-scale that measures how fast the keg's weight is going down, so bar staff can determine how much of each beer is being served.
We will have the complete system in place at Embedded World, and are happy to report that this demonstration requires the pouring and serving of beer. So come by the Digi booth when you are ready for refreshment.
"Must See" Partner and Co-sponsor Booths
As always, we appreciate the collaboration and support of our partner organizations. Digi products will be featured in a number of partner booths throughout the tradeshow:
Mouser (hall 3A, booth 111): The "Future Cities" virtual reality demonstration will feature Digi XBee XGI Industrial Gateways in both the "Digital Twinning" and "Smarter Edge" sections
Arrow (hall 4A, booth 340)
Atlantik Elektronik (hall 3, booth 141)
Avnet Silica (hall 1, booth 370)
AWS (hall 4, booth 568)
CODICO (hall 3, booth 310)
Digi-Key Electronics (hall 4A, booth 633)
NXP Semiconductors (hall 4A, booth 220)