Embedded Antenna Design Dual Polarised Panel Antenna for 4G, 3G and GSM
The LPM8270 is a directional MIMO, dual polarised panel antenna designed for 4G, 3G and GSM frequency bands. It has two radiating nelements, one vertically polarised and one horizontally polarised, operating from 800-960, 1710-2170 and 2500-2700 MHz. Terminated with dual N-Female connectors on the back of the antenna, the LPM8270 is primarily designed for outdoor access applications using 4G with fall-back to 3G and GSM frequencies.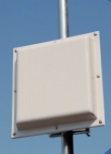 With gain figures of 9 dBi on the low band and 8 dBi on the higher bands, the LPM8270 is a high performing, compact directional antenna to complement 4G routers, modems and terminals, but also fully supporting 3G devices so 3G users do not have to change the antenna in the event they decide to upgrade to 4G. The radome measures 200x200x40mm and the antenna is supplied with pole/wall-mount brackets.
Features:
Supplied with Mount Bracket for wall or pole
Dual Polarisation - Dual Ports
Covers EURO 4G, 3G and GSM bands
High Gain Directional Panel Antenna
For additional EAD product information, samples or technical support, contact Symmetry Electronics, an authorized distributor of industry leading wireless, audio/video and embedded chips, modules and dev/eval tools. www.symmetryelectronics.com/contact or call (877) 466-9722.