EFR32FG23 Flex Gecko SoC
Over a mile range and 10+ years battery life for sub-GHz applications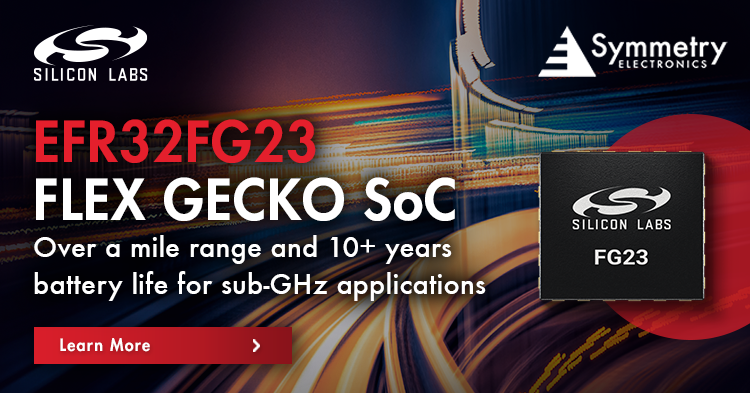 Silicon Lab's EFR32FG23 (FG23) (Figure 1) System on Chip (SoC) is optimal for secure, connected IoT sub-GHz protocols requiring high performance and low energy consumption. The FG23 is a single-die, multi-core solution that provides power efficiency, rapid wake-up times, and an integrated power amplifier to enhance secure IoT connectivity. Boasting over a mile of long-range connection and up to 10+ year battery life, the EFR32FG32 operates on sub-GHz RF band, making it impervious to interference from technologies like Wi-Fi that run in the 2.4 GHz range.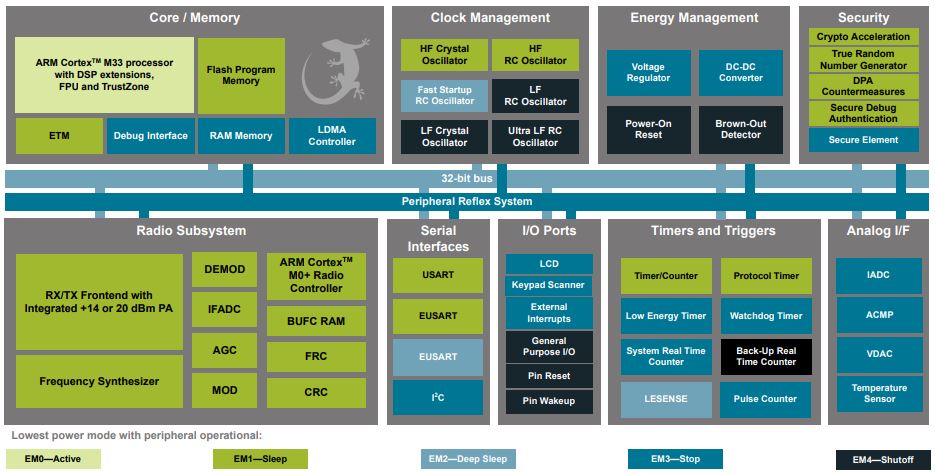 FG23 Key Features
32-bit ARM® Cortex®-M33 core with 78 MHz maximum operating frequency.
Up to 512 kB of flash and 64 kB of RAM.
Energy-efficient radio core with low active and sleep currents.
Integrated PA with up to 20 dBm (sub-GHz) TX power.
Robust peripheral set and up to 31 GPIO.
FG23 Advanced Security
The FG23 boasts industry-leading security through Silicon Labs' Secure Vault™, certified PSA Level 3, that helps to mitigate against IoT device cyber-attacks and threats. Integrated through dedicated hardware, Secure Vault isolates cryptographic functions and data from its host Cortex-M33 core, while providing security features like Secure Boot with Root of Trust and Secure Loader (RTSL), secure debug with lock/unlock, symmetric and public key encryption, anti-tamper, and more.
FG23 Supported Protocols
Proprietary
CONNECT
Wi-SUN
Sidewalk
WM-BUS
FG23 Key Applications
The FG23 Flex Gecko Family supports Sub-GHz IoT wireless connectivity for:
Metering
Home and building automation and security
Industrial austomation
Street lighting
Door opener/Key fobs
xG23 Development Kits
EFR32xG23 Pro Kit (+14 dBm & +20 dBm)
Designed to support the development of wireless IoT devices, the EFR32xG23 (xG23) Pro Kit conveniently familiarizes developers with the FG23. Available in two output power options that cover a range of 868-915 MHz, the XG23-PK6067A (+14 dBm) and the XG23-PK6068A (+20 dBm)–the kits include a radio board that is equipped with a comprehensive reference design for the EFR32xG23 wireless SoC. Complete with an onboard J-Link debugger with a Packet Trace Interface and a Virtual COM port, the Web Services Tool Kit (WSTK) main board enables the development of high-volume, scalable Sub-GHz wireless IoT applications.
EFR32xG23 Radio Board Kit (+14 dBm & +20 dBm)
Available in two output power options that cover a range of 868-915 MHz, the XG23-RB4204D (+14 dBm) and the XG23-RB4210A (+20 dBm)–the EFR32xG23 Radio Board Kits are designed to enable development of the FG23 devices for customers that already have the Silicon Labs WSTK main board. The main board is not included with these kits.
EFR32FG23 Radio Board Kit +10 dBm
The EFR32FG23 (FG23-RB4265B) Radio Board kit is based on Silicon Labs' XG23-RB4210A (+20 dBm)abs' xG23 512kB Flash QFN48 SoC and comes equipped with a +10 dBm, 433 MHz radio board. While the EFR32FG23 works with the WSTK main board, it is not included with this kit.
EFR32FG23 Dev Kit +14 dBm
The +14 dBm EFR32FG23 (FG23-DK2600A) Dev Kit is a size-efficient, fully-equipped development kit. Furnished with a development platform for FG23's onboard segment LCD controller, LESENSE, and pulse counter–the FG23 Dev Kit streamlines the development processes of sub-GHz IoT products.
Browse FG23 Solutions