DVDO's Award Winning 4K Ultra HD HDMI® Switcher is Ready for Streaming Right Out Of The Box
Enjoy Roku streaming content and output two 4K video streams with the Quick6R 6x2 Roku Ready 4K Ultra HD Matrix Switcher from DVDO. When connecting the optional Roku Streaming Stick to the switcher's MHL interface, you can access a wide variety of streaming content. In addition to 4K video support, this switcher is also compatible with 3D and audio return channel (ARC) signals. With 6 HDMI inputs you have multiple options for connecting high-definition devices.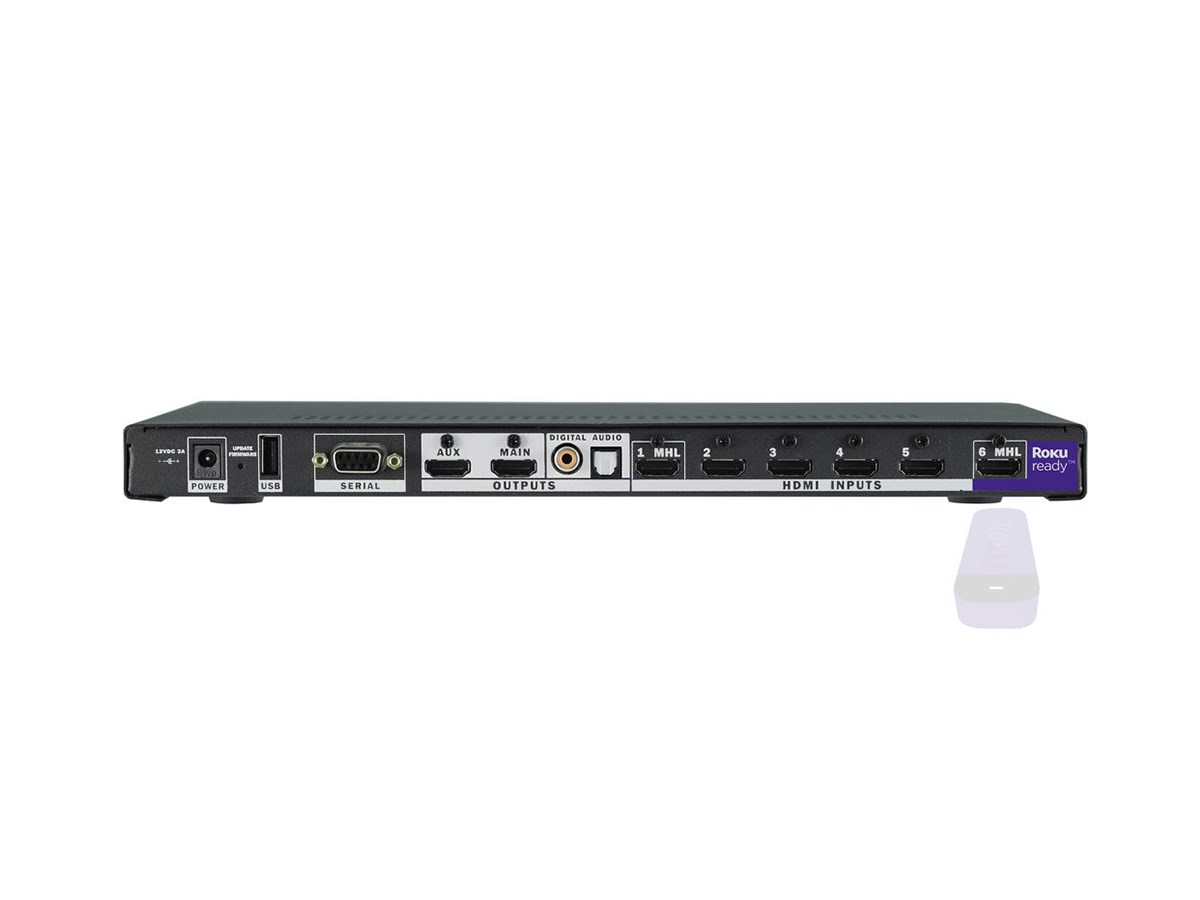 Two HDMI outputs are built-in, which allows you to connect to two external displays. Digital coaxial and optical outputs are also onboard for connecting to an external audio system. A remote with Roku control buttons is included with the switcher. Roku Streaming Roku offers hundreds of free channels and premium subscription services like Netflix, Hulu Plus, M-GO, Amazon Instant Video, VUDU, and Redbox. Cable subscribers can even watch their favorite shows and on-demand movies from services like HBO Go, Showtime Anytime, Watch ESPN, Watch Disney, FOX Now, A&E and the History Channel. InstraPrevue Technology InstaPrevue provides live on-screen previews of all your inputs and allows you to visually choose what you want to watch. InstaPort S Technology InstaPort technology delivers nearly instantaneous switching. It maintains an authenticated link with each input at all times. Picture-In-Picture (PIP)The Quick6R allows you to watch two things at once and select on-the-fly which one you listen to with dynamic audio switching.
3D and ARC Compatible
InstraPrevue Technology
1 x Coaxial / 1 x Optical
6 x 4K HDMI-In / 2 x 4K HDMI-Out
Roku Streaming Stick Compatible
For additional DVDO product information or technical support, contact Symmetry Electronics, an authorized distributor of industry leading wireless, audio/video and embedded chips, modules and dev/eval tools. www.symmetryelectronics.com/contact or call (877) 466-9722.