Don't Sacrifice WirelessHD Video Quality, Get The DVDO Air3C-Pro Professional WirelessHD® Adapter
Air3C-PRO is the industry's first WirelessHD adapter designed for commercial and professional home theater installations with a rock-solid wireless link, exclusive installation software to monitor and lock down an installation, and flexible mounting options.
Air3C-PRO is the ideal tool to keep on every installer's truck to streamline every installation without sacrificing the picture quality or reliability of a cable. Using the 60GHz frequency band, Air3C-PRO is free from other wireless interference.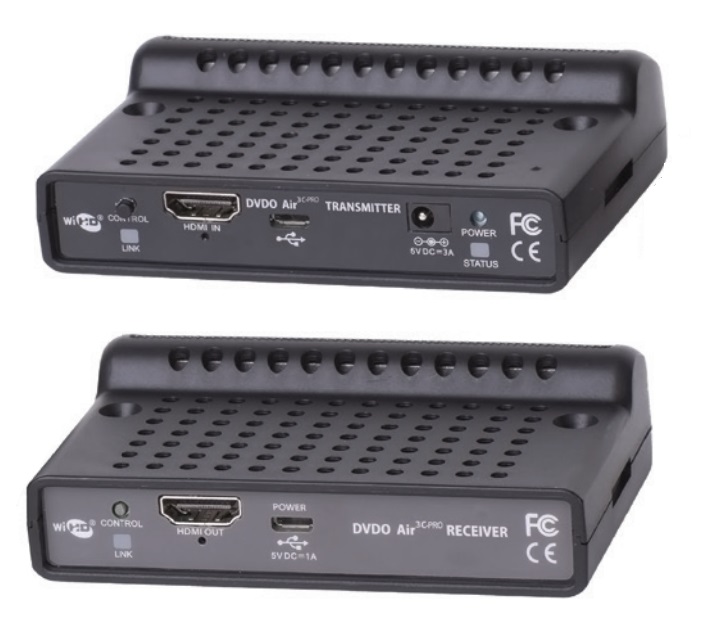 60 GHz WirelessHD
Based on Lattice 60GHz WirelessHD technology, Air3C-PRO transmits HD content with near zero lag time between the source and display, delivering cable-like reliability. Leveraging advanced radar technology used in fighter aircraft, Air3C-PRO's phased-array beam-forming technology automatically scans the room and looks for the best path from transmitter to receiver in every frame of video – up to 60 times a second.
Free from Interference
2.4GHz and 5GHz based Wi-Fi networks are subject to frequent interference have no ability to heal themselves if disturbed, and are forced to compress video to fit in their available bandwidth. Air3C-PRO is specifically designed with up to a 3Gb/s data rate and professional grade technology to save valuable installation time, eliminate call-backs, and provide the cool-factor customers are looking for.
Exclusive Configuration Software
DVDO's wireless configuration utility allows professional installers using Air3C-PRO to directly access all aspects of the wireless link. The utility shows signal strength to optimize the installation and build in link margin, allowing access to monitor audio and video stream information, and allows the installer to control the pairing method as well as the specific TX/RX pairs that can link to each other. The easy-to-use utility can lock down a working installation to make sure customers cannot later disrupt the link creating a call-back.
For additional DVDO product information or technical support, contact Symmetry Electronics, an authorized distributor of industry leading wireless, audio/video and embedded chips, modules and dev/eval tools, call (877) 466-9722.
Subscribe
Stay up to date with industry and supplier news!
Browse