Digi WVA Vehicle Bus to Wi-Fi Adapter for Innovative Connectivity in Heavy Machinery Applications
Digi M2M devices and cloud services provide the critical infrastructure that helps you manage and monitor widespread transport systems. Keep passengers and freight moving on schedule with efficiency and safety.
MAINTAIN AVAILABILITY
Reliable and secure Digi IoT connectivity supports positive train control, wayside and engine communications, and infrastructure fault monitoring.
OPTIMIZE THE ROUTE
Track every move your fleet makes through Digi Fleet Management solutions that monitor vehicle location, performance, fuel efficiency, even driver behavior.
Wireless Vehicle Bus Adapter (WVA), Wi-Fi, Telematics Version - Click Here
CONNECT PASSENGERS
Drive digital signage, entertainment, and Wi-Fi hot spots for passengers to enhance their travel experience—and your transit agency's brand.
MAINTAIN AVAILABILITY
Digi Wireless Vehicle Adapters are an easy way to plug trucks and buses into your wireless networks, and gather data for predictive maintenance.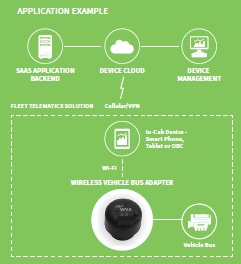 Digi's connectivity solutions meet the demanding quality requirements found in the heavy equipment, agriculture, construction and mining industries. Our mission critical IoT solutions provide heavy machinery operators with complete global wireless coverage. Increase productivity through real-time management with sensors and data across all of your assets wherever they are.
For additional Digi product information, samples or technical support, contact Symmetry Electronics, an authorized distributor of industry leading wireless, audio/video and embedded chips, modules and dev/eval tools. www.symmetryelectronics.com/contact or call (877) 466-9722.