Digi International's IX20 Replaces the Digi WR21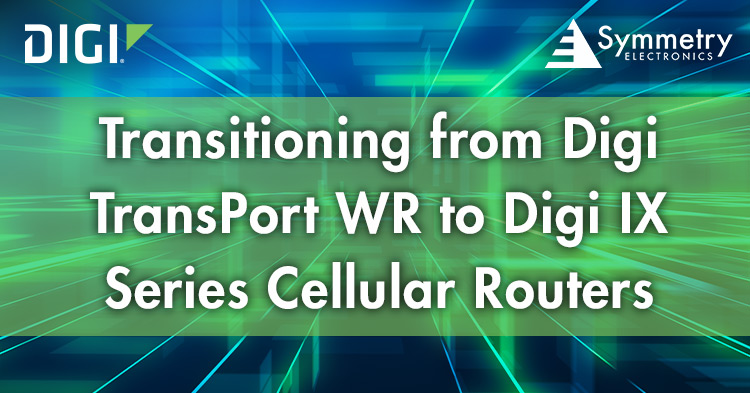 After 10 years, Digi International has discontinued their TransPort WR series cellular routers. Offering a comparable replacement, the new DAL-based Industrial Series (IX) offers flexible power and connectivity options for diverse applications. The IX series delivers a variety of key improvements, including updates to the routers' H/W and S/W:
Thermal design - Heat sinks built into enclosure allowing for long-term exposure to challenging environmental conditions
Performance - Ethernet to Cellular performance, 95 Mbps
Upgradable CORE® modem - Update to LTE-M or 5G networks
Digi Accelerated Linux operating system (DAL OS)
Diverse mounting options - Tabletop and comes with DIN mounts to attach to other surfaces
Key Features and Benefits of Digi's IX Series Routers
The IX series offers a robust next-generation interface in a compact package, with the following key features and benefits:
Compact and economical cellular routing platform with industrial feature set
Redundant connectivity with dual SIMs and Digi SureLink®
Global bands and single part number to simplify global distribution, deployment and management
Built-in Digi TrustFence® for device security, device identity and data privacy
Digi Remote Manager® software for easy setup, mass configuration and management
Dual Ethernet ports and single serial (RS-232) port
Optimal Applications for IX Series Industrial Routers
The Digi IX series can scale from basic connectivity applications to industrial-class routing and security solutions, with common applications including:
Industrial infrastructure
Digital signage
Retail kiosks
lService terminals
Critical assets with a need for secure transactions
For additional information on how to successfully transition from the Digi WR21 to the Digi IX20, Refer to our Replacing the Digi Discontinued WR21 Cellular Router guide.
Subscribe
Stay up to date with industry and supplier news!
Browse