Digi International Ships ConnectCore 6UL SBC Pro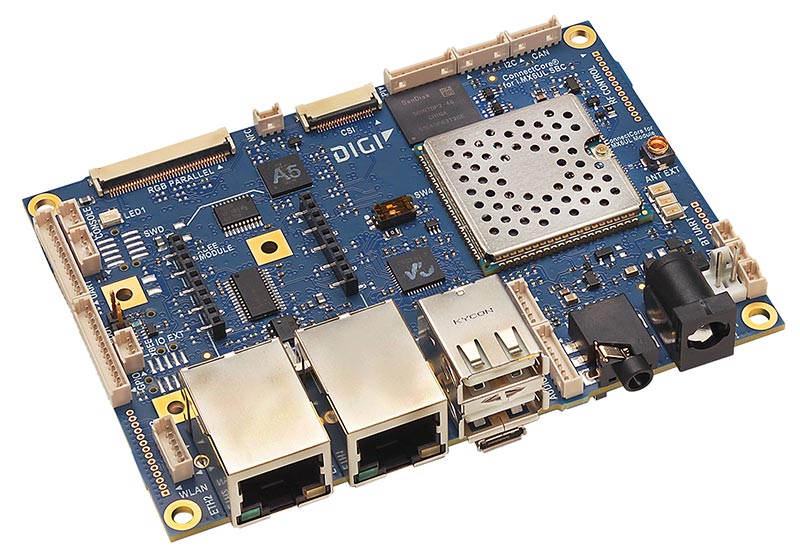 Digi International®, (NASDAQ: DGII, www.digi.com), a leading global provider of machine-to-machine (M2M) and Internet of Things (IoT) connectivity products and services, has announced the immediate availability of the ConnectCore® 6UL SBC Pro, a powerful, secure, pre-certified connected Single Board Computer (SBC) based on the NXP i.MX6UL (Cortex-A7 @ 528 MHz) application processor.
The Digi ConnectCore 6UL SBC Pro offers fully integrated and diverse connectivity options in a compact Pico-ITX form factor (100mm x 72mm) designed to IEC 60068-2-1 standards for industrial operating temperature and rugged shock/vibration performance. It offers integrated wired and wireless connectivity through dual 10/100 Mbit Ethernet networking, pre-certified dual-band 802.11a/b/g/n/ac networking, Bluetooth 4.2 with Bluetooth Low Energy (BLE) as well as optional cellular capabilities and Digi XBee socket support for a broad line of Digi XBee RF modules for 802.15.4, ZigBee, Thread, DigiMesh™, and sub-GHz wireless connectivity, providing design engineers the flexibility required to quickly bring solutions to market. Additional features such as 4 GB of eMMC flash for data logging and storage applications and a wide array of peripheral/interface options provide complete design integration flexibility.
From a software perspective, Digi ConnectCore 6UL SBC Pro gives design engineers the flexibility to customize their designs with only a fraction of traditional effort and risk. ConnectCore 6UL SBC Pro is based and tested on the Yocto Project Linux software platform and provides full and royalty-free access to source code through the Digi Yocto Linux Board Support Package (BSP) with Digi TrustFence™ device security framework. Featuring a complete development environment, ConnectCore 6UL SBC Pro also offers out-of-box support for a variety of 3rd party cellular modules including Huawei, Quectel, Sierra Wireless, Telit and uBlox. The integrated Digi Remote Manager capabilities allow secure remote device management and firmware updates over the air.
"Digi's ConnectCore 6UL SBC Pro allows manufacturers of intelligent devices to focus on their core competency and bring connected products and ideas to market more immediately with less risk." said Mike Rohrmoser, director of product management, embedded systems and RF at Digi International. "It delivers a productization-ready, reliable, and secure embedded platform combining complete design flexibility, proven wireless connectivity integration, and industry-leading Linux software platform support right out of the box."
GEO-Instruments, a provider of geotechnical and structural monitoring products and services, has built a field device using the Digi ConnectCore 6UL SBC Pro that streamlines operations for their customers. In the past, a field engineer would record measurements at the site, return to the office, offload and process the measurements on a desktop PC, and finally distribute the resulting graphs. Now, using GEO-Instruments accessory device, the technician can upload measurements directly from the field to an Internet-connected server which automatically processes the measurements and makes graphs available on the website.
"The device we built using the Digi ConnectCore 6UL SBC Pro provides significant time savings for the customer," said David Brandse, software developer at GEO-Instruments, Inc. "It is an enabling technology that accelerates the customer's access to data – which is what our core business is all about. With its open development environment and pre-certified capabilities, the Digi ConnectCore 6UL SBC Pro made our development a low-risk, high-upside proposition."
The ConnectCore 6UL SBC Pro is now available for purchase through Symmetry Electronics.
Source: https://www.digi.com/news/press-releases/digi-international-ships-connectcore-6ul-sbc-pro
Contact Symmetry Electronics at 866-506-8829, email us or start a live chat and we'll be glad to help you with your projects!