Digi International Introduces Connect Sensor+ for Intelligent Communication in Remote Locations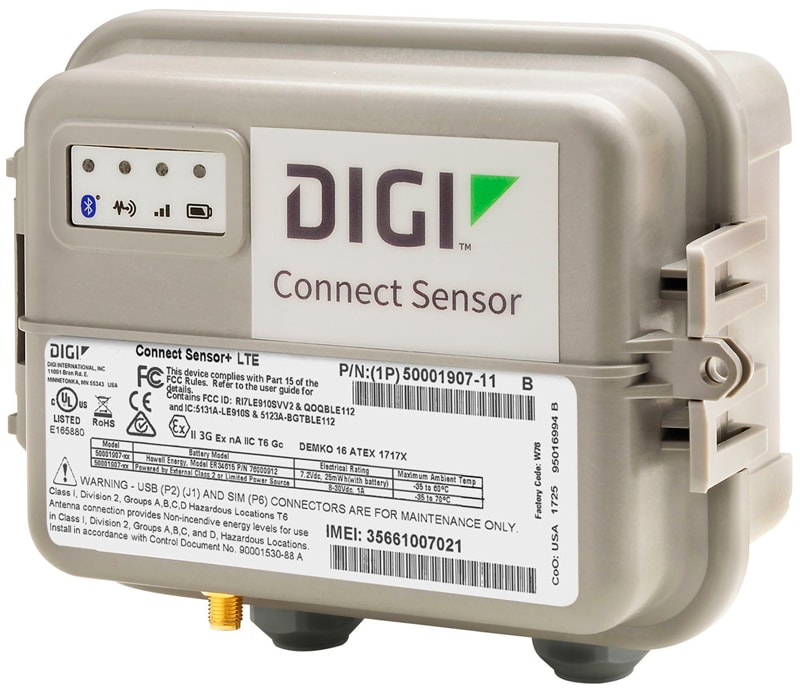 Digi International®, (NASDAQ: DGII, www.digi.com), a leading global provider of machine-to-machine (M2M) and Internet of Things (IoT) connectivity products and services, today introduced Digi Connect Sensor+, an enterprise-ready, battery powered cellular gateway solution for connecting to a wide range of external sensors.
Digi Connect Sensor+ builds upon the Connect Sensor legacy of providing a solution for remote sensor monitoring to be deployed in low or no power environments previously considered too harsh, remote or not economically viable. Digi Connect Sensor+ adds bidirectional sensor communication, remote diagnostics for sensor networks, increased internal data storage and continuous monitor mode for installations with access to wired power for use in applications where alarms must be reported immediately.
Digi Connect Sensor+ utilizes cellular networks and is ideal for energy, water, industrial and government installations that need to expand monitoring capabilities to meet oversight requirements, or to increase operational efficiencies. This eliminates the need for additional infrastructure, power supplies and third party applications.
"The Digi Connect Sensor is flexible, reliable and easy to configure," said Kim Pearson, CEO of New Boundary Technologies, Inc. "The addition of Modbus and Wired HART support in the Connect Sensor+ now makes it easy and cost effective to securely connect programmable logic controllers (PLCs) and industrial sensors to Internet of Things (IoT) applications. This will greatly expand our Industrial IoT application portfolio."
With a flexible interface and no programming or scripting required, Digi Connect Sensor+ can connect with and transform the capabilities of current sensor networks by enabling bidirectional communication with existing sensors. With bidirectional communication and multi-variable inputs, Digi Connect Sensor+ helps organizations gather complex information for remote diagnostic capabilities over a cellular network. Users will know when a sensor has an issue in the field, what the fault is, whether the sensor needs to be replaced or repaired, and whether a site visit is needed and the parts required.
The affordable Digi Connect Sensor+ expands the market viability and capabilities of remote monitoring. The self-powered Digi Connect Sensor+, with internal data storage and Digi Connect Wizard, can eliminate the need for data loggers, solar panels, RTUs and LED displays used for existing remote monitoring solutions resulting in extreme cost savings.
"Digi Connect Sensor+ changes the dynamics of remote sensor monitoring," said Joel Young, chief technology officer, Digi International. "Through new diagnostic capabilities, organizations with remote deployments can be made immediately aware of any issues, and take action without having to physically deploy resources unless they are necessary."
By incorporating the Wired HART protocol, Digi Connect Sensor+ can communicate with any HART-enabled sensor over the standard 4-20mA wiring used for analog communications, creating a 4-20mA "smart-loop." Additionally, through adoption of the Modbus messaging protocol, Digi Connect Sensor+ can conduct bidirectional communication with devices connected through the serial RS-485 protocol.
Digi Connect Sensor+ continuous monitor mode can constantly sample data from up to five inputs. With these capabilities, Digi Connect Sensor+ can be deployed in highly sensitive environments where alarms must be reported immediately, such as valve monitoring and gas detection.
Digi Connect Sensor+ has immediate availability. For additional information, including cellular specifications, sensor adaptability, security, environmental capabilities and customization and reporting, visit http://www.digi.com/connectsensor.
Source: https://www.digi.com/news/press-releases/digi-introduces-connect-sensor-plus#
Subscribe
Stay up to date with industry and supplier news!
Browse