From Digi: Digi XBee Tools: Develop, Build, Deploy and Manage Wireless Applications
Introducing Digi XBee Tools for Fast Prototyping, Development and Deployment
Planning an IoT project is an exciting adventure. But it's also a little bit like boiling the ocean. The number of considerations, tactics and decisions along the way can be a little mind boggling.
At Digi, we have been hard at work developing tools that can support that journey, simplify those tasks, get you to market faster and give you the peace of mind that it's all secure and under control. In this post, I'll share information about Digi XBee® Tools, a collection of hardware and software resources to help ensure you have what you need every step of the way.
The best part is that all of the Digi XBee Tools are available "ala carte," and some of them are downloadable absolutely free.


First, a Little About Digi XBee
For many years, developers worldwide have chosen Digi XBee devices as the central communication module in their wireless designs. With multiple form factors, protocols and wireless communication ranges to choose from, developers find that they have complete flexibility to develop with Digi radio modules. In fact, today we are proud to announce that we have sold over 15 million Digi XBee modules.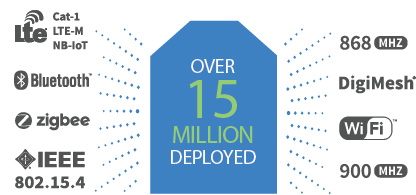 Always Innovating, Always Enhancing
A Digi XBee device is more than just a wireless module. Digi XBee radios enable wireless connectivity through multiple protocols, are future-proof and stand the test of time. The updates and enhancements we have made to the Digi XBee product lines in recent years have helped drive product innovation, rapid prototyping and improved time-to-market in countless applications worldwide.
For example:
We rolled out the Digi XBee 3 line, a new generation of advanced wireless modules for the most demanding, remote, low-power applications.
We introduced Digi XBee Cellular, a line of modules for cellular applications that require fast, direct communications with cellular networks.
We also developed the Digi XBee LTE-M/NB-IoT module, supporting two worldwide wireless standards on one radio device.
Additionally, we have built design flexibility into the modules through pin compatibility and consistent form factors.
And we rolled out pre-certified Digi XBee modules to dramatically improve time-to-market and let our developers do what they do best: develop applications. After all, less time spent in the lab means more time developing, testing and deploying new products.
And finally, we have built-in MicroPython support and developed libraries of MicroPython code samples to enable processing on the edge.
On that note, let's talk about the tools.
A Digi XBee device is more than just a wireless module. The updates and enhancements we have made in recent years have helped drive product innovation, rapid prototyping and improved time-to-market in countless applications worldwide. https://ctt.ec/30cEe+ #ConnectWithConfidence #IoT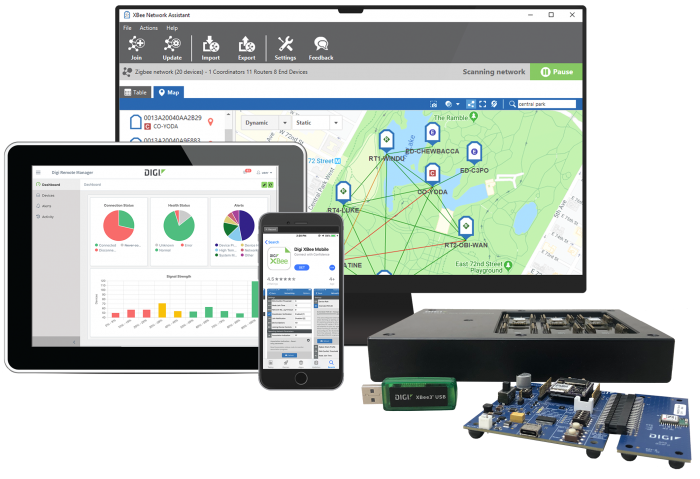 Every technical phase in the lifecycle of an IoT application comes with its unique set of challenges. Digi has been there. We understand those. And we have created tools to make the processes in each of those phases more streamlined to simplify tasks, help you get to market faster, and enable remote access for firmware updates and ongoing monitoring.
Watch the following video to join me as I play the role of each persona involved in the wireless application lifecycle, and have a little fun along the way.
If you want to get to a quick proof-of-concept to evaluate the capabilities of a wireless technology, manufacture your wireless product at scale, deploy a wireless network in the field, or manage your deployment over its lifetime, Digi has the tools to support your mission. Let's look at how Digi XBee Tools support each phase of the application lifecycle.
Phase 1: Develop
Five Digi XBee Tools support the initial design, prototyping and testing of your wireless application:


Phase 2: Build
In this phase, a technician is responsible for taking the configuration files provided by the developer and building out configured Digi XBee devices at scale. Digi XBee Multi Programmer is a device with a software interface for programming up to six Digi XBee modules at once. To scale up production even more, the technician can plug in more than one Digi XBee Multi Programmer into the PC.
The Multi Programmer comes in three models, one for each Digi XBee form factor: through-hole, surface-mount and micro.


Phase 3: Deploy
When you are ready to deploy your network of configured Digi XBee devices out in the field, three Digi XBee Tools help you get the job done:
Digi XBee Network Assistant: This desktop utility helps you visualize and map your local Digi XBee network, analyze network strength between nodes and send batch firmware updates to all nodes on the network.
Digi XBee 3 USB Adapter: This programmable device can work with any of Digi's supported wireless protocols, and is designed to provide connectivity to a local Digi XBee network from a laptop or PC to commission the network and connected devices.
Digi XBee Mobile App: This downloadable app provides the same functionality as Digi XCTU, but is Bluetooth-enabled for field work, enabling you to quickly configure, commission and update firmware wirelessly at the deployment site.


Phase 4: Manage
The last phase of the IoT application lifecycle is management and maintenance. Once your technicians are no longer at the deployment site establishing and debugging connections and checking device uptime, there is ongoing work to be done.
Digi Remote Manager® is a cloud-based IoT device and network management tool that provides all the functionality you need to monitor your network in real time, perform firmware updates and manage any issues that arise.
Digi Remote Manager (DRM) automatically monitors the configuration of devices across your network, wherever devices may be deployed in the world, and can quickly reset any configurations that may have been tampered with. You can set up alerts for various conditions to ensure you get notified of any concerns, and check your entire network from the DRM interface at a glance. Additionally, anytime you want to push firmware updates or security patches out to your entire network, you can quickly and easily do so from the DRM interface.
So, as you can see, while Digi XBee modules have always been a go-to choice for wireless applications, it just got better with Digi XBee Tools.


Partnering with Digi on Your Next Wireless Design
Developing a product is challenging. You're always under the gun to get to milestones as you prototype, test and debug your application design and move through the manufacturing and deployment phases. When looking for a manufacturer, you need a true partner that will help you with all of the different phases of getting to market and managing Digi XBee networks after deployment.
With Digi, you get a partner that has tons of experience with wireless technologies. We understand the difficulties, the trade-offs and considerations that need to be made along the way. Digi provides the knowledge and expertise to support your development and deployment efforts, and today we also provide the full suite of tools to support every phase in the IoT application lifecycle.
Source: https://www.digi.com/blog/digi-xbee-tools-develop-build-deploy-and-manage-wireless-applications/
Subscribe
Stay up to date with industry and supplier news!
Browse