Design Confidently with Laird Connectivity Solutions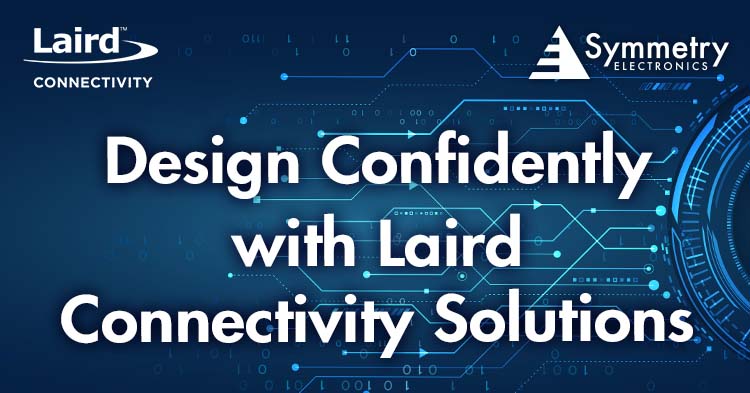 Symmetry Electronics, an industry leader and global distributor of IoT, wireless, and video solutions, has announced a distribution agreement with Laird Connectivity. Laird Connectivity has a vision of Wireless Innovation for a Connected World. With over three decades of wireless expertise, Laird Connectivity is a unique industry entity that simplifies wireless connectivity by providing in-house RF modules, internal antennas, design services, and EMC testing. Laird Connectivity's unmatched end-to-end technical support, comprehensive product development services, and high-performance products streamline time-to-market and reduce risk.
What Does Laird Connectivity Offer?
Modules
Wireless connectivity is made simple with Laird Connectivity's secure and reliable wireless module solutions. Spanning a number of wireless technologies such as Wi-Fi, Bluetooth, Proprietary RF, LoRa, and Cellular IoT. Laird Connectivity's wireless modules ensure high-performance in your device and are rated for harsh conditions in medical, industrial, and commercial settings. By incorporating a broad selection of pre-certified antenna types, Laird Connectivity's wireless modules reduce time and costs related to intensive EMC radio certifications. Take a look at a selection of products available from Laird Connectivity:
Laird Connectivity's NXP & Infineon Based Wi-Fi Modules
Sterling™-LWB5+ Wi-Fi Module
As an embedded Wi-Fi module, Laird Connectivity's Sterling™-LWB5+ is manufactured with IIoT in mind. With its rugged design and ultra-small footprint, the LWB5+ is and easy to integrate, fully certified module. The LWB5+ provides a robust feature set including 802.11ac Wi-Fi and dual-mode Bluetooth Low Energy (BLE). The LWB5+ supports WPA3 security standards, and is fortified to withstand industrial temperatures, vibration, and impact demands.
Sterling™-LWB+ 2.4 GHz Wi-Fi Module
As a next generation secure Wi-Fi 4 IoT solution, the Sterling™ -LWB+ 2.4 GHz Wi-Fi Module features advanced Wi-Fi and Bluetooth coexistence for seamless connectivity. With a broad industrial operating range of -40° C to +85° C, the LWB+ is an optimal, high-performance component that provides on-board chip antennas, MHF4 connector, or RF Pad. The Sterling LWB+ is FCC, ISED, CE, MIC, RCM, and Bluetooth SIG certified.
System On Module (SOM Solutions)
Sterling™ 60 Series
Touted as Laird Connectivity's most secure sub-system, the Sterling ™ 60 Series system on module (SOM) is a wireless bridge module communications subsystem that provides superior Wi-Fi connectivity in harsh environments. The 60 Series SOM supports WPA3-Personal, WPA3-Enterprise, and WPA3-Enterprise SuiteB 192-bit security standards. Additionally, 60 Series SOM's fully support 2x2 MIMO 802.11 and Bluetooth 5.1 dual-mode.
Laird Connectivity's Nordic-Based Bluetooth Modules:
BL5340
The BL5340 series are compact, robust, and provide the highest performing dual core MCU architecture on the market. With extended industrial temperature ratings of -40° C to +105° C, products in the BL5340 series are optimal, cost-efficient power solutions.
BL653
Laird Connectivity's BL653 series enables industrial OEMS enables longer range BLE application in harsh environments. Inherently secure and low power, BL653 MCU modules are small form factor and provide developers with maximum design flexibility.
BL653u
Designed for OEM convenience, Laird Connectivity's BL653u series enables easy incorporation of BLE v5.1 and Thread (802.15.4) technology into small, portable, power-conscious devices. With flexibility in hardware and software programming capabilities, BL653u are ideal components in medical devices, IoT & fitness sensors, accessories, home automation, and location applications.
BL654
As a multi-protocol embedded wireless solution, Laird Connectivity's BL654 Series is a cost-effective and provides maximum development flexibility, enhanced processing capability, superior hardware features. Products in Lairds BL654 series reduce risk and time to market.
BL654PA
Products in Laird Connectivity's BL654PA Series are small form factor modules and DVKs that are optimized for BLE.
Coming Soon
Lyra Series Bluetooth Module
In partnership with Silicon Labs, Laird Connectivity's Lyra Series combines the benefits of Silicon Labs hardware, software, and tools with Laird's added value application software, services, certification, and support capabilities. The series includes compact PCB modules and ultra-compact SIP options. Designed to reduce complexity, risk, and cost, Lyra products ensure decreased time to market for BLE-enabled IoT devices. Lyra Series products are:
Designed and certified to the highest industrial temperature range of -40 ºC to +105 ºC
Certified with FCC, ISED, EU, UKCA, MIC, KC, and Bluetooth SIG approvals.
Low power operation for battery powered IoT
Secure with features on EFR32BG22: Secure Boot, ARM Trustzone, Hardware Cryptographic Acceleration
Summit SOM 8M Plus System-on-Module - WiFi 5 + Bluetooth 5.3
Soon to be released Summit SOM 8M Plus is powered by NXP's innovative i.MX 8M Plus processor and 88W8997 wireless silicon coupled with onboard NXP PMICs (PCA9450CHN and PM823UK), performance LPDDR4 RAM, and eMMC 5.1 storage. Combined with long-term support Summit Yocto Linux, secure enclave, and Summit Linux FIPS Core Crypto to offer a comprehensive hardware and software solution throughout your product's lifecycle.
IoT Devices
Laird Connectivity is able to provide everything developers need to design a complete end-to-end network by partnering with industry powerhouses like Amazon Web Services (AWS), Software AG, and The Things Network (TTN) and Senet for LoRa based-solutions. With Laird Connectivity's growing portfolio of IoT sensors and gateways, developers can harness the convenience of the cloud to enable a customizable sensor network that provides fully manageable data collection and transmission. Two IoT Devices are featured here with many more available in the portfolio.
Sentrius ™ MG100 Gateway
Now an AWS qualified device with Amazon, Sentrius™ MG100 gateways are able to capture data from any Bluetooth 5 module/device and transfer it directly to the cloud through LTE-M /NB-IoT connection. The MG100 holds FCC, ISED, EU, UKCA, Bluetooth SIG, PTCRB, GCF, AT&T, and Verizon Certifications. MG100 gateways offer multiple antenna options, remote debug, personalized support.
Sentrius ™ BT610 I/O Sensor
The Sentrius™ BT610 I/O Sensor with Bluetooth 5 converts wired sensors into IP67-rated battery-operated wireless nodes. Providing full Bluetooth 5 capabilities, the BT610 is suitable for a wide range of industrial and equipment monitoring applications. The BT610 offers advanced deployment tools including Android and iOS, sensor to cloud ecosystem, and engineering services. BT610 is precertified and provides superior range, is rated for industrial temperatures, and is built to withstand harsh environments.
Internal Antennas
Laird Connectivity supplies industry-leading internal antenna solutions that cover a wide range of frequency bands and technologies like Wi-Fi, Wi-Fi 6E, Bluetooth, cellular, and custom areas.
Laird's Wi-Fi and Wi-Fi 6E internal antennas are patented PIFA and MIMO antenna solutions. Supporting single, dual, and triple bands from 2.4 GHZ to 7.125 GHz, Laird's internal antenna solution are pre-certified with Laird Connectivity modules for 802.11 a/b/g/n
Internal Bluetooth antenna solutions from Laird are small form factor and offer single band 2.4 GHz solutions.
Featuring LTE-M and NB-IoT solutions, Cellular antennas from Laird Connectivity offer high-efficiency peel and stick antennas. Cellular antenna solutions from Laird offer options up to LTE and 5G that cover 600-6000 MHZ.
Laird Connectivity also offers comprehensive design services for antenna placement and custom antenna solutions. Custom antenna designs can include alternative cable and connector orientation options, full RF scanning, and test compatibility with EMC experts.
Featuring the FlexPIFA™ 6E and Dual Band FlexPIFA ™ 6E Internal Antennas
Laird Connectivity patented the industry's first Planar Inverted-F Antennas (PIFA) with their FlexPIFA™ antenna line. The FlexPIFA family of antennas provide high-performance in harsh environments and can be utilized in a variety of conditions, enclosures, and even body-worn applications. Laird's FlexPIFA antenna family covers a frequency range of 2400 MHz-7125 MHz, has a gain of 3dBi, and operates within a temperature range of -40 °C - +85 °C. The FlexPIFA 6E antenna covers all bands of Wi-Fi 6E (2.4/5/6 GHz), whereas the dual-band FlexPIFA is suited for Wi-Fi applications in traditional 2.4/5 GHz bands.
Laird Connectivity is committed to the long-term supply of all its standard embedded wireless modules and packaged products. Laird Connectivity's products are specifically designed to meet the needs of the industrial and medical markets, which typically require 7 – 10 years product lifecycle. Although Laird Connectivity can't guarantee that a component used in our products will not be obsoleted and cannot be reasonably substituted, Laird Connectivity can assure customers we will continue to sell our product when we have customer demand and can obtain the necessary components to build our products.
In House Engineering Design Services
Laird Connectivity's product design services bring a developer's IoT dream to actuality. Laird Connectivity provides product development services in industrial design, mechanical engineering, user interface/user experience design, RF design (including custom antenna design), hardware design, PCB layout, embedded SW development, cloud architecture, and EMC testing. Regardless of IoT application, Laird Connectivity can offer tailored and custom solutions to meet required specifications like:
Custom enclosure colors and design
Custom branding for IoT devices
Pre-flashing modules
Client specific firmware for IoT devices
Antenna cable length and connector changes
Custom packaging and kitting
Application-specific firmware
Custom protocol development
iOS and Android application development
Sensor customization
Secure signed firmware
Cloud integration
In-House Electromagnetic Compatibility (EMC) Testing
In addition to unparalleled engineering services, Laird Connectivity further simplifies design processes by providing in-house certification testing. Well-versed in various certification standards and procedures, Laird Connectivity is ISO/IEC 17025 accredited and specializes in wireless testing. Laird Connectivity's team of knowledgeable engineers work with developers in all stages of testing to accelerate and simplify certification processes. Laird Connectivity has the ability to provide on-site measurements for:
Intentional Radiation Testing for wireless and RF
IEC 60601-1-2 Medical EMC testing
AIM 7351731 testing
ANSI 63.27 Medical Co-Existence testing for FDA 510K submissions
Additional international testing services
What Sets Laird Connectivity Above the Rest?
Developers that choose to work with Laird Connectivity or a Laird Connectivity solution are choosing to accelerate their time to market, reduce risk, and reduce costs. With over 30 years of industry experience, Laird Connectivity is able to leverage their deep heritage and knowledge to provide developers with the most comprehensive IoT solutions on the market. Laird Connectivity is a full-service partner that provides indispensable technical support, step-by-step product development services, high-performance products, and in-depth certifications testing.
Interested in incorporating a Laird Connectivity solution into your design? Contact Symmetry Electronics today!