DecaWave Ultra-Wideband Indoor Location Technology Ready for Prime Time in Industrial and IoT Markets
Ultra-wideband (UWB) indoor location technology is on the cusp of substantial market growth. ABI Research forecasts that there is huge opportunity for the high-accuracy, low-cost ultra-wideband radio technology in industrial and IoT markets, with total RTLS/asset tracking revenues to reach $15 billion by 2021.
"High-precision UWB technologies are nothing new, with companies like Time Domain, Ubisense and Zebra Technologies being long-established vendors in the RTLS/asset tracking market, says Patrick Connolly, Principal Analyst at ABI Research. "Though no one ever doubted UWB's accuracy or ability to perform in challenging RF environments, the cost/accuracy trade-off previously limited this technology to very niche applications. But big change is now happening as startups invent ways to cost effectively implement the technology without compromising on performance."
In its aggressive analysis, ABI Research uncovers a number of companies that it predicts will be very disruptive in this space. Decawave remains the biggest influencer, now shipping UWB ICs from $10 per unit for a few hundred units down to $3 per unit for high-volume applications. This opened the floodgates for a host of startups working with the technology for the first time to contend in the market.
Partner Decawave is making significant progress. Not only will UWB disrupt the existing market, it will also open up new opportunities around compliance, traceability, fleet management, pallet tracking, staff management, fulfillment, and inventory management. The major competitive threat stems from Bluetooth; while it comes with a range of cost/accuracy trade-offs, its major advantage is its easy integration with smartphones and industrial wearables. Companies like Bluvision, Kontakt.io, MIST and Quuppa lead the way in this space.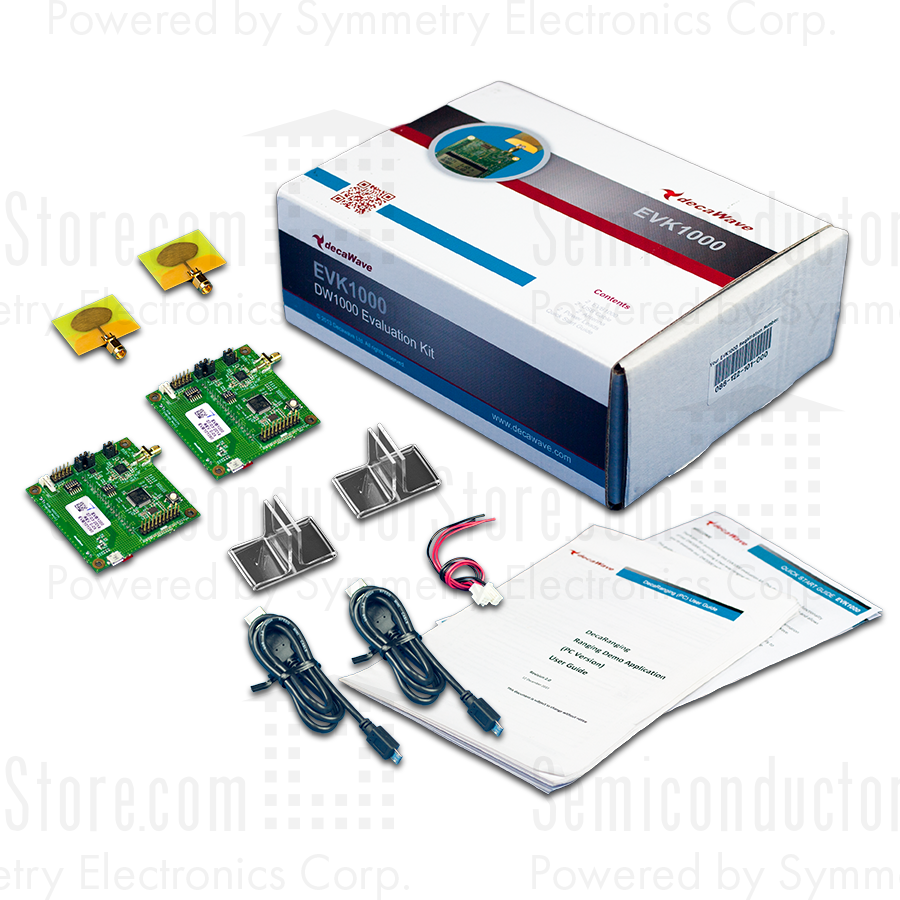 DecaWave EVK1000 Two Way Ranging Evaluation Kit
These findings are from ABI Research's Next Generation Asset Tracking Technologies, Opportunities, and Revenues. This report is part of the company's Beacons, Indoor Analytics & Location, Enterprise IT & OT Convergence, Semiconductors, and Transformative Technology sectors, which include research, data, and analyst insights.
Source: https://www.abiresearch.com/press/ultra-wideband-indoor-location-technology-finally-/?mc_cid=c5b9a41904&mc_eid=e0285ec566
For additional DecaWave product information, samples or technical support, contact Symmetry Electronics, an authorized distributor of industry leading wireless, audio/video and embedded chips, modules and dev/eval tools. www.symmetryelectronics.com/contact or call (877) 466-9722.