Cmedia Next Generation Voice and Audio Integration Solutions
The modern smartphones, tablets and other portable devices are becoming harder and harder to differentiate from each other. Persuing only homogeneous HW specification will lead to more rigorous cost and price competition among products. An emergent winning strategy is to add more sensible factors and features to really touch consumers' hearts and satisfy those hidden demands which are not fulfilled or even discovered. Better communication, voice recognition, and audio experience are the greenfield areas that need a seamless, integrated, much better solution to bring customers really touching user experience.
Cmedia is going after this market trend and is committed to help product makers to realize the innovation in these areas by providing the core technologies and component for next generation voice and audio integration solution. Cmedia developed a series of Xear™ sound technologies on DSP, not only for voice processing, but also for audio enhancement. Customers could utilize one chip for equipping versatile and high value-added voice and audio feature sets.
The CM6571 is a USB 2.0 audio chip with a built-in 8051 and DSP designed for a wide range of applications. With an internal two-channel ADC/DAC, S/PDIF, it is perfectly suited for gaming headset, speakerphone, surround speaker or Apple docking applications.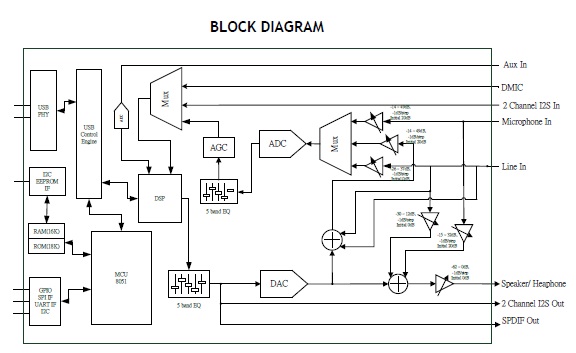 The CM6571 is a USB audio class 1.0-compatible, boasting plug and play functionality without installing additional software on popular operating systems. The internal DAC/ADC and S/PDIF out interface supports 96k/88.2k/48k/44.1kHz sampling rates and 16/24-bit resolutions.
Furthermore, the DSP inside CM6571 supports voice and audio process. Voice process includes Environment Noise Cancellation, Acoustic Echo Cancellation and Noise Reduction, functions that produce better communication experience. Audio process includes Xear™ surround headphone, sound expander, dynamic bass, audio brilliant, smart volume and parameter Equalizer, processes that enrich music playback, movie and gaming battle sound vividness.
For additional Cmedia product information or technical support, contact Symmetry Electronics, an authorized distributor of industry leading wireless, audio/video and embedded chips, modules and dev/eval tools. www.symmetryelectronics.com/contact-us or call (877) 466-9722.