Classic Bluetooth vs Bluetooth Low Energy - A Round by Round Battle
Wednesday, September 24, 2014
The Evolution of Bluetooth - Timeline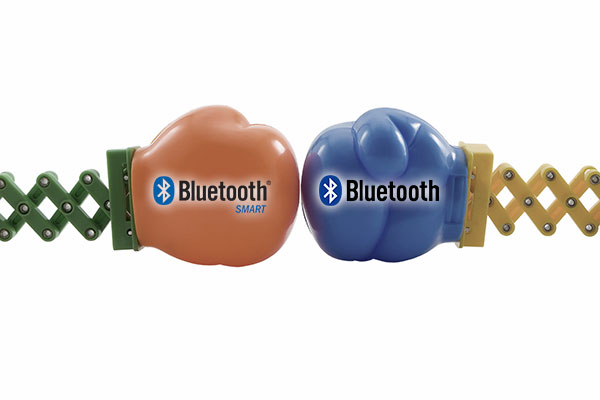 1998 - The Bluetooth Special Interest Group (SIG) is formed with five companies. The name Bluetooth is officially adopted.
1999 - The Bluetooth 1.0 Specification is released.
2000 - First mobile phone and PC card with Bluetooth technology, as well as the first chip to integrate radio frequency, baseband, microprocessor functions, and Bluetooth wireless software comes to market.
2001 - First printer, laptop, and hands-free car kit featuring Bluetooth integration.
2002 - First keyboard and mouse combo, GPS receiver, and digital camera with Bluetooth technology comes onto the market. The Institute of Electrical and Electronics Engineers (IEEE) approves the 802.15.1 specification to conform to Bluetooth wireless technology.
2003 - First MP3 player with Bluetooth technology comes onto the market. Bluetooth Core Specification Version 1.2 is adopted by the Bluetooth SIG.
2004 - First stereo headphone integrated with BT comes onto the market. The SIG adopts Core Specification Version 2.0 Enhanced Data Rate (EDR).
2005 - The SIG launches Profile Testing Suite (PTS) v1.0, a testing and qualification tool for members developed completely in-house.
2006 - First sunglasses, watch, and picture frame integrated with Bluetooth. The SIG announces it will integrate Bluetooth technology with the WiMedia Alliance version of UWB.
2007 - First alarm-clock radio, television integrated with Bluetooth.
2008 - Profile Tuning Suite (PTS) Version 3.0 is released, including automatic updates and further improvements to its report generation capabilities.
2009 - The SIG adopts Core Specification Version 3.0 HS, making Bluetooth high speed technology a reality. The SIG announces the adoption of Bluetooth Low Energy (BLE) wireless technology, the hallmark feature in Bluetooth Core Specification Version 4.0
2010 - The Bluetooth SIG announces the formal adoption of Bluetooth Core Specification Version 4.0 with Low Energy technology.
2011 - The SIG unveils the Bluetooth Smart and Bluetooth Smart Ready brand extensions.
2012 - The first Bluetooth Smart Ready tablets and music players hit the market. The SIG announces expansion into sports and fitness markets with a new working group and new profiles for real-time running and cycling data monitoring.
2013 - The SIG launches Bluetooth World.
Motivation for Developing BLE
BLE was designed from a clean sheet of paper as a completely new technology. It set out to meet the following goals:
Lowest power consumption
Lowest possible Latency
Widest range of interoperable devices.
The abovementioned goals are the reason why this technology is so successful.
Cage Fight: Round by Round Rumble
Round 1 - Power Consumption: (Winner - BLE)
Ultra low power consumption is the main attracting feature of BLE technology. It enables small devices to run for 5-10 years on just a coin cell battery. The BLE device is in sleep mode for most of the time and only wakes up when a connection is initiated. The actual connection happens only for a few seconds. The maximum or peak consumption is only 15 mA, and the average power consumption is just 1 uA. However, based on likely usage patterns a Bluetooth low energy wireless technology chip transmitting at 1 Mbps with a range of a few meters would use around one-tenth the power of a Bluetooth chip transmitting at the same data rate and range.
Round 2 - Range of the Device: (Winner - Classic Bluetooth)
Just like every coin has 2 sides, so does BLE technology. The technology uses very little power for its operation and thus increases the longevity of the device; on the other hand, this feature reduces the range of the device operating this technology. If you are dealing with a device that needs a longer range, Classic Bluetooth is the way to go.
Round 3 – Throughput: (Winner - Classic Bluetooth)
The actual /practical transfer rate for BLE are around 100 – 250 Kbps as compared to roughly 2 Mbps for Classic Bluetooth. Therefore, streaming high quality audio/video through BLE is bit of an issue for now. BLE is all about transferring small, infrequent bits of data with lowest power and latency.
Round 4 – Cost: (Winner - BLE)
BLE devices are cheaper than Classic Bluetooth. Classic Bluetooth wireless technology has been designed to suit a wide range of applications. This has meant some compromises; in particular,
Classic Bluetooth wireless technology has a relatively complicated protocol, requires large capacity batteries and hence is relatively expensive. On the other hand, Bluetooth low energy wireless technology is specifically designed to be a low-cost wireless technology to encourage the widest possible take-up in a range of coin cell battery-powered electronic devices.
Round 5 - Number of Slaves Attached to the Master: (Winner - BLE)
BLE devices can accommodate a larger number of slaves as compared to its other version. How large a number depends on the implementation and the available memory sizes of the devices.
Round 6 - Connection Setup Speed: (Winner - BLE)
The BLE devices are much faster than Classic version. Many features of classic Bluetooth are inherited in Bluetooth low energy technology including adaptive frequency hopping as well as part of the logical link control and adaptation protocol interface. BLE also implements the same link security with simple pairing modes, secure authentication and encryption. This inheritance makes Bluetooth low energy technology easy to set up, robust and reliable in tough environments.
Overall Result - It is fairly evident that BLE beats Classic Bluetooth in terms of number of features, but it really comes down to a user's preference of certain features when making the choice between the two options.
Classic Bluetooth should be used where the throughput required is of a higher value and where power consumption, cost, connection speed, and number of slaves attached to the master are not of great concern.
BLE should be used where power consumption, cost, connection speed, and number of slaves attached to the master are important and throughput is not of as great importance.
Interested in learning more about Classic Bluetooth or Bluetooth Low Energy (BLE)? Call Symmetry at (310) 536-6190, or contact us online.
Subscribe
Stay up to date with industry and supplier news!
Browse