Bluetooth LE Modules for Battery-Powered IoT Devices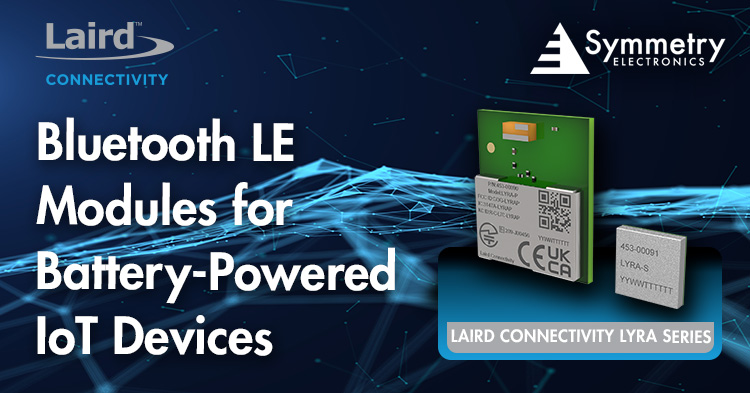 Laird Connectivity has leveraged their over 40 years of expertise in wireless modules, internal antennas, IoT devices, design services, and RF and EMC testing to launch their advanced Bluetooth 5.3 Lyra Series. Integrating Silicon Labs' EFR32BG22 SoC, the Lyra Series combines SiLabs' hardware, software, and tools with Laird Connectivity's value-added application software, services, certification, and support capabilities. This seamless collaboration provides customers with multiple software development options suited to their resources and skillsets in Bluetooth LE-enabled product development.
The Lyra Series includes the Lyra P, small form factor PCB module with an integrated antenna and the Lyra S, ultra-compact SiP module with an integrated antenna and support for multiple additional pre-certified antennas. The feature-rich Lyra Series is suitable for battery-powered IoT devices and was developed to drive down total cost of ownership, minimize design complexity and risk, and accelerate time to market.
Lyra P - PCB Module
+8 dBm Output Power
12.9 x 15.0 x 2.2 mm
Integrated antenna
Lyra S - SiP Module
+6 dBm Output Power
6 x 6 x 1.1 mm
Integrated antenna or external via pinout
Pre-certified range of antennas
Lyra Series Features
Based on Silicon Labs' EFR32BG22 SoC
Bluetooth 5.3 / Bluetooth LE
Powerful Core Cortex-M33 (512 kB Flash/32 k RAM)
Long-range (Coded PHY) & 2MPHY support
Enhanced operating temperature (-40oC to +105oC)
Hostless and hosted operation
Widest range of MCU peripherals (UART, I2C, SPI, ADC, GPIO, PWM, PDM, Counter, Timer, Watchdog, & PRS)
PCB or SiP hardware options

Integrated antennas on both options
Lyra S also supports multiple additional pre-certified antennas

Three firmware options

AT Command Set - Ongoing development track - Customizations, more Xpress features
Wireless Xpress - Frozen at current release, path for existing Silicon Labs customers
C Code - Full software development with Silicon Labs SDK and Toolchain integration

Exceptional Security (Secure Boot, ARM Trustzone, & Hardware Cryptographic Acceleration)
Laird Connectivity's value-added support and services

Technical and application support for ALL options
Full Service - Antenna, Engineering & Certification Services
Continuous development of AT Command Set - extensible

Fully featured development kits
Global Certification (FCC, ISED, UKCA, CE, KCC, & MIC)
Lyra Series Development Kits
The Lyra Series (Lyra P and Lyra S) development kits offer everything needed to start Bluetooth LE development. Integrating a Segger J-Link debugger, USB Micro B for power, HW switch for FW options, buttons and LEDS, and Mini Simplicity (on base), Mikrobus, and Qwik connector options, the Lyra Series dev kits include everything needed for rapid device evaluation. The Lyra S DVK is mounted with an MHF4 connector to root to an external antenna.
Lyra Series Comprehensive Development Services
Laird Connectivity has joined forces with Silicon Labs to offer a secure, feature-rich solution for Bluetooth LE product development. Choose between the Lyra P, small form factor PCB module with an integrated antenna or Lyra S, ultra-compact SiP module with an integrated antenna and external antenna capabilities. Offering three firmware operations (AT Command Set, Wireless Xpress, and C Code), the Lyra Series offers a flexible development option for diverse applications like professional lighting, asset tags and beacons, secure medical peripherals, and industrial IoT (IIoT) sensors. Combine the Lyra Series evaluation boards with Laird Connectivity's value-added technical support and certification services to benefit from reduced costs, simplified development, and accelerated time to market.
Why partner with Symmetry Electronics? Symmetry's technical staff is specially trained by our suppliers to provide a comprehensive level of technical support. Our in-house Applications Engineers provide free design services to help customers early in the design cycle, providing solutions to save them time, money and frustration. Contact Symmetry for more information.