Benefits and Features of a Proportional-Integral-Derivative (PID) Controller For Motion Control Applications
Individual control loops that react to feedback are useful in many applications, specifically motor control. Motors that are highly precise are intricately stepped to position their armatures to exact locations. To achieve the best results, PID control algorithms have been designed.


What is a PID Controller?
The proportional-integral-derivative controller (PID controller) has been used and found to be a source of design for many years now. Combinations of PID have found their way into many different uses. The reason for this has been the advent of microcontrollers and the diversity of analog control. The mechanical operation of a motor has been more reliable and useful in our daily lives. The PID controller that uses a micro has been defined by industry and has led to additional functions that support motors of all sizes and shapes.
PID stands for proportional, integral, derivative. These three terms describe the basic fundamentals of a PID design. Each of these elements performs a different function and has unique property when driving, positioning, and starting/stopping a motor.
The key to using a PID function is feedback. Instructions or commands to the controller are used based on individual feedback signals from the motor or sensors being controlled. Their outputs are summed up based on the PID algorithm to drive the motor backwards, forwards, stop, speed up, or slow down.
Imagine a lathe that carves baseball bats or table legs, or a 3D printer that maneuvers fast, then must slow down at the precise moment a signature/pen is applied. All of this action is programmed and achieved by sensing the feedback loops and the information that is needed.


Proportional Control
Proportional control provides an immediate action to the control error. An example of an error may be slippage or bearing issue. Feedback control is adequate to assist in error control but it is not entirely a solution by itself. The error will be in a constant state and therefore correction is limited.


Integral Control
Integral control will use the constant error by driving it to zero or near zero. This will help keep the system uniformed used to control the system alone and therefore can affect the entire loop. This will mean an error that will exist until correct manually or possibly drive the motor into a stalled state. It should always be used in tandem with proportional control.


Derivative
The third leg in the formula is the derivative. It acts upon the change of the error that is controlling the specific function. This is the quickest response to the error and can and is in fact the bias that prevents motors from stalling, slipping, starting and stopping, but more importantly allows continuous performance. Remember motors are mechanical and bearings, belts, and brushes (non-brushless) wear. Temperature also plays a role in feedback. Over time mechanical components change consistency and therefore adjustments to the PID control allow for independent outputs as a result.
The figure below shows an elementary block diagram of a PID controller. In this case the derivative element is being driven only from plant feedback. The plant feedback is subtracted from the command signal to generate an error. This error signal drives the proportional and integral elements. The resulting signals are added together and used to drive the plant. Included is an alternate placement for the proportional element (dotted lines) this can be a better location for the proportional element, depending on how you want the system to respond to commands.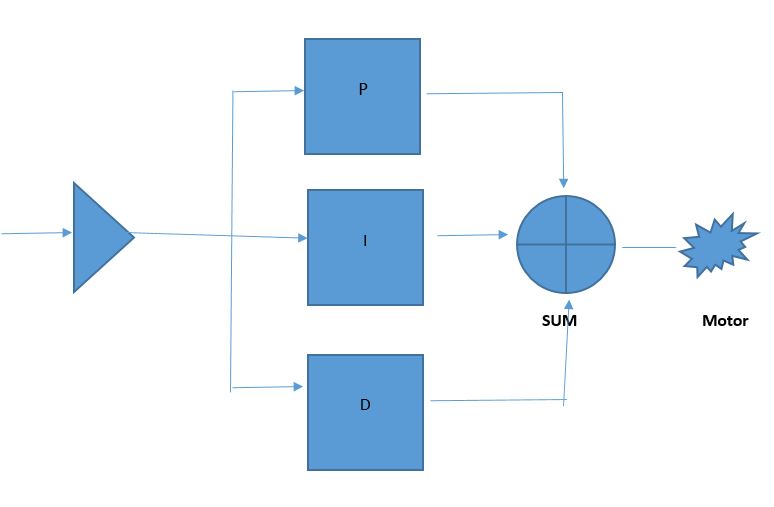 Calibrating a PID Controller
Calibrating a PID controller is usually completed automatically as part of an auto-calibration technique. You identify the target device and define a series of parameters that are easy for interpreting the controls. For instance, you would want to find the parameter for accelerating and slowing down. You then create margins or +/- which are acceptable parameters and meet the applications demands. The margins qualify for a min max and therefore will adjust based on the derivative feedback loops which govern the motor's finite use.


Other Issues
Unless you are working on a project with very critical performance parameters, you can often get by with control gains that are within a factor of two of the correct value. This means that you can do all your multiplies with shifts. This can be very handy when you're working with a slow processor.
Symmetry Electronics offers products from Trinamic Motion Control, which feature sub system modules for many different applications. To discuss PIDs or order Trinamic products, please call Symmetry at (310) 536-6190, or contact us online.