An Introduction to Thread
Friday, July 17, 2015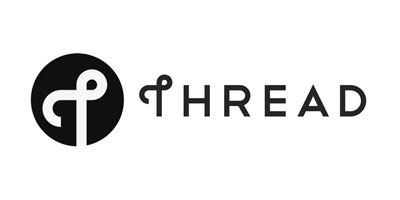 Thread is a simplified IPv6-based mesh networking protocol developed to securely and reliably connect hundreds of products around the home to each other, to the internet, and to the cloud without heavy battery usage. Thread is simple to install, highly secure, and scalable to hundreds of devices. Thread is developed on low-cost, low-power 802.15.4 chipsets. Millions of products that are already in use today will simply require a software update to be Thread-enabled.
All Thread networks are easy to set up and secure to use. They use a smartphone-era authentication scheme and AES encryption to close security holes that exist in other wireless protocols. Devices are designed from the ground up to have extremely low power consumption and efficiently communicate to deliver a great user experience, yet still run for years on the smallest of batteries.


Features:
Designed to support a wide variety of products for the home: appliances, access control, climate control, energy management, lighting, safety, and security
Scalable to connect 250+ devices into a single network supporting multiple hops
Provides security at network and application layers, supported by banking-class, public-key cryptography and product install codes used to ensure only authorized devices can join the network
Interoperable by design using proven, open standards, and native IPv6 technology with 6LoWPAN as the foundation
Simple installation and use through a smartphone, tablet, or computer
Based on the power efficient IEEE 802.15.4 MAC/PHY
Extensive support for sleepy nodes allows for years of operation, even on a single AA battery
Short messaging conserves bandwidth and power
Streamlined routing protocol reduces network overhead and latency
Designed to run on readily available, low power wireless system-on-chips
Based on a robust self-healing mesh network with no single point of failure
Runs over standard 802.15.4 radios
Telegesis ETRX358* Thread-Ready Modules
The Telegesis ETRX3587 and the ETRX3585 modules offer product designers a fast and reliable way to incorporate Thread technology into their Internet of Things (IoT) products. Both modules are available in standard and power-amplified form, either with on-board antenna or with U.FL connector for use with an external antenna. Built around the EM358* series SoC from Silicon Labs, these modules offer a powerful way to add Thread capability to existing and future IoT products. ETRX358* modules are footprint compatible with the best-selling ETRX357 series.
Telegesis will be releasing a Thread Protocol AT command interface later in 2015, which will enable engineers to implement Thread solutions without the need for any embedded firmware expertise, making the Telegesis Thread module solution the fastest and easiest way to add Thread technology to any product range.
SMT module 25mm x 19mm
Side castellations for easy soldering
2 antenna options: Integrated chip antenna or U.FL coaxial connector
Industry standard JTAG Programming and real time network level debugging via the Ember InSight Port
512kB flash and 64kB of RAM
Lowest Deep Sleep Current of sub 1µA and multiple sleep modes
Wide supply voltage range (2.1 to 3.6V)
Every module can act as an End Device, Router or Coordinator
24 general-purpose I/O lines including analogue inputs (all GPIOs of the EM3587 SoC are accessible)
Firmware upgrades via serial port or over the air (password protected)
Hardware supported encryption (AES-128)
CE and FCC compliance, FCC modular approval pending
Operating temperature range: -40°C to +85°C
For more information on Telegesis and the ETRX3587 and ETRX3585, call Symmetry at (310) 536-6190, or contact us online.