Video: An Introduction to the Telegesis ETRX357 ZigBee Modules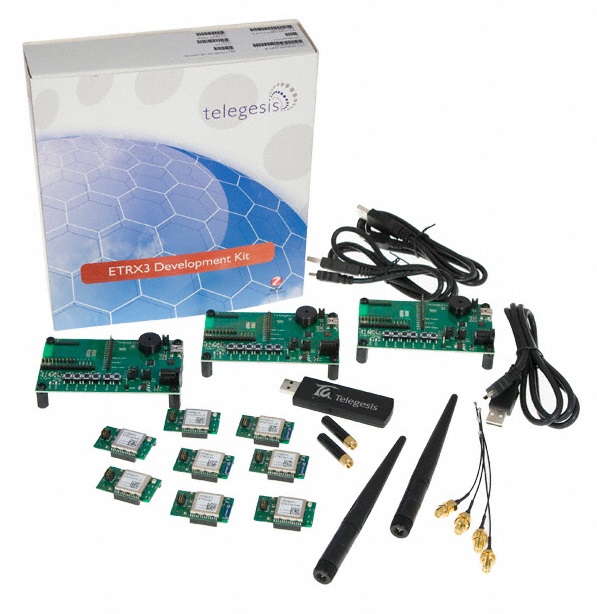 ZigBee is a secure wireless specification for high-level communication based on an IEEE 802.15.4 standard. Despite its low power consumption, ZigBee devices can use mesh networks to transmit data over long distances. ZigBee has a defined rate of 250 kbit/s, best suited for applications such as wireless light switches, electrical meters with in-home-displays, traffic management systems, and other consumer and industrial equipment that requires short-range low-rate wireless data transfer. The technology defined by the ZigBee specification is intended to be simple and cost-effective to implement.
Telegesis ETRX357 Modules
The Telegesis ETRX3 series are low power 2.4GHz ZigBee modules integrating a 2.4 GHz, IEEE 802.15.4 compliant transceiver with up to 192k of flash, 12k of RAM, and many advanced peripherals. The ETRX357 family is based on the third generation Ember EM357 ZigBee SoC, offering the highest wireless networking performance and application code space at low power consumption.
The modules feature a unique AT-style command line interface that allows designers to quickly integrate ZigBee technology without complex software engineering. The ARM® Cortex M3 microprocessor is optimized for high performance, low power consumption, and efficient memory utilization making it ideal for use in ZigBee applications.
Telegesis ETRX357 Module Features
EM300 series ZigBee SOC featuring 32-bit ARM® Cortex-M3 processor
Dimensions: 19mm x 25 mm x 3 mm
Up to 192k of Flash, 12k of RAM
ETRX35x high RX Sensitivity -99dBm (-100dBm Boost)
ETRX35x-LRS high RX Sensitivity -106dBm
ETRX35x TX output power 3dBm (8dBm Boost)
ETRX35x-LRS TX output power +20dBm (adjustable down to -21dBm)
ETRX35x RX current: 25mA, TX current: 31mA at 3dBm
ETRX35x-LRS RX current: 31.5mA, TX current: 140mA at 20dBm
ETRX3 ZigBee Module
128µS Wakeup
Improved Hardware MAC Acceleration
JTAG Interface for Programming and Debugging
Improved Peripherals (ADC, timers etc.)
Chip Antenna or U.FL coaxial Connector
FCC compliance modular approval
CE European Regulations
Approvals for Canada, South Africa, Australia and New Zealand
Telegesis ETRX357 2.4GHz ZigBee Module Development Kit
The Telegesis ETRX3DVK Development Kit is an ideal starting point for quick development, evaluation, and prototyping of the ETRX357 series low power 2.4GHz ZigBee modules using the ETRX3 wireless mesh networking modules. The Long Range modules will allow you to test their greater outdoor range and within-building penetration.
Telegesis ETRX3DVK Development Kit Features
ZigBee Networking "Out-of-the-Box"
Low cost evaluation platform for ZigBee wireless mesh networking
Broad selection of modules allows range testing of any possible module/antenna combination
Set up a ZigBee mesh network in a few minutes without the need for any embedded software
The downloadable Telegesis Terminal application offers easy interface to modules on the development boards
Development boards can be used as hardware platform for trials
Also works with 3rd party terminal software like HyperTerminal
Battery option allows easy prototyping of end devices
Seamlessly Integrates into the Ember InSight Toolchain
USB Drivers available for Windows, MAC OS and Linux
Telegesis ETRX3DVK Development Kit Contents
3 x USB Development Boards
2 x ETRX357 on Carrier-Board
2 x ETRX357HR on Carrier-Board
2 x ETRX357-LRS on Carrier-Board
2 x ETRX357HR-LRS on Carrier-Board
1 x ETRX3USB stick
2 x Large 1/2-Wave Antenna
2 x Small 1/4-Wave Stubby Antenna
3 x USB Cable
To purchase the ETRX3DVK Development Kit or any of the Telegesis ETRX357 family of ZigBee modules, please call Symmetry Electronics at (310) 536-6190, or contact us online.