An Intelligent, Compact and "ready to use" Motion Control Solution - TRINAMIC stepRocker
The TMCM-1110 stepRocker™ is an intelligent, compact and "ready to use" motion control solution at low cost for a bipolar 2-phase stepper motor. It fully supports the common and easy to use programming language TMCL™, where predefined high level motion control commands like "Move to Position" or "Constant Rotation" guarantee convenient and rapid development. Besides user programmable I/O controlled stand alone operation (onboard memory), a variety of high level interfaces allow remote controlled operation.
The TMCM-1110 is an universal ultra low cost stepper motor controller/driver module.
The driver part offers highest smoothness and precision due to a high microstep resolution and the new patented spreadCycle™ chopper scheme for optimized current -zero crossing and -sine wave form. The integrated sensor less load detection stallGuard2™ and the load dependent current control coolStep™ make this board unique. This features make it the first time possible to drive a stepper motor energy efficient!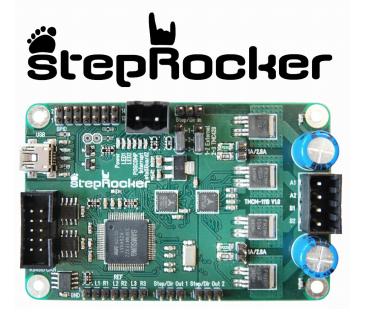 The integrated ramp- and pulse generating positioning motion controller can be attached via USB or RS485. Up to 3 driver can be controlled simultaneously. A 3-axis application can easily be build by connecting two external drivers (e.g. additional stepRocker™) via step & direction signals.
It is possible to use the stepRocker™ with the Trinamic Motion Control Language TMCL™. The board comes with the preinstalled firmware. The integrated development environment TMCL-IDE for PC can be downloaded and used free of charge. It is possible to remote control the stepRocker™ or to write and download complete command sequences for stand-alone use.
For additional Trinamic product information or technical support, contact Symmetry Electronics, an authorized distributor of industry leading wireless, audio/video and embedded chips, modules and dev/eval tools. www.symmetryelectronics.com/contact-us or call (877) 466-9722.