Thursday, November 21, 2013
The console wars may be waging on between the Sony Playstation 4 and the Microsoft Xbox One, but AMD is powering both. The PS4 and the Xbox One both feature AMD APUs with an 8-core Jaguar CPU and a Radeon 7000-series GPU.
While the Xbox One's CPU edges out the PS4's CPU, the PS4 leads the Xbox One on GPU specs. The Xbox One's CPU is clocked at 1.75GHz, while the PS4's is at 1.6GHz. The Xbox One is slightly ahead on GPU clock speed at 853MHz against the PS4's 800MHz, but the PS4's GPU boasts 18 compute units (1152 shaders) to the Xbox One's 12 compute units (768 shader processors), a 50% advantage. Both GPUs are based on the Graphics Core Next (GCN) architecture, and support OpenGL 4.3, OpenCL 1.2, and Direct3D 11.2.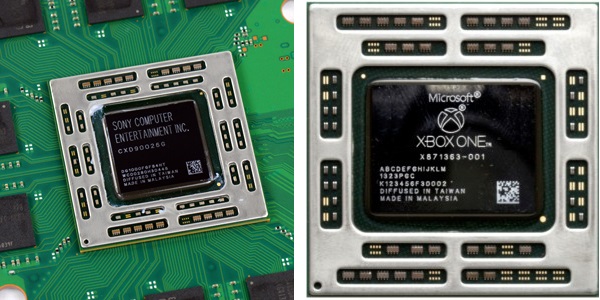 AMD in the Sony Playstation 4 (left) and the Microsoft Xbox One
For more information on how the Sony Playstation 4 and the Microsoft Xbox One stack up, ExtremeTech.com has a side-by-side comparison.
Whichever console you choose, AMD's powerful APUs will keep you in the game. To read more about AMD's embedded solutions, see our series on Why AMD Embedded.
Symmetry Electronics (and its e-commerce division – SemiconductorStore.com) is an authorized AMD distributor.
Why partner with Symmetry Electronics? Symmetry's technical staff is specially trained by our suppliers to provide a comprehensive level of technical support. Our in-house Applications Engineers provide free design services to help customers early in the design cycle, providing solutions to save them time, money and frustration. Contact Symmetry for more information.