Achieve 97% Efficiency with Silvertel's Ag7010
High Power PoL DC/DC Module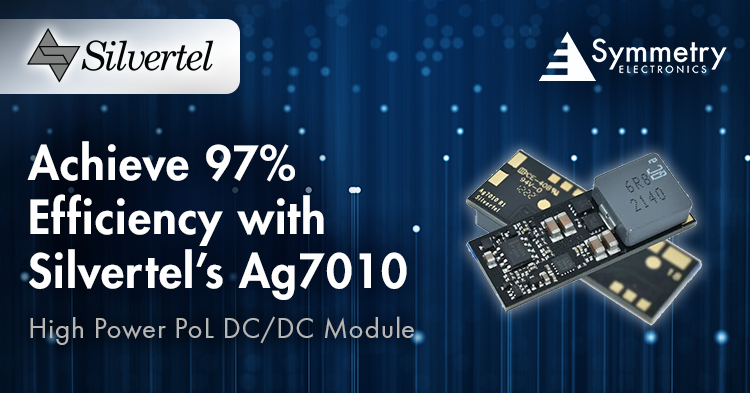 Founded in 1997, Silvertel is based out of the UK and is an industry-leading supplier for IoT and smart solutions. Silvertel's innovative portfolio includes a wide range of products like Power over Ethernet (PoE) modules, LED driver modules, DC/DC converters, and battery charging controllers that support applications in connected devices, commercial electronic products, security systems, telecoms, and more. Their recently released Ag7010 High Efficiency Point of Load (PoL) Buck Converter Module (Figure 1) operates over a broad input voltage range and can achieve greater than 97% efficiency. Additionally, Silvertel supplies the EvalAg7010 evaluation board to support simple testing and evaluation of the Ag7010.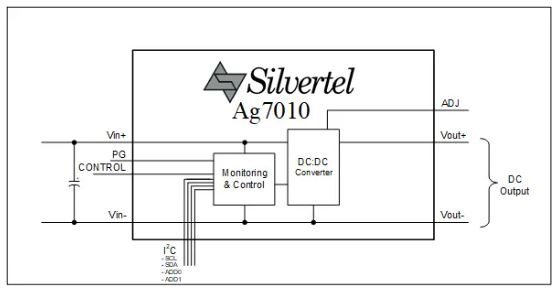 Ag7010 Key Features
>97% efficient DC/DC converter
PMBus enabled
Wide input voltage range 8V-24V
3V-12.7V output voltage
Very low heat output
Low output ripple & noise
Configurable UVLO, OVLO
Overload, Short-circuit, & thermal protection
Low profile SMT package size – 37.4mm (L) x 14.4mm (H)
Minimal external components required
Ag7010 Applications
As a next-generation low noise DC/DC buck converter with integrated PMBus commands through I2C, the Ag7010 is an ideal solution in a wide variety of USB-C converter applications including:
USB Powered Devices (PD)
Apple Lightening
Intel Thunderbolt
Distributed Power Systems
Developing with Silvertel's EvalAg7010
Silvertel's EvalAg7010 is an ideal solution for convenient testing and evaluation of their Ag7010 High Power PoL DC/DC module. The EvalAg7010 can be supplied via banana connectors or USB-C to J1, J2 & 3, or J8 respectively. The EvalAg7010 provides outputs to base wire or banana connectors, J4, or J5 & 6.
The EvalAg7010 kit contains:
EvalAg7010 Evaluation Board
Ag7010 soldered to Evaluation board
I2C Controller
USB-C Source