A Guide to Upgrading from 1080p to 4K Ultra High-Definition (UHD)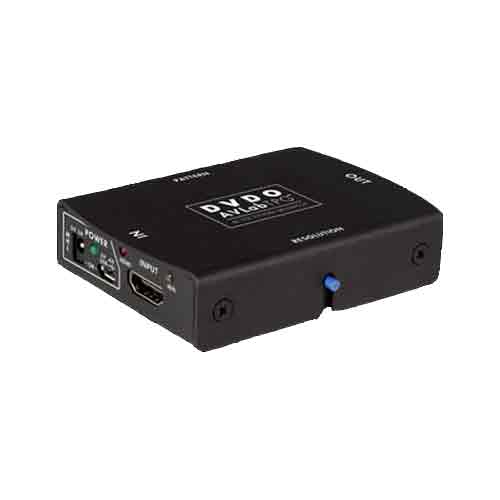 There has been a lot of talk around the emergence of 4K ultra-high-definition (UHD) in the consumer space. We'll take a look at the basics of 4K UHD and how to upgrade from 1080p.


What is 4K UHD?
4K UHD refers to display resolutions of at least 3,840 x 2,160 pixels. This represents a resolution of twice the height and twice the length of Full HD 1080p displays. UHD also supports improved color and higher frame rates.


An Introduction to DVDO
DVDO provides leading-edge video technologies that will enable current and next-generation systems to deliver professional-quality video across a wide range of displays and sources. DVDO delivers award-winning video connectivity solutions for professional home theater installers and end users. DVDO's video switchers, wireless adapters and video processors feature advanced technologies to provide professional-quality video from multiple sources across a wide range of displays.
DVDO iScan Mini: 4K Ultra HD Video Processor, Scaler, EDID editing, Audio Stripping, & Display Setup
The DVDO iScan Mini is a powerful yet compact video enhancement system that improves the picture quality of SD and full HD content. Incorporating Silicon Image's VRS®ClearView™ technology, iScan Mini features advanced 4K adaptive scaling, internet streaming noise reduction, as well as edge and detail enhancement to deliver exceptional video quality on 4K Ultra HD and full HD displays. A full set of setup tools enable professional display adjustment. iScan Mini can be used as a stand-alone device to improve any display and is the perfect complement to an existing DVDO video processor, adding 4K scaling and advanced video enhancement.


Features
VRS ClearView adaptive 4K HDMI scaling and Video Enhancements
Internet Video Repair
Detail and Edge Enhancements make video pop with depth and clarity
Professional display setup test pattern tools for fast video optimization
EDID Editing, Audio Stripping, and flexible scaling and enhancement modes for professional home theater setup
DVDO AVLab TPG: 4K Test Pattern Generator
The DVDO AVLab Test Pattern Generator (TPG) is the first pocket-sized test pattern generator supporting full 4K Ultra HD at 50/60Hz. Designed specifically for use with Color Management System (CMS) software such as CalMAN, the AVLab TPG is powered by USB and uses the USB interface to automatically control the video calibration workflow. Pocket-sized and rugged, AVLab TPG is designed to bring lab-quality functionality to on-site display setup and calibration.
Full 4K (50/60Hz) Patterns
AVLab TPG matches test pattern quality to the capability of the 4K Ultra HD panel which is critical to achieve optimum results. Professional AV installers can use custom 4K test patterns to verify format, sharpness, black levels and color calibration.
Direct PC control
AVLab TPG offers a direct USB connection providing power and control for fast verification and calibration of a new panel in CalMAN or other video calibration software packages. AVLab TPG integrates into the workflow to dynamically generate new test patterns based on user and software control, and the included IR remote control allows fast jump-to pattern access for quick setups.
Custom ISF Patterns
DVDO collaborated with the Image Science Foundation (ISF) to include a set of black and white PLUGE patterns in the AVLab TPG for quick visual verification of black and white levels as well as contrast.
Wide Range of Easily Accessible Patterns
AVLab TPG offers three sources of test patterns.
Built in test patterns: Over 85 built in test patterns to cover display setup and visual calibration.
USB controlled custom patterns: Interface through USB with CMS software dynamically generates thousands of patterns
HDMI/MHL Pass-through: Designed to accept patterns via an MHL enabled device (Android)
MHL
While critical-high quality patterns are all built in, installers can connect AVLab TPG to any MHL enabled devices such as smartphones or tablets to integrate their favorite custom patterns into the workflow for direct high-definition display of custom test patterns. When powered by a 5V-3A supply, the AVLab TPG even charges the mobile device while in use.
Features
Full 4K (50/60Hz) test pattern as outlined in Version 2.0 of the HDMI Specification
85+ built-in patterns (R, G, B, C, M, Y, K, Scale, Sharp, Focus, Bars, PLUGE, Half, etc.)
Video Format Output: VGA, SVGA, XGA, SXGA, 480i, 480p, 576i, 576p, 720p50, 720p60, 1080i50, 1080i60, 1080p24, 1080p25, 1080p50, 1080p60, 4K24(3840), 4K24(4096), 4K25(3840), 4K30(3840), 4K50(3840) 4:2:0, 4K60(3840) 4:2:0
Dynamically generated patterns via USB control
Direct USB control via CMS software (i.e. CalMAN & Chromapure)
Field upgradeable firmware and patterns
HDMI/MHL pass-through convenience feature
Custom ISF black and white PLUGE patterns
USB powered or with AC adapter
DVDO Matrix44: 4K Matrix Switch
The DVDO Matrix44 is a 4K HDMI® Matrix switcher that supports up to four inputs and transmits up to 4K (50/60Hz) Ultra HD or Full HD 1080p sources to four outputs. Designed for both home and commercial use, it provides intuitive control and fast switching for installers and home theater enthusiasts.


Features
Single frame processing delay
28 auto-detect H D/SD-SDI/composite inputs (3G ready)
Upgrade from HD to 3G via software
16 channels of embedded audio per SDI input
4 channels of discrete audio per input (optional)
Supports DVI, HDMI, VGA (optional), SDI (optional) outputs
Supports full 10-bit HDMI 1.3 outputs
Output resolution up to 2048 x 1080 (including 1080p)
Built-in CATx extenders - extend 1080p (DVI/HDMI) up to 115 feet with optional active receivers
Built-in analog and digital clocks for time of day and up/down counters
Built-in LTC timecode and NTP for clock synchronization
Multiple labels per video windows - UMD, OMD, IMD, standalone labels
Supports Serial/IP and GPI tally
Automatic input aspect ratio detection
Built-in video, audio alarm detections - no audio, audio high/low, no video, video black, video frozen, WSS/AFD
Supports closed captions (line 21, CEA 608, CEA 708)
Apantac Skin Technology allows on-screen graphical elements to be customized with any graphics tools
Field upgradable to allow discrete audio (AES/AA)
Front panel headphone jack with volume adjustment for convenient audio monitoring
Front panel buttons for quick preset recalls
2RU with redundant power supply
3 year limited warranty
Ready to implement 4K HDTV? Call Symmetry at (310) 536-6190, or contact us online for technical support and product ordering information.