A Comprehensive Review of the Multi-Tech QuickCarrier USB-D Cellular Modem
Tuesday, August 12, 2014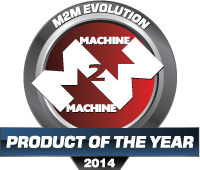 The Multi-Tech QuickCarrier USB-D Cellular Modem was recently awarded M2M Evolution's 2014 Product of the Year Award. In recognition of this honor, we present a review of the QuickCarrier USB-D.
M2M (machine-to-machine) technologies are increasingly being implemented in numerous industries to track assets, automate intelligent buildings, and monitor utilities and smart meters, among other uses. Cellular modules connecting directly to the Internet, VPN, or other IT service infrastructures are beginning to replace Wi-Fi connectivity more and more frequently. Network architecture is experiencing a major migration.

Multi-Tech's cellular modems use 2G and 3G, CDMA and GSM technologies to support wireless data communication over cellular networks worldwide. The QuickCarrier™ USB-D Cellular Modem is part of Multi-Tech's comprehensive line of M2M communications modems.
Why is the Multi-Tech QuickCarrier USB-D a Great Option?
Reliable and cost-effective connectivity is a key consideration when designing M2M applications. We're often asked how best to implement this functionality into M2M designs. While there are a number of options available, Multi-Tech offers one of the simplest connectivity options with the QuickCarrier™ USB-D Cellular Modem.
The QuickCarrier™ USB-D is a cellular dongle designed and built for M2M applications. It is built for long life while delivering reliable data connectivity. The QuickCarrier™ USB-D is designed for quick implementation of cellular technology, allowing devices to easily connect to the internet. All QuickCarrier USB modems are fully certified and carrier approved, allowing for quick time to market. They provide a long, stable lifecycle and are durable, reliable, and easy to deploy in M2M applications.
Benefits of the Multi-Tech QuickCarrier USB-D
Quick deployments to shorten time to market
Long and stable life cycles
Certified and Carrier approved
First M2M designed dongle with internal global deployed antenna
Certified and Carrier approved
Key Family Features of the Multi-Tech QuickCarrier USB-D
USB 2.0 interface
Drivers for Windows® and Linux
Internal antenna
Configured using AT commands
Short Message Services (SMS)
Two-year warranty
3G HSPA+ and EV-DO models available
HSPA+ Model
3G HSPA+ performance
Frequency bands: 850/900/1700/1900/2100 MHz
FCC certified
EV-DO Models (Verizon or Sprint)
3G EV-DO performance
Frequency bands 850/1900 MHz
FCC certified
If you'd like to discuss connectivity options for your M2M design, please call Symmetry Electronics at (310) 536-6190, or contact us online.