A Brief Introduction to the Silicon Motion Osprey Visual IoT Embedded Solution
The Silicon Motion Osprey Visual IoT provides a product-ready platform for connected display devices requiring small form factor and low power consumption. A multitude of smart infrastructure devices can be created with the dual full HD display capability of the SM750 embedded graphics coupled with the reliable Ferri-eMMC storage solution.

The platform provides a robust set of standard I/O and interfaces such as Ethernet, USB Host, USB Client, UART, SPI, I2C, and GPIOs. The SM750 embedded graphics enables multiple displays, and Ferri-eMMC provides best in class performance with industry compliance to eMMC/JEDEC 4.5.

The Osprey IoT platform design kit comes with reference board, schematics, layout files, data sheets, and application notes for SM750 and Ferri-eMMC. SM750 drivers and DDK are also included.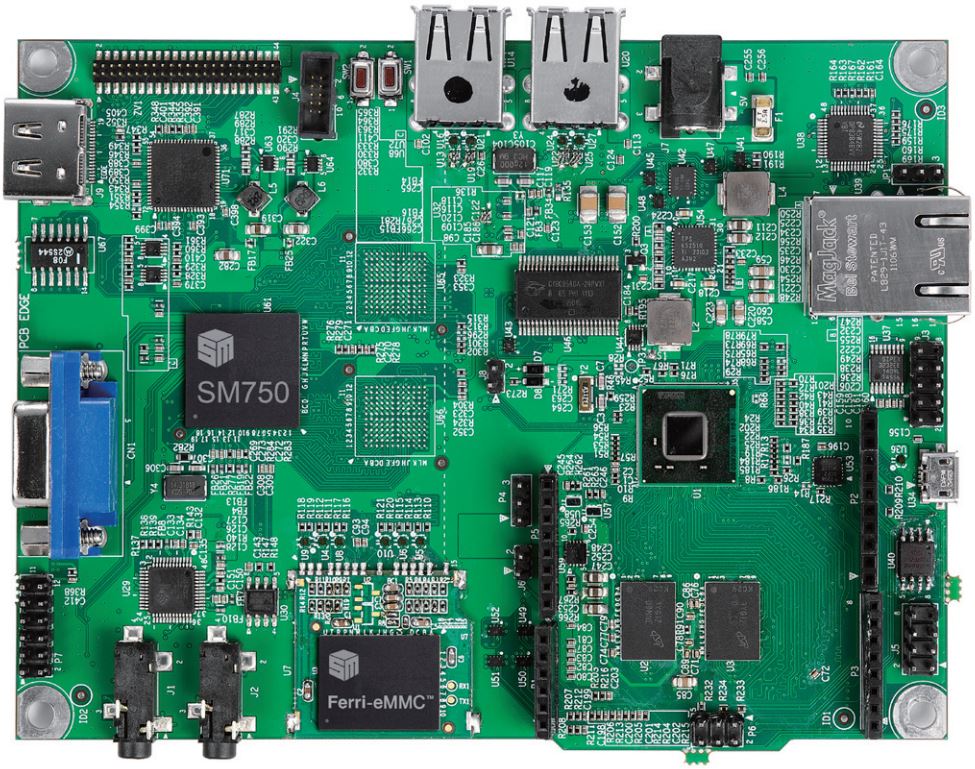 Features:
Application Processor: Intel Quark SoC
X1000 - Pentium ISA compatible 32-bit Intel Quark
Single-core, single thread processor based on Intel architecture, running at 400 MHz.
Graphics Engine: SM750 LynxExp Embedded Graphics Processor
Supports dual display up to Full-HD resolution
Storage: Ferri-eMMC single-package embedded memory
Fully compliant with JEDEC-standard eMMC 4.5
Advanced ECC management, wear leveling and DataRefresh features to offer the best data retention and the most robust protection against read disturbance
Advanced system level protection against unstable power to deliver robust data protection
I/O Peripherals
USB2.0 Host with 4-port Hub, USB2.0 Client, UART, I2C, SPI, GPIO, Ethernet 10/100, ZV Port for video capture, JTAG
Display Interface
Dual Display: Dual Analog CRT outputs
HDMI/DVI digital video
Supports single display up to 1920x1200 or dual display up to 1920x1080 (Full HD)
Audio Support
Stereo Audio Output
Microphone/Audio Line Input
Software Support
Linux Yocto / Ubuntu drivers
Linux Userful Multi-Seat
Windows Embedded
For more information about Silicon Motion and the Osprey Visual IoT Platform, call Symmetry at (310) 536-6190 or contact us online.