Silicon Motion's Ferri Family, including the FerriSSD®, Ferri-UFS™, and Ferri-eMMC®, combines industry-leading controller technology, NAND flash, and passive components into a small BGA package to deliver robust data protection, stable performance, high reliability, temperature support, and customizability for diverse industrial, embedded, and automotive applications.
Unsurpassed Data Integrity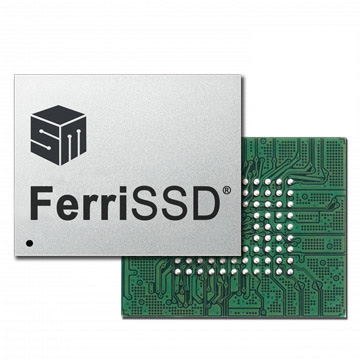 FerriSSD®
FerriSSD is optimally designed for a wide range of automotive, embedded, enterprise, and data center applications requiring faster access speed, small flexible form factor, and reliable PCIe NVMe/SATA/PATA storage. By combining industry proven controller technology, NAND flash, and passive components into a small single BGA package–FerriSSD simplifies design efforts and reduces time-to-market while protecting from NAND technology migration concerns.
Ferri-UFS™
Ferri-UFS is a highly integrated solution that combines a feature-wise, UFS2.1/3.1-compliant flash controller with standard NAND flash memory. Its high-performance storage accessibility, exceptional power efficiency, and ease of system design make the Ferri-UFS an ideal solution for automotive, industrial, embedded, and portable applications.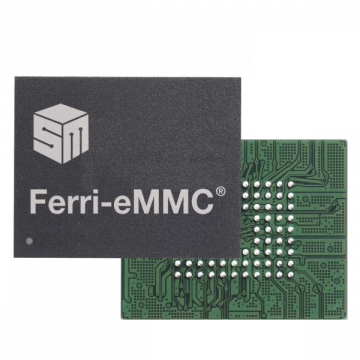 Ferri-eMMC®
Ferri-eMMC is optimally designed for a wide range of industrial embedded and automotive applications and is fully compliant to the JEDEC standards for eMMC* 4.5/5.0/5.1 protocols. Available in 100/153-ball BGA packages, Ferri-eMMC eases PCB design and enables low-cost manufacturing.

Silicon Motion Technology Corporation (NasdaqGS: SIMO) is the global leader in developing NAND flash controllers for SSDs and other solid state storage devices. They have over 20 years of experience developing specialized processor ICs that manage NAND components and deliver market leading, high-performance storage solutions widely used in data centers, PCs, smartphones, and commercial and industrial applications. Silicon Motion carries one of the broadest portfolios of controller intellectual properties, developed from their deep understanding of NAND characteristics, which enables them to design unique, highly optimized configurable ICs, firmware controller platforms, and complete turnkey controller solutions. Silicon Motion is the number one supplier of controllers supporting NAND flash components produced by Intel, Kioxia, Micron, Samsung, SK Hynix, Western Digital, and YMTC.

Why partner with Symmetry Electronics?
Symmetry's technical staff is specially trained by our suppliers to provide a comprehensive level of technical support. Our in-house Applications Engineers provide free design services to help customers early in the design cycle, providing solutions to save them time, money and frustration.
Contact Symmetry for more information.