New MultiTech MultiConnect® Dragonfly 4G-LTE Cat 1 Embedded Cellular SoM's and Modems
for AT&T/T-Mobile and Verizon Networks
The MultiConnect® Dragonfly embedded cellular SoM's and modems are fully certified and MNO approved, ready-to-integrate modules that offer developers the functionality of a programmable computing platform with the convenience of an onboard cellular radio all in one compact design. Dragonfly is programmable using ARM® mbed allowing for rapid prototyping, development and deployment. With its integrated Cortex®-M4 processor, developers can host their application and have access to a full suite of interfaces for connecting sensors or other remote assets.
As the first ARM mbed cellular SoM listed on mbed.org that is industry certified and deployment ready, applications can be written and compiled quickly online using developer friendly libraries, downloaded and hosted within the Dragonfly.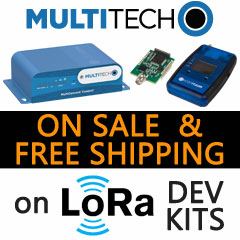 MultiTech Dragonfly can be used as an embedded cellular SoM providing the maximum in design and application flexibility or it can be used as an embedded cellular modem controlled through AT commands requiring little or no modification to your design.
This powerful suite of hardware and software products greatly reduces your time to market and makes your Internet of Things (IoT) device a reality today.
Family Key Features:
End device certified by leading carriers

Full family of cellular options include 4G-LTE, 3G HSPA+, 3G EV-DO and 2G 1xRTT

Developer friendly to integrate, quick to deploy and scale assets

Long solution lifecycle reduces redesign time and cost
Subscribe
Stay up to date with industry and supplier news!
Browse