Digi AnywhereUSB Plus Enables Remote Multi-Port Connectivity | Symmetry Blog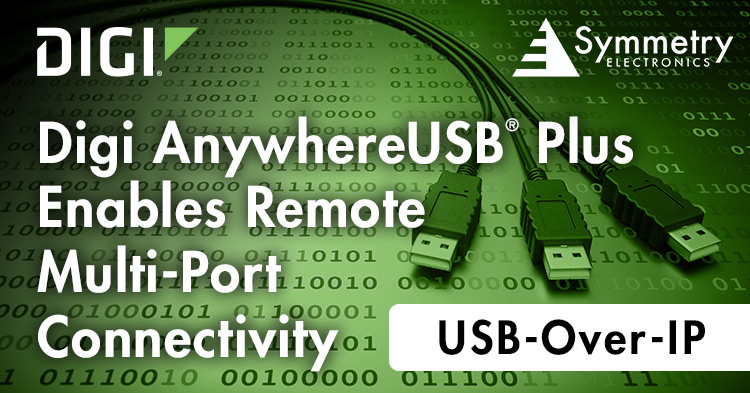 As technologies continue to evolve, the demand for more robust connectivity options increases along with them. For example, as USB connectivity continues to rise in popularity for smart devices and peripherals, the need for more advanced solutions has become increasingly more prevalent. Traditional USB topologies no longer effectively support modern day use cases and present a number of system constraints. To overcome the inherent drawbacks of USB connectivity, Digi International has developed the Digi AnywhereUSB® Plus family of USB hubs that leverage USB-over-Ethernet/IP technology to enable remote multi-port connectivity.
Traditional USB Connectivity Constraints
Whether servicing kiosks, warehouse logistics, retail tracking scanners, restaurant kitchens, or manufacturing lines, traditional USB connectivity methods present a series of limitations for modern applications, including:
Minimal port availability
Limited cable length (3 or 5 meters)
Power and bandwidth limitations
Inefficient USB device placement
Inconvenient PC placement with more limited security
Inability to support virtualized systems or cloud-enabled applications
Cue the USB-over-IP Superhero
Digi AnywhereUSB Plus is an industry-leading USB hub solution that leverages USB-over-IP to address the pitfalls of traditional USB connectivity. USB-over-IP technology allows the connection of USB peripheral devices anywhere on a Local Area Network (LAN), without the need for a locally-attached host computer. In scenarios where space is limited, security is a concern, or the environment is not suitable for tech storage; administrators can now implement a remote connection to protect their host PC and network. Offered in 2-, 8-, or 24-port hub configurations, with the ability to be "daisy-chained" or interconnected to support up to 127 USB devices–Digi AnywhereUSB Plus addresses common proximity challenges often associated with USB applications. Simple to install and cost-effective–administrators can deploy, configure, virtualize, manage, test, and charge USB devices with the optimum speed, power, and security needed to support end-user and business applications.
Digi AnywhereUSB Plus Key Benefits
Available in 2-, 8-, or 24-port hub configurations (daisy-chain up to 127 USB devices)
AnywhereUSB 24 Plus is rack mountable with two power supplies and Ethernet connections for failover redundancy
Network-attached USB hubs easily connect USB peripheral devices to a PC from remote or virtual hosts
Access and monitor USB and serial devices over Standard Transmission Control Protocol/Internet Protocol (TCP/IP) connection
Supports multi-host connectivity for each USB or group independently
Protocol support for HTTPS, FTP, SFTP, SSL, SMTP, SSH, and CLI for web management
USB 3.1 gen 1 Type A ports capable of achieving data transfer speeds of 5 Gbps (over 10x faster than USB 2.0)
Backwards-compatible with USB 2.0
Digi TrustFence® TSL 1.2 encryption for stronger security
Pair with Digi Remote Manger® comprehensive IoT device management app